FIXATE Creamy Raspberry Vinaigrette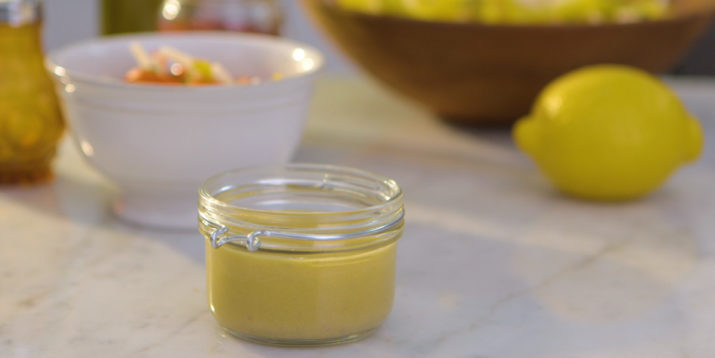 Making a dressing like this Creamy Raspberry Vinaigrette from scratch is the key to turning even a basic salad into something remarkable.
One glance at the nutritional info on the back of a bottle of salad dressing will prove that having a salad for lunch can deliver a whole lot more fat and calories than you bargained for.
As a rule, if a salad dressing name includes the word "creamy" you can usually expect it to pack in the calories by the hundreds per serving.
This recipe for Creamy Raspberry Vinaigrette dressing is the exception to that rule. Why? Because science! Okay, we know that's not an actual reason, but it kind of is.
Dressings with the word "creamy" in the title usually include mayonnaise, an emulsified ingredient that keeps dressing from separating.
For their healthy cooking show, FIXATE, Autumn and Bobby Calabrese created a Creamy Raspberry Vinaigrette without using either mayo or vinegar.
Instead, Bobby uses a trifecta of emulsifying agents and a touch of lemon juice t0 impart the perfect amount of acidity.
Dijon mustard, Greek yogurt, and all-natural raspberry preserves create a rich, creamy dressing so flavorful you can use half as much and still love your lunch.
To get the recipe and find out the Container Equivalents and nutritional information, watch the FIXATE episode on BODi!