Cooking for One? Try These 7 Money and Time-Saving Tips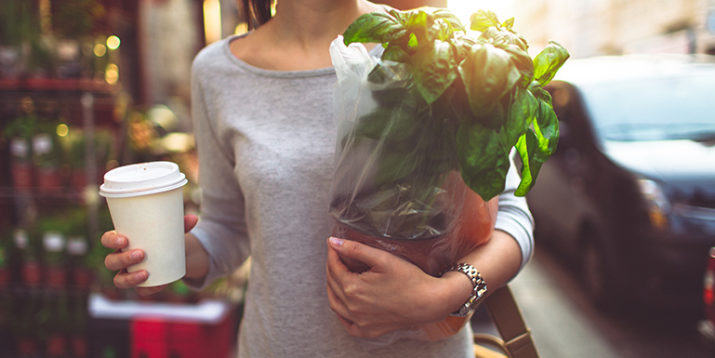 Let's be frank: Cooking for one can be challenging.
And it's not just single folks who face this issue.
If you're trying to eat healthily and the family wants to stick with their old standbys, you've probably tried to figure out how to eat healthy, feed your family, and stay on budget.
Here are some tips and tricks that will make going at it alone on your healthy journey a bit easier.
7 Tips for Grocery Shopping When Cooking for One
1. Hit the store twice a week
Kudos to you for doing Sunday meal prep. But if your life is such that once the week gets started, plans change, things come up after work, and most of those meals go to waste, considering going to the grocery store twice or three times a week instead of doing one big trip.
By hitting up the market more often, you can more readily consider what you have left on hand that still needs to be used, like that leftover takeout chicken and the asparagus that you bought on the last trip.
2. Save on salads
Instead of buying greens and salad toppings individually, it is often cheaper to purchase small portions of pre-made salads at the salad bar, points out Lisa Lee Freeman, savings expert for the coupon app Flipp.
Be smart about it though: Since you pay by the pound at the salad bar, skip heavy-but-cheap toppings, like cucumbers.
Buy those separately and add when you prep.
3. Buy dry goods in bulk
"The secret to shopping smart is know how long things last, and figuring out what you can and cannot buy in bulk," says Freeman.
You can freeze extra portions of chicken or turkey and store nonperishable food — like dry beans or grain — in your pantry.
4. Opt for frozen over fresh
Good news: Frozen fruits and vegetables are close to just as nutritious as their fresh counterparts, according to a study in American Journal of Lifestyle Medicine.
They're a great choice if you're cooking for one since they don't spoil as quickly as fresh produce.
And who doesn't love frozen berries in their smoothie?!
5. Use your freezer
Use your freezer for everything that may spoil, from bread and meat to leftovers.
Doing so will make sure you always have a few single-serve frozen meals on hand for when you need a meal in a pinch.
Chilis and soups are some meals that freeze well, but so are healthy chicken enchiladas and egg cups!
6. Consider Canned fish
While canned fruits and veggies aren't as nutritious (put down that can of peaches in syrup), canned fish is OK.
"Buying fresh fish is always ideal, but canned light tuna and canned wild salmon are great options when buying fresh isn't possible," says Chelsea Fuchs, New York-based R.D. Canned tuna and salmon are great sandwich and salad toppings.
"Look for light canned tuna packed in water… and when it comes to salmon, look for the wild variety because it is a terrific source of omega-3 fats and vitamin D."
7. Look at the big picture
"Most foods go on sale in cycles of about three to four months, as well as during seasonal changes and holidays," says Freeman.
"Instead of buying the same stuff on your shopping list week after week, figure out what you can buy every few months and store. Then go for it when it's on sale," she explains.