Now Available: CORE DE FORCE
Have you heard? Beachbody's mixed martial arts-inspired workout, CORE DE FORCE is now available!
If you want knockout results in 30 days without lifting a single weight, this is the workout for you.
CORE DE FORCE is unlike any other MMA-inspired workout in the Beachbody catalog. Joel and Jericho brought in exhilarating boxing, kickboxing, and Muay Thai combinations and mixed them with fat-blasting cardio and bodyweight moves to help you zero in on stubborn belly fat and carve allover definition.
You'll move through three-minute "rounds" in which you'll alternate between various fighting combinations with bodyweight moves and cardio spikes to kick your calorie burn into overdrive.
No matter what your fitness level, you can punch, kick, and sweat at your own pace.
Even better? There's no equipment required. Your body is the only weapon you need to fight hard every single workout. You can also learn how to get started with all the Tools, Tips & Tricks from our Training Room.
The one-stop destination for Everything CORE DE FORCE
Who Is CORE DE FORCE for?
It's for anyone who wants to tighten up their midsection, carve a stronger core, and sculpt total-body definition.
CORE DE FORCE is great for intermediate or advanced exercisers-or graduates of INSANITY MAX:30, TurboFire, or P90X. But, beginners and those looking for significant weight loss can follow Jessica the modifier and drop serious weight too.
It's also a great choice for people looking to try a workout inspired by mixed martial arts as Joel and Jericho packed CORE DE FORCE with boxing, kickboxing, and Muay Thai moves.
How Long Are the CORE DE FORCE Workouts?
The workouts are between 30 and 45 minutes. You'll do one workout a day, seven days a week for 30 days. But, if that sounds like a lot, don't worry — every seventh day is an active recovery day.
How Many Workouts Are in CORE DE FORCE?
The CORE DE FORCE base kit includes eight workouts and two bonus workouts. There are four MMA-inspired workouts, each with a step-by-step breakdown of all the moves, two bodyweight resistance workouts, two stretch workouts.
The program also includes an Eating Plan, a Quick-Start Guide, a 30-Day Calendar, and 2 bonus core workouts — all for $59.85.
Here's a look at the CORE DE FORCE workouts:
| | |
| --- | --- |
| MMA Speed     | Upper body and core-focused, this Boxing-influenced workout is short-but packs a serious punch. |
| MMA Shred | Kick things up a notch with Muay Thai-inspired elbows and kicks for a head-to-toe shred that'll lean you out fast. |
| MMA Power | Using explosive and defensive-style movements, this fast-paced cardio conditioning workout will help you carve a tight lean body. |
| MMA Plyo | What happens when you combine Boxing, Muay Thai and plyometrics into one workout? |
| Power Sculpt | A total-body burner that uses explosive power and interval training to help sculpt lean muscle and build next-level endurance. |
| Dynamic Strength | Low on impact, but high on intensity, this no-equipment, bodyweight throwdown helps carve impressive definition. |
| Active Recovery | Recharge for the week ahead with this rest day workout that focuses on form and technique to fight muscle stiffness and soreness. |
| CORE DE FORCE Relief | The quickest stretch ever. Do this 5-minute session before bed to help relieve tight and tired muscles – and keep you at the top of your game. |
| Core Kinetics | Strengthen your powerhouse with unique MMA-inspired moves that help carve flat abs and tight obliques. |
| 5 Min Core On the Floor | The ultimate core finisher-5 challenging plank movements to help burn the belly and define, flatten, and tone the tummy. |
The CORE DE FORCE Deluxe upgrade includes the Portion Fix containers, an agility ladder, and these three additional workouts.
| | |
| --- | --- |
| Agility Strength | Combine fast footwork drills with bodyweight to improve coordination and blast major calories. |
| Agility Power | Grab your agility ladder and rip through multi-functional training that ignites every muscle and shreds fat for serious definition. |
| MMA Kick Butt | Designed to carve lean legs and sculpted glutes with a nonstop mix of powerful kicks and calorie-scorching conditioning spikes. |
Where Can I Find the CORE DE FORCE Workout Calendar?
You view and download a PDF of the official CORE DE FORCE workout calendar here so you always have the schedule handy wherever and whenever you do your workout.
You can also find it on Beachbody On Demand along with the Eating Plan, food tracker, quick start guide, and deluxe calendar.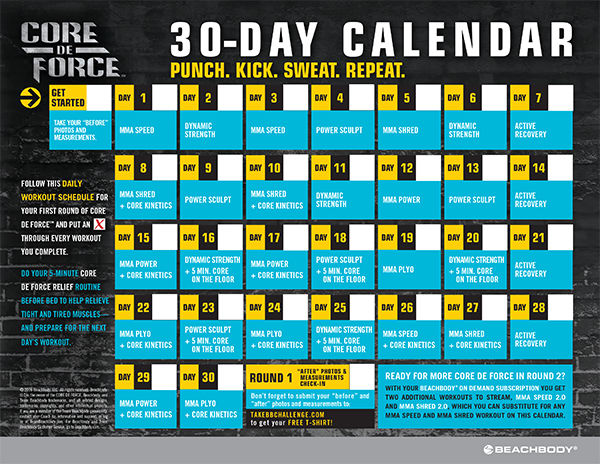 Who Are Joel and Jericho?

Joel Freeman and Jericho McMatthews are longtime friends with extensive experience working in the fitness industry.
Together they've held Personal Training Certifications from the American Fitness Association of America (AFAA), the American Council On Exercise (ACE), and the National Academy of Sports Medicine (NASM).
But their goal has always been to help more people get fit and healthy. That's why they collaborated with Beachbody to bring you CORE DE FORCE.
Inspired by authentic MMA training, they created an effective and addictive total-body program — one that will not only get you amazing 30-day results but help you build tough-as-nails confidence.
Can I Use Portion Fix Containers With CORE DE FORCE?
Yes! Although not needed, the containers are compatible with the Eating Plan. Here's more about the Eating Plan straight from Joel and Jericho.
Is CORE DE FORCE Available on Beachbody On Demand?
If you purchase CORE DE FORCE and are a Beachbody On Demand member, you'll get access to Beachbody On Demand where you can stream CORE DE FORCE and hundreds of other proven Beachbody workouts.
You'll also get exclusive workouts from Joel and Jericho! Not a member of Beachbody On Demand? Sign up here!
I Love This Workout Program! Where Can I Find Apparel?
You can find CORE DE FORCE apparel right here!
Have a question about the workout program? Ask us in the comments! Ready to try CORE DE FORCE? Get it here!