Dark Chocolate Superfood Bites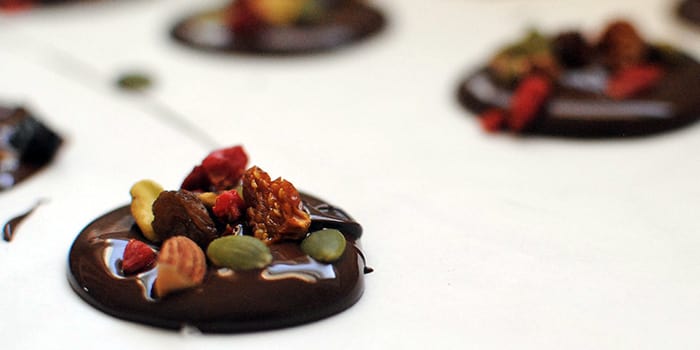 If you're looking for a recipe that your friends and family will "ooh" and "ahh" over, this is it.
When creating these chocolate bites, first pick out your toppings. Look for nuts, seeds, and dried fruit that doesn't have added sugar.
Hit up the bulk section to find ingredients. Since you don't need much of each ingredient, you'll save money and you might also be able to choose from a wider variety of toppings.
For the chocolate bites pictured, I used goldenberries, goji berries, almonds, pepitas (pumpkin seeds), almonds, Himalayan sea salt, and cranberries.
I also made a few "naughty" ones with candied ginger and spiced mango slices. (Don't tell!)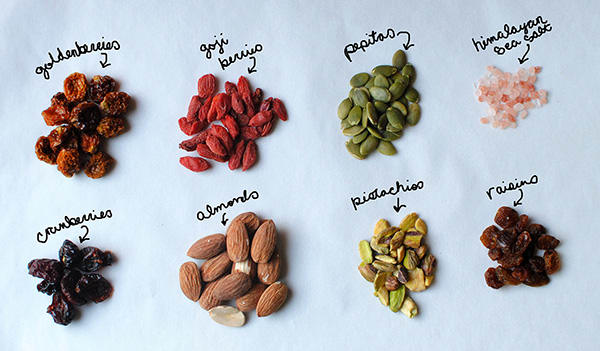 Before melting the chocolate, prep all your toppings: Roughly chop the nuts and the fruits and separate them into piles so you can be creative as you go.
Melting the chocolate is easy — if using chocolate chips or callets, simply pour eight ounces of them into a microwave-safe bowl and then heat them in the microwave at half power for one minute. Stir them with a spoon, then heat for another 30 seconds. Stir.
Repeat this process until the chocolate is fully melted.
Alternatively, you can melt the chocolate in a double boiler. Just make sure not to get water anywhere near the chocolate! Water will cause the chocolate to seize and become unworkable.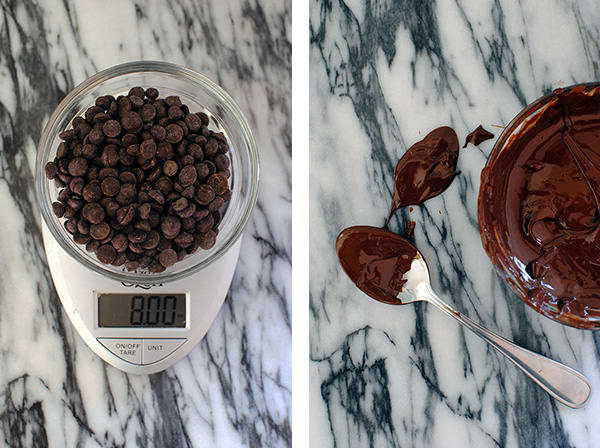 Once the chocolate has melted, place a sheet of parchment on a baking sheet and place the bowl of melted chocolate next to it.
Using a spoon, create the small chocolate circle on the parchment.
Scoop up about 1/2 a spoon's worth of chocolate, pour it onto the parchment, then use the spoon to push the chocolate until it forms a circle. That will make the chocolate medallions thick enough to feel like a substantial snack.
After the medallions have been created, sprinkle each with the toppings that you want.
When you're done, pop the tray into the fridge and let them harden. Store leftover Chocolate Superfood Bites in the fridge.
Note: The higher the percentage of cacao in chocolate the better. Look for chocolate that is at least 70% cacao.
Variations:
The following raw nuts (alone or in combination) can be substituted for pistachios: almonds, cashews, hazelnuts, macadamia nuts, peanuts, pecans, or walnuts.
The following seeds (alone or in combination) can be substituted for pumpkin seeds: chia seeds, flax seeds, hemp seeds, or sunflower seeds.
The following unsweetened dried fruits (alone or in combination) can be substituted for cranberries: apricots, blueberries, mangos, raisins, or tart red cherries.
Substitute unsweetened shredded coconut for seeds.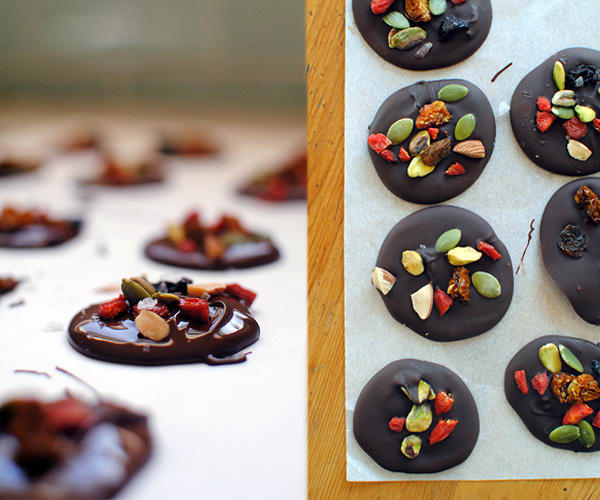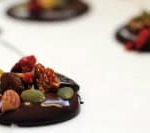 Dark Chocolate Superfood Bites
These chocolate superfood bites are devilishly simple to make and just look so impressive made with dried cranberries, pistachio pieces, and pumpkin seeds.
Prep Time 15 mins
Cook Time 2 mins
Total Time 17 mins
Servings 24 servings, 1 bite each
Calories 112 kcal
Ingredients
8 oz. dark chocolate, chopped into small pieces
12 Tbsp. raw pistachio pieces
12 Tbsp. pumpkin seeds (pepitas)
12 Tbsp. unsweetened dried cranberries
1 tsp. coarse sea salt (or Himalayan salt) (optional)
Instructions
Line a large baking sheet with parchment paper. Set aside.

Place chocolate in a microwave-safe glass measuring cup. Microwave for 60 seconds on 50%; stir. Microwave for another 30 seconds on 50%; stir until chocolate is completely melted. If needed, microwave for an additional 30 seconds on 50%. Do not overcook. Chocolate will melt as you stir it.

Use a spoon to make twenty four small rounds of chocolate onto the parchment paper.

Working while chocolate is still warm, sprinkle chocolate rounds evenly with nuts, pumpkin seeds, cranberries, and salt (if desired).

Let the chocolate set at room temperature, or put the bites in the refrigerator to speed things up.
Recipe Notes
The Nutrition Facts box below provides estimated nutritional information for this recipe.
Nutrition Facts
Dark Chocolate Superfood Bites
Amount Per Serving (1 Bite)
Calories 112 Calories from Fat 72
% Daily Value*
Fat 8g12%
Saturated Fat 3g19%
Sodium 97mg4%
Carbohydrates 8g3%
Fiber 2g8%
Sugar 5g6%
Protein 3g6%
* Percent Daily Values are based on a 2000 calorie diet.
Container Equivalents
½ Yellow
½ Blue
½ Orange
2B Mindset Plate It!
Enjoy these as an occasional treat. Be sure to track it.
Photos by Rebecca Swanner