Oven-Fried Chicken and Gluten-Free Waffles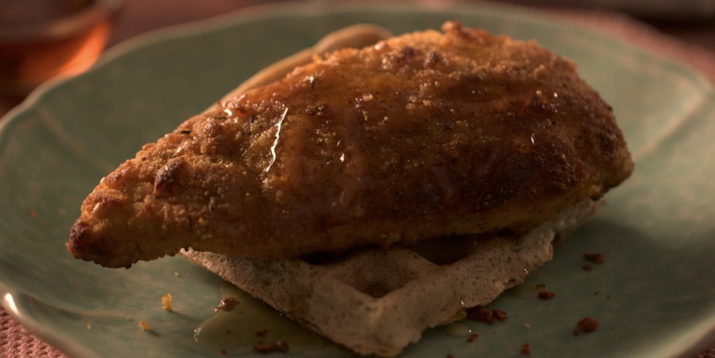 If you're following a healthy eating plan, it might seem like chicken and waffles is completely off the proverbial table.
But it just isn't so: Thanks to Portion Fix creator Autumn Calabrese and her brother, chef Bobby Calabrese, chicken and waffles is back in a big way with this recipe for healthier Oven-Fried Chicken and Gluten-Free Waffles.
They make this culinary feat a delicious reality by harnessing all of the flour and breading alternatives at their disposal and with a little baking chemistry know-how.
The breading for the oven-fried chicken is seasoned to perfection. Even the best fried-chicken joints have their proprietary season mix, and so does Bobby Calabrese.
To get all of the flavors of your favorite fried chicken, Bobby employs a host of spices like onion powder, paprika, garlic powder, cayenne pepper, oregano, dried thyme, and baking powder to level the mix and hold everything together.
He uses a nifty trick to hold all of your breading to your chicken without deep-frying, but you'll have to watch this episode of FIXATE to find out how!
We can give you a hint — the essential ingredient is a handy olive oil or coconut oil spray. This will allow you to get the minimum amount of oil in the pan necessary to keep the breading on the chicken.
Then it's into the oven to finish. Since there's no deep-frying involved, this chicken and waffles recipe has none of the grease of the classic version.
There's much debate as to which aspect of this meal is the star — the chicken or the waffles. Personally, I'm a waffles girl, but to each his own!
To keep the carbs low and preserve those valuable yellows, Bobby uses a balance of three different kinds of flour, coconut sugar, ground flax seed, and a bit of baking powder for lift.
Compared to your typical store-bought waffles, these healthier FIX-approved waffles recipe has three times as much fiber and double the protein.
They're an excellent treat for those of us who can't get enough of the most important meal of the day.
To get the recipe and find out the Container Equivalents and nutritional information, watch the FIXATE episode on BODi!