ChaLEAN Extreme Results: I Lost Four Dress Sizes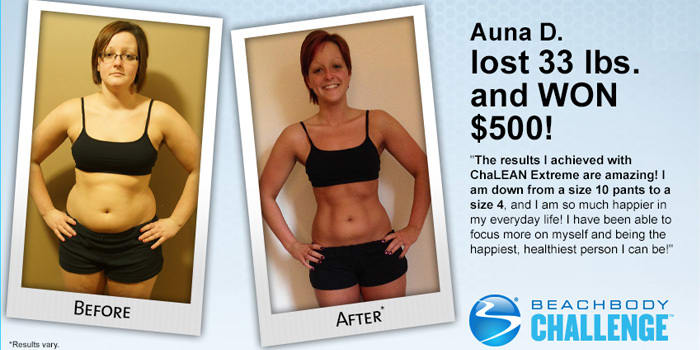 Meet Auna D.! She participated in The Beachbody Challenge, shared her ChaLEAN Extreme results, and won the $500 Daily Prize for August 9!
Tell us about your life before you started the program. How did you feel about yourself and your body?
Before I started ChaLEAN Extreme, I would try and avoid any mirrors at all costs. I was very depressed about who I had become and all the weight that I had put on but wasn't ready to do anything about it. One day I woke up, looked in the mirror and just cried. I couldn't believe that the person invading the mirror was me! That was the day I decided to make a change.
What inspired you to change your life and begin your transformation journey?
For months, I saw posts on Facebook from other coaches and challengers from Beachbody and the changes they had made in their life. I was so jealous! I wanted it for me, but didn't have the drive or motivation to begin on my journey. My coach, Emily Brougham, is really who inspired me to make a change. I was constantly was seeing all of her posts on Facebook about her transformation and some of her challengers and I decided why not me? All of her posts were so positive and uplifting and that's what I wanted, to be happy! I commented on one her posts about a challenge group, and I haven't looked back!
Describe the results you achieved with your Beachbody program. Which achievements are you proud of?
The results I achieved are amazing! I am down from size 9/10 pants all the way to 4s, and I went from wearing large shirts to either a small, or sometimes, even an extra small! The achievement that I am most proud of is my body fat percentage, when I first started I had a whopping 29% body fat, which meant I was considered overweight and unhealthy. But through my journey I was able to go down to 17% body fat!
How has your life changed since completing your Beachbody program?
My life has changed dramatically. I am so much happier in my everyday life! I have been able to focus more on myself and being the happiest, healthiest person that I can be! Not only has my body transformed, but my mind has as well. I have a different way of thinking. Now, instead of focusing on all the negatives that happen, I am able to focus more on the positives and enjoy life!
You can change your life, too. Take the Beachbody Challenge, for the ultimate motivation to get fit! Select any Beachbody program and once you complete it, share your results for your chance to win cash and prizes.