How to Build a Home Gym on a Budget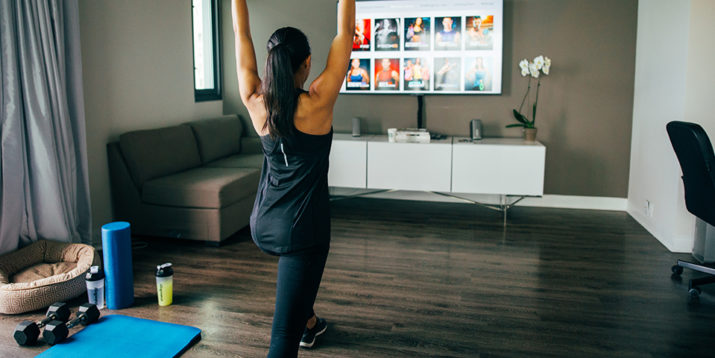 Building a home gym doesn't have to be expensive. If you're doing a BODi program — you can easily build a home gym if you're on a budget and trying to keep costs low.
You can even build one if you're short on space, and you don't need to go crazy and buy a ton of home workout equipment.
Read on to see the benefits of a home gym, how to pick the right room, and the essential tools you need to do a BODi program.
Benefits of Having a Home Gym
You might already know that you can use BODi to stream your workout program anywhere you go, which means if you already have a gym membership, you bring your program on your laptop, tablet, or phone and do it there.
(We don't recommend lugging in your own TV; gyms tend to frown on that sort of thing!)
If you don't already belong to a gym or are thinking about letting your membership lapse, here are some benefits to having your own home gym:
1. A home gym will help you save time
Unless you live in a magical land where traffic doesn't exist – or have a teleportation device – getting to the gym requires getting in your car, driving there, dealing with traffic, finding parking, finding a workout space, working out, and then doing the whole commute in reverse.
If you have your own home gym, you can just go to that space, start doing your workout, and get a glass of water or Beachbody Performance Recover when you're done.
Beachbody Performance Recover is my after-workout treat and knowing I get to enjoy it when I'm done with my workout gets me through some of my hardest ones.
2. A home gym may save you money
Though you might pay more up front outfitting your home gym with the right workout equipment than you would for one month at your current or previous gym, the long-term savings will quickly add up.
Most BODi programs require little to no home workout equipment. And, even for those that do, the cost savings will eventually eclipse the amount you'd spend paying for a gym membership.
3. A home gym might get you better results
We're not saying you won't get results at the gym. But, if you don't go often because of all that's involved (described above in benefit #1), then you could probably be getting better results.
By creating a personal workout space in your house, you not only sidestep those issues, you'll also have one less excuse to skip your workout. And that consistency — in both your diet and your fitness — will get you the results that you desire.
 
The Best Room for Your Home Gym
Your options for the best home gym setup vary. They depend on the size of your home, how many people live in it, and the type of workout you do.
There are a few things to keep in mind when selecting the best room for your home gym.
How much traffic does the room get?
Ideally, your home gym room will be in a low-traffic area of your home. For instance, if you set up your home gym in the den, your workout time may conflict with when others want to watch TV — a battle you're likely to lose.
While you can try to encourage them to join you, make it easier on everyone by finding a space where you can do your workout when it's most convenient for you.
That said, we understand that's not always possible, so you may need to schedule your workouts when you're least likely to be interrupted and if the family room is the only available place, then the family room it is.
However, if possible, you want somewhere that can be your own. Where you can shut the door, play your favorite workout music — don't miss these Spotify playlists we created! — hang prints or posters that will motivate you, and get your sweat on. Somewhere that's your escape from all the to-dos life throws at you.
So, if you have a spare room available (preferably on the first floor if your workouts involve jumping), a space you can clear out in the basement, or part of the garage you can transform, use it!
No extra space? I've been using the family room for years, and it's working out just fine!
Do you have enough space to do your workout?
For BODi workouts, your workout area should ideally be 12′ by 12′ so you can leap, jump, and lunge without running into the furniture. BODi tries to follow a "two steps in either direction" rule when creating workouts.
However, sometimes those "steps" are more like "leaps," so more room to move will likely net greater results and less bruises.
How high is the ceiling?
Are they high enough so you can jump without hitting your head? Unless you're quite tall (or working out in the French catacombs), they should be, but it is something to keep in mind.
Same with anything hanging from or attached to your ceiling, be that a disco ball, light, or ceiling fan. When doing jumping jacks or plyometric workouts, you want to get results, not a hole in your ceiling or a call to 911.
Speaking of jumping… if there are things that rattle when you jump, it might be worth securing them with museum putty.
What kind of floor does it have?
Having the proper flooring in your workout space can make the difference between sore knees and a happy, healthy you.
If you're going to be jumping or doing plyometric or floor exercises on wood or concrete, consider putting down a few locking rubber mats with runner rugs beneath them so that they don't slide. The padding will make the surface softer to land on and you shouldn't go flying.
For extra padding, consider also using the BODi Plyometric Mat. This is a great piece of home workout equipment because it's thicker and denser than a yoga mat and more comfortable to land on. If you plan to mostly be stretching or doing core work, you should be OK with using a yoga mat.
The Best Home Workout Equipment: The Essentials
The equipment you need for your home gym is entirely dependent on what kind of workout you're doing. While it might be tempting to go absolutely gear crazy, you don't need to break the bank to start a solid home gym.
Begin with a few, necessary basics and build your collection as you go. In addition to the aforementioned flooring, here are a few vital pieces of home workout equipment, for beginners and pros alike.
If you're doing one of BODi cardio programs, you'll likely only need proper flooring and a good pair of shoes! For instance, the workout programs CORE DE FORCE, INSANITY, and INSANITY:MAX 30, don't require any equipment at all. And 3 Week Yoga Retreat only requires a yoga mat.
For programs that include resistance training workouts that use more than bodyweight, you'll need some workout equipment essentials.
Dumbbells
If you're doing a programs that calls for you to add non-bodyweight focused resistance training to your regimen – such as 21 Day Fix, 80 Day Obsession, Morning Meltdown 100, or LIIFT4, you'll need to pick up dumbbells or resistance bands.
With dumbbells, you have two options. You can purchase individual weights — you'll want at least one light, one medium, and one heavy set — or you can purchase selectorized dumbbells that let you adjust the weight.
Expect to pay about a dollar a pound (per weight) for standard dumbbells new, more for the adjustable variety. But keep in mind that selectorized dumbbells replace an entire dumbbell rack, so you'll likely recoup the extra cost in the long run.
Trevor Thieme, C.S.C.S. and BODi executive director of fitness and nutrition content, recommends the PowerBlock U90 Stage II model that ranges from 5 to 70 pounds for men and the U90 Stage I model that ranges from 5 to 50 pounds for women. They are $518 and $379, respectively.
If that's out of your budget, it's fairly easy to find used exercise equipment for sale. The same goes for classic (non-selectorized) dumbbells. Ask friends if they have any they aren't using, hit up garage sales, and look on Craigslist to pick up weights on the cheap.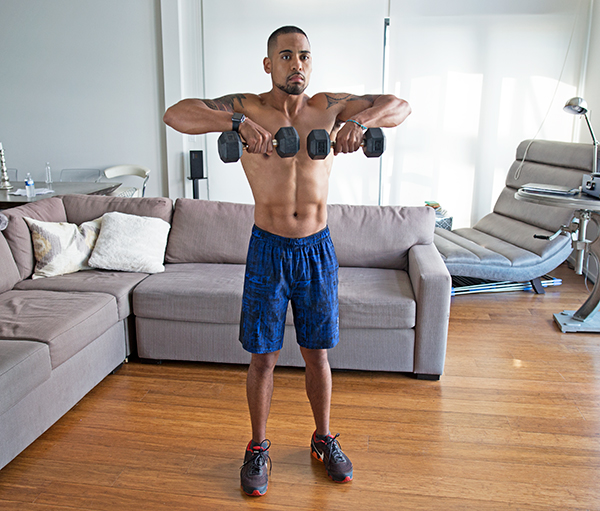 Resistance bands
Dumbbells are better for building muscle, but resistance bands can be a highly effective addition to your home workout equipment arsenal.
Plus they're easier to carry in a suitcase making them perfect travel workout equipment, and are less likely to cause you to spend serious money on overweight baggage fees.
BODi's resistance bands are elasticized plastic tubes that allow you to control the tension by shortening or lengthening the band.
Whether you use BODi bands or another brand, one advantage bands have over dumbbells and other free weights is that they provide constant tension throughout the lifting movement.
In so doing, they help maximize time under tension, which helps build muscle.
BODi Resistance Bands are approximately 60″ in length and come in a wide range of resistance levels:
Teal – 5 pounds
Purple – 10 pounds
Pink – 15 pounds
Magenta – 20 pounds
Orange – 25 pounds
Red – 30 pounds
Yellow – 35 pounds
Green – 40 pounds
Blue – 45 pounds
Black – 50 pounds
Every program in the BODi catalog can be done with bands instead of dumbbells, and to make it easy, most videos feature a cast member doing the workout with bands.
Pull-up bar
Want great looking arms and a sexy back? Pull-ups and chin-ups will definitely help you get there. You can install a pull-up bar in any wall with the help of a stud finder. However, for a safe, less permanent solution, BODi offers a chin-up bar.
You can mount the bar onto almost any door frame and remove it when you're not working out. The bar is designed to support up to 300 pounds and you can use it to do many different variations of pull-ups or chin-ups, including corn cobs!
The Best Home Workout Equipment: The Extras
These items aren't must-haves for your home gym but they'll help you squeeze a little more from your workout.
Foam roller
Owning a foam roller is like having a personal masseuse on call whenever you need relief from your soreness. Foam rollers can help ease tension, improve mobility, and reduce muscle pain in as little as five to 10 minutes.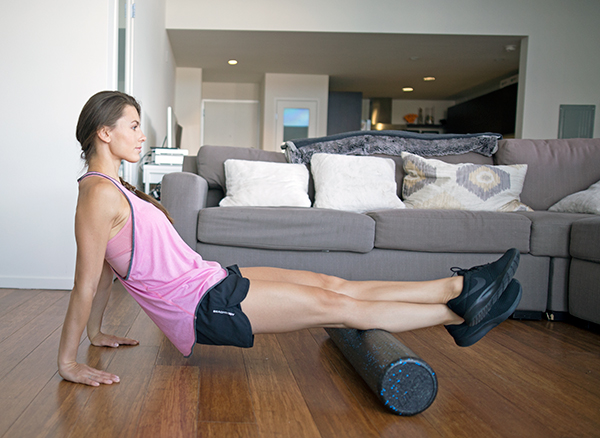 Pull-up assist
If you can't yet do unassisted pull-ups or chin-ups, consider purchasing the Chin-Up Max to help you get better at pull-ups. The Chin-Up Max looks like a resistance band but helps you get a little extra lift when doing chin-ups or pull-ups.
Attach the accessory to a pull-up bar, put your foot in the strap, adjust the resistance, and lift yourself as if you were doing a normal pull-up.
As you get stronger, you can reduce the assistance you receive by removing one and then two of the three bands, ultimately ditching the device entirely.
Push-up stands
Some people find push-ups cause pain in their wrists. If you're doing a program that calls for push-ups or planks, push-up stands can help take pressure off of your wrists by keeping them straight during the movement.
The stands distribute your weight more evenly throughout your lower arms so your wrists feel less pressure.
Workout bench
Thieme recommends an adjustable bench as it's the most versatile. His pick?
York's durable, comfortable, commercial-grade Flat-to-Incline Bench.
This bench is a piece of commercial fitness equipment that adjusts to six positions and is made from 11-gauge steel construction, which makes it nearly indestructible. (Nearly. Don't get creative.)