How Body Beast Gets You Results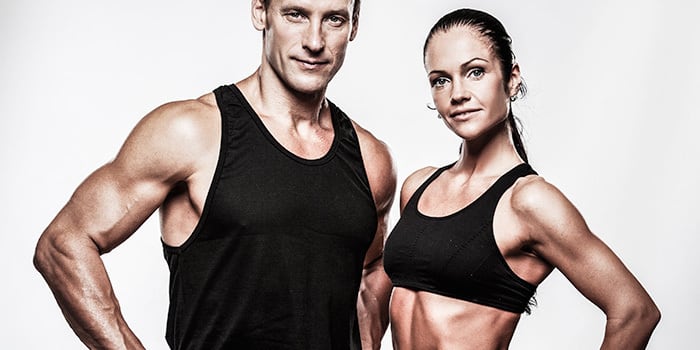 "What are you feeding these guys?" said one of the other two judges at the Beachbody Classic, the annual bodybuilding competition held at The Beachbody Summit. "Some of them are ready for their pro cards right now!"
When we partnered with professional bodybuilder Sagi Kalev to create a real home bodybuilding program, we were met with a lot of skepticism. "You can't get big without an Olympic weight set," we were told by so-called experts of the industry. We knew they were wrong, we just weren't sure we could get the public to believe in it. At the Beachbody Classic, the proof was in the proverbial pudding; both men and women had achieved world-class results, at home, without the need for massive weights, squat racks, or even a bench press.
Here's an inside look at what the program is and how you, too, can become a Beast.
The Team
In our first meeting with Kalev, the conversation revolved around how to get results without a ton of equipment. While Sagi was confident that it could happen, there was no track record of it being done. Bodybuilders, traditionally, are married to the gym. Historically, it's been such a part of the bodybuilding psyche that no one bothered to consider it.
But Beachbody's CEO, Carl Daikeler, wasn't so traditional. He thought only of the untapped potential of those who were too shy, or too busy, to get to the gym every day. If we could come up with an alternative, we could change the entire perception of what it takes to get big.
It's not like we didn't have experience, either. Throughout our history we'd seen great results with limited equipment. In fact, armed with nothing but exercise bands, Daikeler had added pounds of muscle using P90X. Even though we'd never focused exclusively on bodybuilding, we'd helped thousands of people add some mass and knew our template for using minimal weight could be expanded.
We also had access to Dr. Marcus Elliott and his P3 team of exercise physiologists. They transformed athletes, so movement is their specialty, but an athlete's body must also match his or her sport. They knew all the latest science of metabolism and how to grow (or shrink) bodies for optimal performance.
With a solid team in place, research commenced. Strategic meetings, test groups and some good old trial and error followed and, pretty soon, Dynamic Set Training was born.
Dynamic Set Training
It's long been understood that that muscular hypertrophy (growth) is based on the body's ability to create hormonal cascades, which translates into an altered metabolism that's more easily molded into shape. With proper structure, along with strategic eating—a lot of eating—and supplementation, you'll maximize your body's ability to gain muscle.
Heavy resistance (a.k.a. weight) has always been a key component of this process. However, continual research has shown that while lifting maximum weight and inducing failure is a vital part of the process, one of the main factors is something referred to as time under tension.
Time under tension is the cumulative amount of time that your muscles spend contracted during a workout. As long as you're continually pushing your body to its limit, this factor supersedes the actual amount of weight you're using. Knowing this opened the door for new weight training strategies to maximize time under tension using minimal weight.
This in no way means that only light weight can be used. It's still vital to stress the body in something called the Phosphocreatine energy system (anaerobic endurance), so you still need enough weight to continually achieve failure. However, the principles of time under tension opened the door to new forms of training, using different styles of sets and cadences that can facilitate anaerobic failure with less weight and equipment than is traditionally used.
If this seems complex it's because, well, it is. It took a crew of experienced trainers a fair amount of testing to nail it. As scientific as it is, the underlying principles of Dynamic Set Training can be simply explained using one example, called a pre-fatigue set.
Pre-fatigue sets require you to do a low-weight, high-rep set of exercises that targets muscle groups, followed by a heavier set that targets the Phosphocreatine system. For example, a set of push-ups to failure, followed immediately by a set of bench press in which you use the maximum weight in order to fail at 8 to 12 reps. The first set tires out the body so you can achieve anaerobic failure in the second set with less weight than you'd normally use. This turns the entire "superset" into one very long anaerobic set, adding to the overall time under tension of the workout, thus forcing the body's hormonal response to build muscle.
Over the course of a program, you must continually force the body to adapt to training protocols. What this means is that, as great as pre-fatigue sets are, you can't just rely on them alone to stress the body's hypertrophy response. To accomplish this, we needed to come up with an array of training methods that would maximize time under tension, while still forcing anaerobic set failure, the result of which was a stew of different weight training strategies we called Dynamic Set Training.
Turning Stew Into A Meal
A training strategy does not a program make. So while Dynamic Set Training was the vehicle that allowed us to create an approach to building muscle without a literal ton of weight, it needed to be molded into a training program.
Any solid training program includes an overall strategy for exercise, along with diet and supplementation that match. This being Beachbody's forte, it was a straightforward process, but a program that targets mass is a slightly different animal than a weight loss program. The strategy for Beast had to accommodate both.
The exercise protocol included setting up microcycles, which are your workout schedule for a given week; macrocycles, which are your blocks of training that maximize the adaptation principle; and recovery, so that your body has time to properly build muscle before you hit it again. For Beast we set up two schedules, one for those looking to change their body composition by either gaining or losing weight, and the other for those looking only to gain mass.
Since this article concerns mass, we'll just focus on the latter schedule. Workouts based on Dynamic Set Training are not enough for an effective program. You have to create workouts that can utilize the theory of progressive overload over time, meaning you need a strategy that stresses the body continually from the time it's out of shape until its fitness level is peaking. This is the reason there are so many workouts in the program, as well as a training schedule that's set up in various training blocks.
Essentially, each training block is crafted so that you maximize a training principle known as the specificity of adaptation. Blocks are designed to last a month, but you may do them longer depending on how your body is adapting to your training. When you peak, you move on to the next one.
Of course, as any bodybuilder knows, all of this revolves around diet (including supplementation). Most bodybuilders say that diet is the crux of bodybuilding, especially at first, as you're attempting to add more mass than is natural for your body.
With this in mind, we created diet and supplementation strategies that work hand in hand in order to make this process as easy as possible. As Sagi states in the guide, it's not easy, but reviews on our nutrition guide tell us we've nailed this, at least as much as we can. Getting big requires that everyone endure a period of eating more than they are comfortable with but, as Sagi says, "I spend one hour a day exercising and 23 hours recovering. What you do in those 'off' hours makes all the difference if you want to be a Beast."