10 Things You Don't Know About Petra Kolber
We asked Petra Kolber, VP of Personal Development and Mindset at BODi, to answer 10 questions to help you get to know her better.  
She's a dancer, choreographer, writer, author of The Perfection Detox, global workshop leader, keynote speaker, and a Positive Psychology Performance Coach. 
Find out how Petra started her career, her Health Esteem routine, what she's most proud of, and much more.
1. What are you most excited about launching Mindset on BODi?
Everything — from a blank slate to co-creating something meaningful and magical. Every morning I wake up and I pinch myself. If I had to write my perfect job description, a job of my dreams, this would be it.
The fact that I can create work I have believed in for over a decade and is now being embraced by BODi in such a big way, is both inspiring and exciting.  
The idea of Health Esteem is so long overdue. I'm just grateful to have the ability to work with such an incredible company alongside so many impactful and powerful leaders who truly want the best experience and outcome for our customers.  
To be a part of something that I genuinely believe will help people feel empowered to celebrate who they are and make this journey of fitness, nutrition, and wellness joy-filled is a gift.  
BODi brings a realness to this wonderful and sometimes challenging journey called "living." We celebrate the wins, and we also celebrate the messy.  
This is a role that I will never take for granted. It is something very, very special that I hold in my hands with such integrity, empathy, and gratitude.
I am so blessed. To be in this moment at this moment in time.
2. What was your introduction to the fitness industry?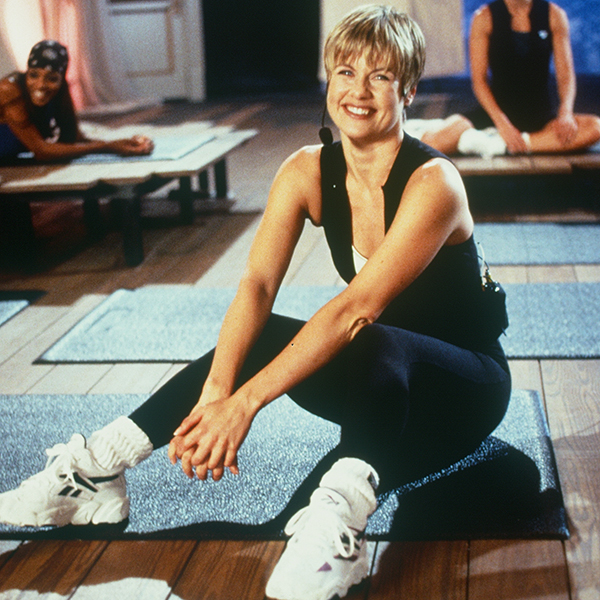 My introduction to the fitness industry began on cruise ships! I was a dancer, but at the first rehearsal, we were told we also needed to do crew staff duties.  
Part of the duties was to teach poolside aerobics to help offset all the midnight buffets the passengers were eating.  
I knew nothing about fitness at that time. But I did have a Jane Fonda VHS tape, which I basically copied and taught once a week.  
After that, I worked as a dancer in Miami, Florida. I began to hear more about this thing called "aerobics." I took my first aerobics class with one of the dancers who happened to have won "Star Search" that year and I fell in love with it.  
I soon got my ACE certification (American Council of Exercise), and I took the first-ever Reebok Step workshop with Gin Miller, a legend in the industry and now also a great friend. 
From there, I moved to New York City. I started teaching a step class with live drums called "London Beat," which put me on the map — every class was like a live rock concert! It was one of the most fun classes I ever created and taught. 
Through that class, Reebok got wind of what I was doing. I got a job to be one of the brand's new faces after sending in an audition tape.
I worked with Nancy Kerrigan and several other Olympic athletes. And that was the beginning of my true fitness career. 
3. Why shift from fitness to positive psychology? 
After about 30 years on the fitness circuit, everything changed and evolved — as it should. HIIT workouts and boot-camp style classes became the workout of choice; step aerobics and dance were no longer in demand. 
At the same time, I felt this massive disconnect. I thought that there had to be more to movement than just your body. That's when I turned to positive psychology, although I didn't know it was called that at the time. 
I wanted to understand what it meant when people came up to me after class and said, "I feel so inspired and empowered by working out with you."
But what did that mean? What was the science behind that? 
Or when people came to me and pointed out what they didn't like about themselves, with questions like, "How do I tighten up my triceps?" or "How do I get rid of my belly fat?" 
All they could see was their perceived imperfections and they couldn't see all the greatness inside of them. I knew something had to change.  
I Googled "positive thoughts" and "mindset," and I came across positive psychology. I found a year-long certification program through the Kripalu Center for Yoga & Health.  
It was led by top Happiness researcher Dr. Tal Ben-Shahar and some other thought leaders in the space, and I signed up. It was really intense and life-changing for me.  
4. What does Health Esteem mean to you? 
Health Esteem means being happy and content in my body. Embracing where I am today with a sense of peace, and taking care of myself so I am ready and excited for everything I've still yet to do. I'm just getting started.
5. What is your Health Esteem routine? 
My number one routine is making sure I notice my thoughts. I believe the good ones, and I manage the not-so-good ones.  
There's so much research about the power of our mind and how it affects our body, our immune system, and how our mindset contributes to our stress level.  
I have a heightened awareness of my stress level these days. In the past, I've seen how my high stress levels impacted my health in a negative way. 
Sleep is number two. My Oura ring tells me I sleep like a rock star!
I also move my body daily, use a standing desk, and hike once or twice a month. I surround myself with good friends and eat well 85% of the time. 
Last, but not least, I have an incredible work life that I consider my passion. 
6. Why is your first Mindset Master Class on BODi called "Happiness Habits"? 
While happiness means different things to all of us, the one thing that is true for everyone is that our mindset is just like a muscle.
You can make it stronger and more flexible with the right training. This class gives us a solid foundation from which we can build a life in which we can flourish and thrive. 
Happiness is now a science. My goal is to share it in a way that is both relatable and applicable to our audience.
It's only when we understand "the why" behind the choices we make, that we can influence our Health Esteem journey so we can find more joy in the process. We call it "evidence-based inspiration."
7. What has had the biggest impact on your life?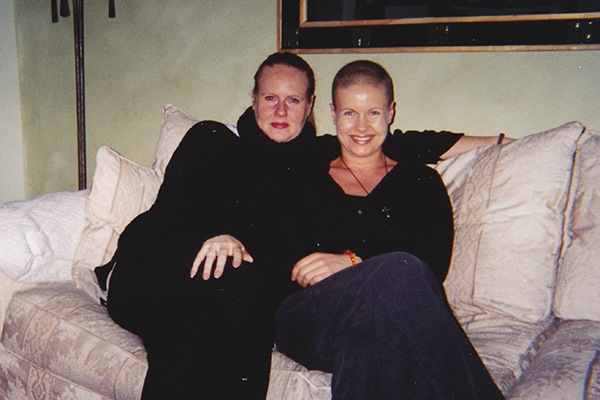 My cancer journey. I had a melanoma removed from my foot in 1997, and two years later, I was diagnosed with cancer. 
There was a space of a month where we weren't sure if it was lymphoma (that would have been "good news") or melanoma that had spread. For weeks, my brain ping-ponged from worst-case to best-case scenario. 
It turned out to be Hodgkin's lymphoma. When I lost my hair, I gained a sense of fearlessness that I never experienced before. I had already faced my worst fears; what did I have to lose? 
As strange as it sounds, I did some of my best living during my cancer treatment. Nothing will make you appreciate the gift of good health more than when it is taken from you.  
The one thing that kept me mentally stable was movement. I had chemotherapy on Monday and taught a step class on Tuesday. Obviously, that's not for everyone, but it was just the medicine I needed.
8. What are you most proud of and why?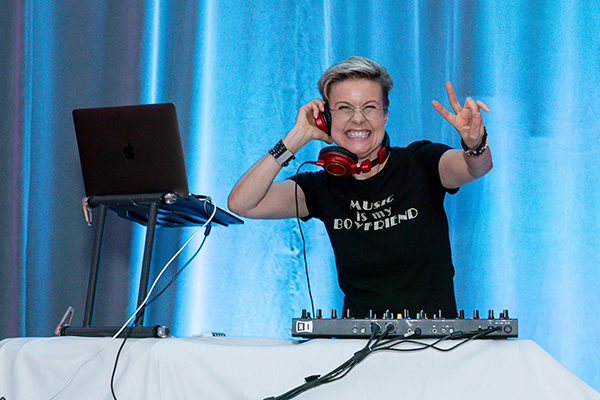 Two big moments for me: One was learning to DJ at 55. 
My first DJ gig was for a VIP party at a well-known fitness conference for 500 people. 
Two weeks before the event, I wasn't sure if I was going to be able to do it. I had a last-minute practice session with my mentor, and he told me I had practiced the perfect playlist — but left no room to be spontaneous and react to the dance floor. 
Thank goodness for his honest and constructive feedback. 
I learned to trust myself and be in the moment so that I was able to put on the tracks the dance floor wanted, not the ones that I had rehearsed.  
We closed the party well past midnight, and that dance floor was rocking! 
My other proud moment is when I went to Europe with a one-way ticket and traveled on my own for 10 months. And I honestly think that journey led me to this moment with BODi.
9. What is a quote or motto you live by?
"Watch your thoughts, they become your words; watch your words, they become your actions; watch your actions, they become your habits; watch your habits, they become your character; watch your character, it becomes your destiny." ― Lao Tzu 
And be nice to everyone — the same people you meet on the way up are the same people you will meet on the way down.
10. If you had a theme song, what would it be?
If I had a theme song, it would have to be "Happy" by Pharrell.