WHAT DO I NEED TO START A
BODi WORKOUT AT HOME?
Let's start with the necessities.
2: A SMALL, CLEAR SPACE
TO MOVE
Your gym is where you live.
3. A SET OF DUMBBELLS
Resistance bands work great, too.
AT-HOME WORKOUT TIPS AND
TRICKS TO STAYING HEALTHY
Use these tips to get the most of your at-home workouts.
HOW TO DO POPULAR EXERCISES SAFELY
Safety first! Click "Watch" to see a visual breakdown of the video.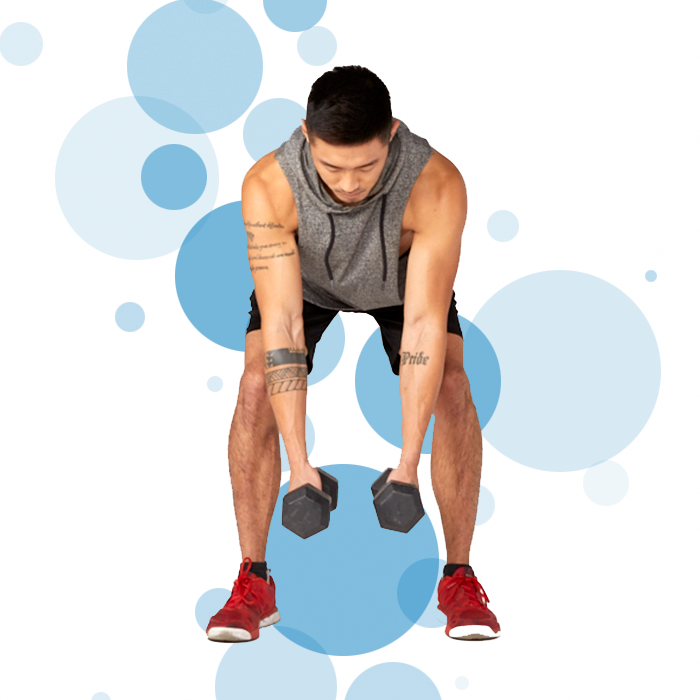 THE BENT-OVER ROW
The bent-over row might be an "old school" back exercise, but there are few better moves for sculpting a V-shaped torso — that "ideal" upper body physique that's wide at the shoulders, narrow at the waist, and head-turning in a tailored shirt… or without a shirt at all.
That's because the bent-over row hits nearly every muscle in your upper and middle back — including your rhomboids, traps, and lats — while working your rear deltoids and requiring you to engage your core to maintain stability. Plus, it hits your biceps, giving you one more reason to add it to your weekly training plan.
It's tough to beat the biceps-building power of the classic dumbbell curl — unless you add a pause like you will with the isometric variation. Holding a 90-degree angle with one arm while performing reps with the other provides two distinct benefits. First, it increases your biceps' time under tension (a key growth stimulus). Second, it will help you overcome a classic "sticking point" in the exercise. The result: more muscle and greater strength through the complete range of motion. Follow along with Maricris in the video as she demonstrates perfect form.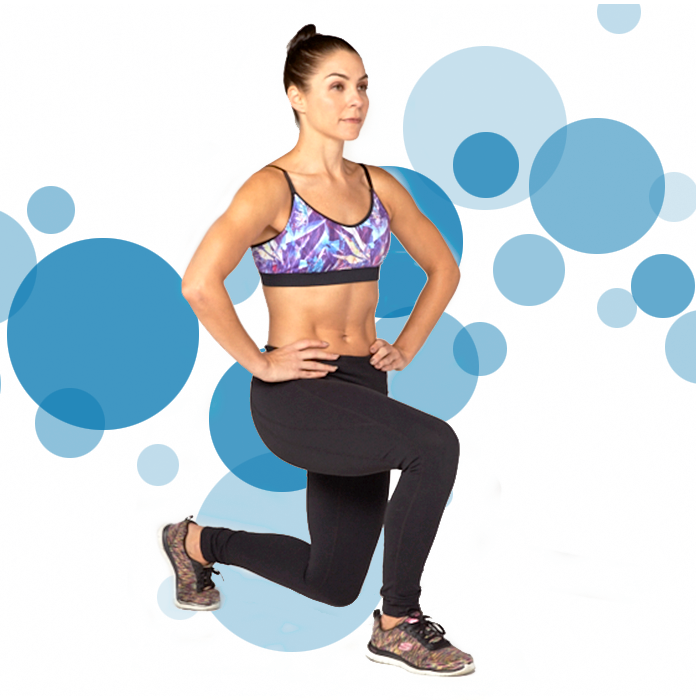 THE FORWARD LUNGE
Oh, the forward lunge — the exercise so many people love to hate.
You might avoid it because of the deep burn it produces in your quads, yet there are few better exercises for sculpting lean, powerful legs. But turning heads isn't the only reason to weave this classic move into your workout routine.
When performed with perfect form (as you're about to learn), the strength and mobility you'll build will not only make everyday efforts (like carrying groceries and climbing stairs) easier, but also boost your performance in sports ranging from running to basketball.
THE PUSH-UP
Few exercises command more muscle-building respect than the push-up, which is why everyone from soldiers to yogis performs it regularly. Still, if your goal is to build a powerful chest, you might assume that this classic exercise would take a backseat to the bench press.
And in that you'd be wrong.
According to scientists reporting in the Journal of Strength and Conditioning Research, the push-up and the bench press produce similar levels of muscle activation, and lead to similar gains in strength. Of course, as with any exercise, the push-up's efficacy hinges on performing it correctly. Here's how to do a push-up safely and effectively.