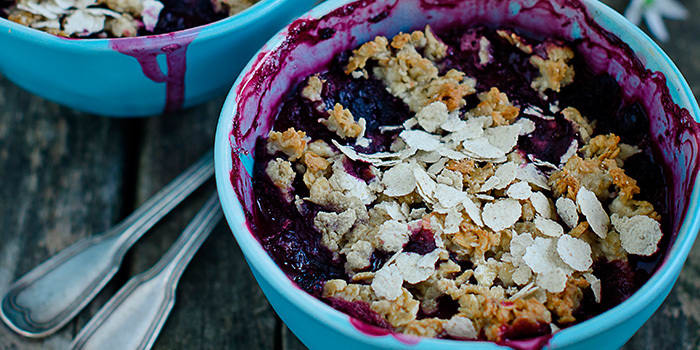 Most traditional Blueberry Buckle recipes contain more than ½ cup of sugar. Sure, it's is divided between the crust, the filling, and the streusel on top. In the end that is still a ton of sugar. There's no need to bother with the downside of having a whole Blueberry Buckle on the counter (because you know I will totally eat the whole thing if you give me the chance.) What makes this classic dish so irresistible are the fresh blueberries, baked until they've melted into a decadent melange of berry goodness.  If you love the flavor of Blueberry Buckle but are sticking to your healthy eating plan, then look no further than our recipe for Blueberry Buckle Granola.
This delicious yet sensible dessert recipe contains the healthy fiber of oats, yummy fresh blueberries, and satisfyingly crunchy almonds. The flavor of this Blueberry Buckle Granola is the real deal.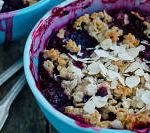 Blueberry Buckle Granola
The flavor of this Blueberry Buckle Granola is the real deal.
Prep Time 5 mins
Cook Time 20 mins
Total Time 25 mins
Servings 2 Servings, about ½ cup each
Calories 205 kcal
Ingredients
¼ cup pure maple syrup
2 Tbsp. + 2 tsp. extra virgin organic coconut oil melted
1 tsp. pure vanilla extract
2 cups dry old-fashioned rolled oats
2 cups fresh blueberries
½ cup slivered raw almonds
1 tsp. ground cinnamon
1 tsp. sea salt (or Himalayan salt)
Instructions
Preheat oven to 350° F.

Line baking sheet with parchment paper. Set aside.

Combine maple syrup, oil, and extract in a small bowl; whisk to blend. Set aside.

Combine oats, blueberries, almonds, cinnamon, and salt in a large bowl; toss gently to blend.

Add syrup mixture; toss to evenly coat oat mixture. Place on prepared baking sheet.

Bake for 20 minutes, stirring twice during baking.

Cool granola completely, stir, and break into pieces (if needed).
Nutrition Facts
Blueberry Buckle Granola
Amount Per Serving (1 serving)
Calories 205 Calories from Fat 81
% Daily Value*
Fat 9g14%
Saturated Fat 4g25%
Sodium 145mg6%
Carbohydrates 27g9%
Fiber 4g17%
Sugar 11g12%
Protein 4g8%
* Percent Daily Values are based on a 2000 calorie diet.
Tip: Store in an airtight container for 1 to 2 weeks.
Portion Fix Containers
1½ Yellow
½ Blue
1 tsp.
Not familiar with Portion Fix? Find out how Portion Fix can make losing weight simple.
If you have questions about the portions, please click here to post a question in our forums so our experts can help. Please include a link to the recipe.