9 Totally Easy and Healthy Blackstone Griddle Recipes
Are you loving your Blackstone griddle? As the weather warms and the BBQs begin, it's almost time to bust out your Blackstone griddle and cook up all your favorite dishes outside.
From perfect, fluffy pancakes to grilled fish and hunks of meat, this griddle delivers. Plus, it's so fun to cook meals outside.
Not only do these griddles efficiently grill up your meals, many of them come with other convenient benefits like attached cutting boards, garbage bag hangers, and paper towel holders.
Those are all perfect for making that meal prep and cleanup easy-breezy!
To get you geared up to use your griddle, here are nine easy-to-make, delicious, and healthy Blackstone griddle recipes for you to enjoy!
1. Oat Flour Pancakes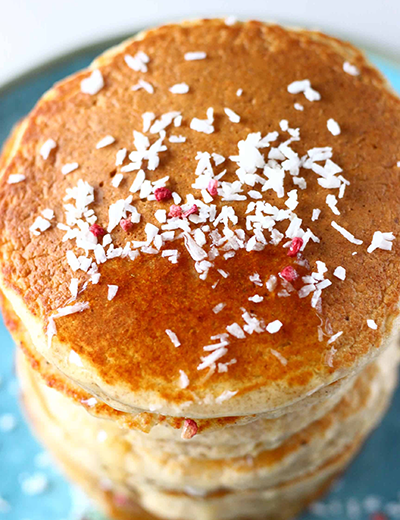 These gluten-free oat flour pancakes are thick, fluffy, and require only 25 minutes of cook time! They're only 90 calories while being vegan, refined-sugar-free, and nut-free!
You can also whip up any variation of your favorite fluffy protein pancakes on a Blackstone griddle.
Get the recipe at Rhian's Recipes.
2. Grilled Green Goddess Wraps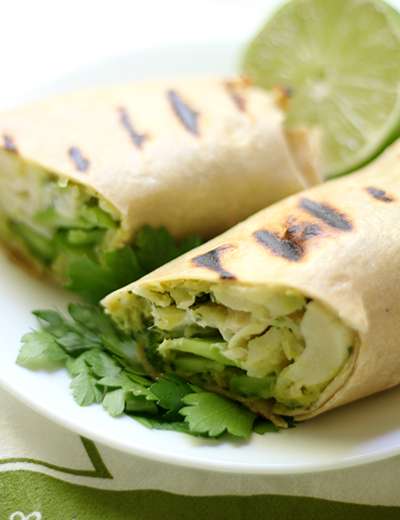 Made with a delicious and healthy lima bean spread, broccoli, and hearts of palm, these gluten-free, nut-free, and vegan wraps are perfect to take on-the-go and are ready to eat in just four minutes!
Note: Swap in your favorite wraps if you can't find the ones used in the recipe.
Get the recipe at Strength and Sunshine.
3. Greek Style Chicken and Salsa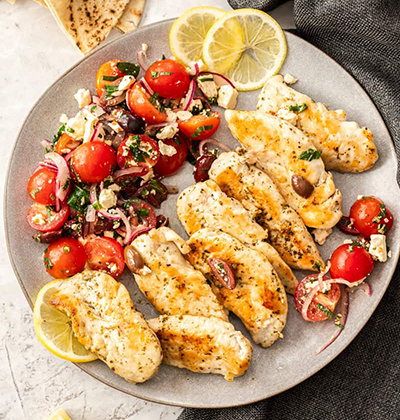 Looking for healthy Blackstone griddle chicken recipes? This recipe is ready in under 30 minutes, offers 25 grams of protein, and only 6 grams of carbs.
Add these Greek style chicken tenderloins to sandwiches, salads, wraps, or eat them on their own!
Get the recipe at It's Not Complicated.
4. Apple Cinnamon Protein Pancakes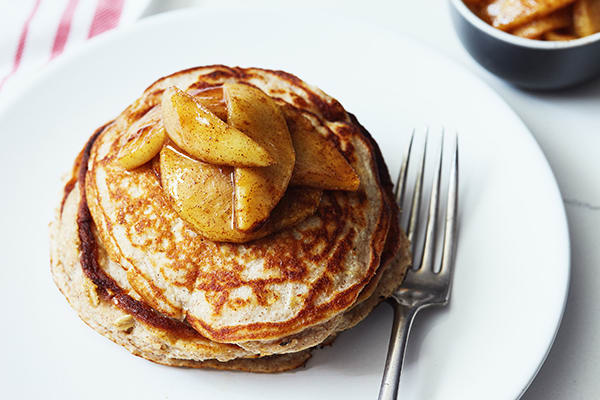 These protein-rich pancakes are topped with delicious, cinnamon-spiced apple slices that add the perfect amount of sweetness to this recipe.
Two of these pancakes clock in at just 150 calories while offering 13 grams of protein for a super healthy Blackstone griddle recipe.
Get the recipe at BODi.
5. Potato-Crusted Salmon Fillets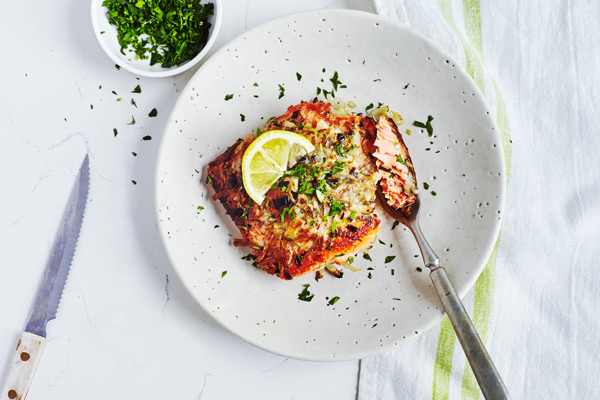 Crispy and crunchy on the outside and flaky and juicy on the inside, these potato-crusted salmon fillets can be a simple yet tasty main course in an easy weeknight dinner or a full week's meal prep.
Requiring just seven ingredients and 30 minutes, each fillet packs 24 grams of protein.
Get the recipe at BODi.
6. 30-Minute Mediterranean Fish Skillet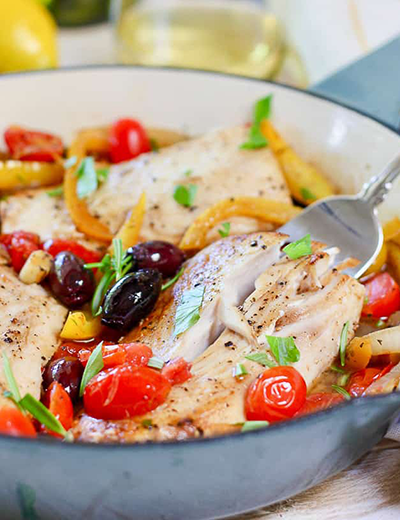 With just about 250 calories, 28 grams of protein, and only 2 grams of saturated fat, this quick and easy dinner recipe can go from your Blackstone griddle to a serving plate in under 30 minutes.
It's bursting with Mediterranean flavors, like Kalamata olives, feta, and cherry tomatoes!
Get the recipe at Laughing Spatula.
7. Methi (Fenugreek) Thepla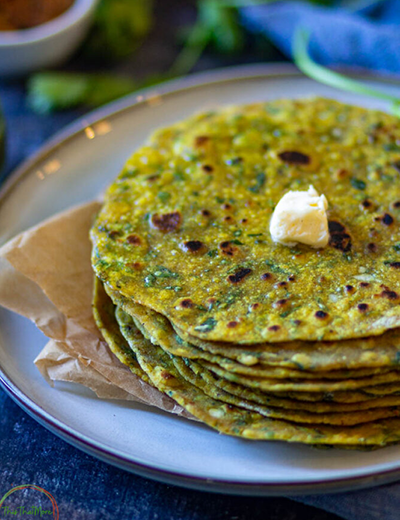 Methi (Fenugreek) Thepla is a yummy and easy-to-make Indian flatbread made from fresh fenugreek leaves (available at Indian grocery stores), wheat and chickpea flours, garlic, and spices.
When cooking the flatbread, use nonstick cooking spray instead of oil.
Get the recipe at This That More.
8. Quick and Simple Grilled Salmon with Rub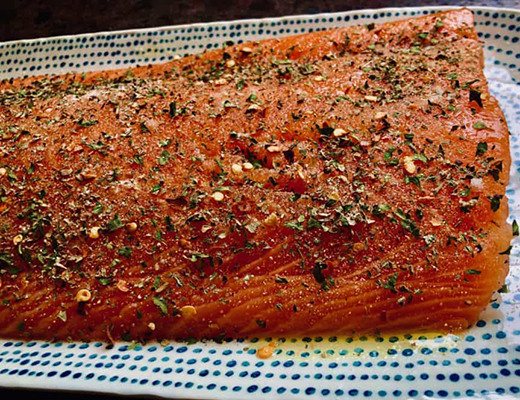 This simple and easy grilled salmon is the perfect healthy Blackstone griddle recipe if you need to feed a whole family. It's rubbed with a blend of delicious, zesty spices like parsley, garlic salt, basil, and crushed red pepper. Yum!
Get the recipe at Angry BBQ.
9. Chicken Kebab Patties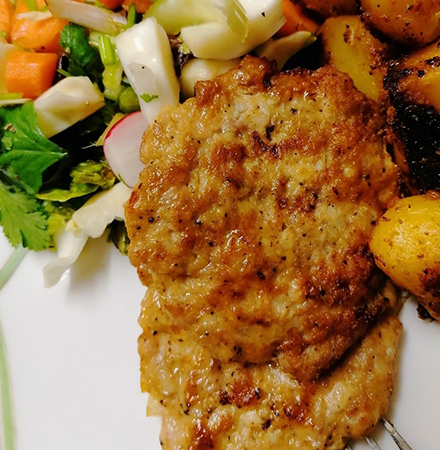 Another excellent Blackstone griddle chicken recipe, these kebabs are so easy to make and full of flavor! They're seasoned with garlic powder, onion powder, paprika, chili powder, cumin, and coriander.
They have fewer than 200 calories but offer 19 grams of protein!
Get the recipe at So Yummy Recipes.