14 Best Water Bottles for Staying Hydrated On the Go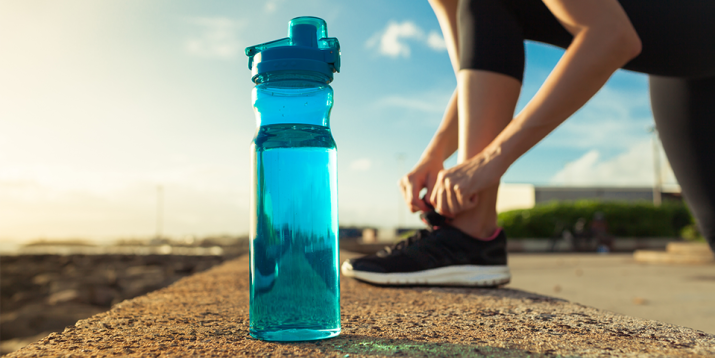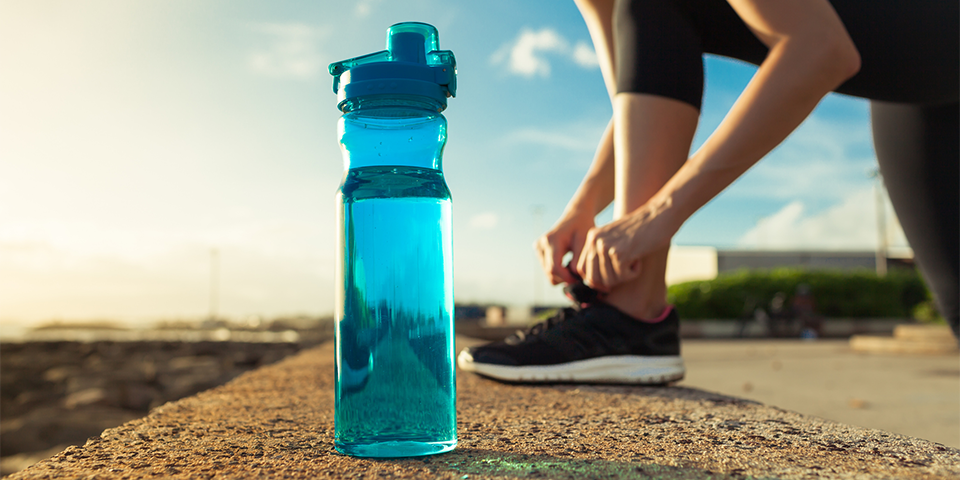 We all know it's important to stay hydrated — water keeps pretty much every system in your body functioning properly. And a great water bottle can make it easier to ensure you're drinking enough water.
Instead of buying tons of bottled water, you can save money and reduce waste by investing in the best reusable water bottle. With so many options out there, choosing the best water bottle can be overwhelming — so we've compiled a list of our favorite water bottles for the car, the office, the gym, and more.
The Best Water Bottles for the Gym
1. S'well Vacuum Insulated Stainless Steel Water Bottle (S'well)
Looking for the best stainless steel water bottle for the gym? We love this 25-ounce bottle from S'well — it's compact and condensation-free, and it keeps your water cold for up to 48 hours.
And it's available in a variety of bright colors and bold patterns, so it'll be easy to spot among all the basic bottles at the gym.
Price: $35
2. CamelBak Podium Chill Insulated Water Bottle (CamelBak)

Thanks to the easy-squeeze design and self-sealing valve, you can take a sip without having to open or close a lid.
That makes this 21-ounce bottle a favorite among cyclists — but it's also perfect when you're using sweaty gym equipment and don't really want to touch your water bottle nozzle with your germy hands.
Price: $18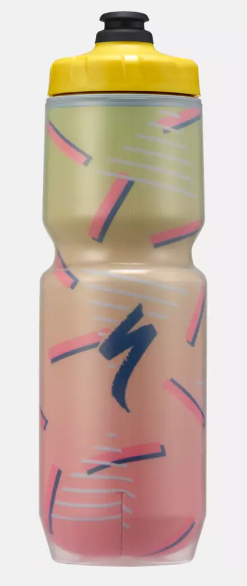 Go back to the basics with this insulated bottle. It's made with flexible material, so it's lighter than some of the other insulated glass bottles, but the double-wall construction provides a barrier that will keep water cold for hours.
The MoFlo cap provides a high flow-rate, getting water into your mouth in record time.
Price: $20
The Best Water Bottles for Travel
4. Contigo Cortland Chill 2.0 Stainless Steel Vacuum-Insulated Water Bottles (Amazon)
Planning an epic road trip? The double-walled insulation on these 24-ounce stainless steel water bottles keeps your drink cold for 24 hours and hot for six. And the one-touch, auto-sealing lid lets you keep one hand on the wheel while you sip.
Price: $43
5. The Coldest Water Bottle Hydro Travel Mug (Amazon)
This 21-ounce, insulated stainless steel water bottle fits in most cup holders and stays cold for up to 36 hours — perfect for an overnight camping trip, a full-day mountain biking excursion, or just getting stuck in beach traffic in a hot car.
It's also designed to float, so you can stay hydrated while kayaking or paddle boarding without worrying when it falls overboard.
Price: $27
The Best Water Bottles for Work
6. Brimma Leak Proof Fruit Infuser Water Bottle (Amazon)
Instead of grabbing a soda from the office vending machine, pack this 32-ounce fruit infuser bottle — just fill the infuser with mint leaves or fruits in the morning, and you'll have a healthier beverage on hand when that midafternoon slump rolls around.
Price: $15
7. Thermos Nissan Intak Hydration Water Bottle with Meter (Amazon)
When work gets hectic, it can be easy to forget to take hydration breaks. This 24-ounce, BPA-free plastic water bottle can help — it features a rotating meter to monitor your daily water consumption.
Price: $23
8. bkr Tutu (bkr)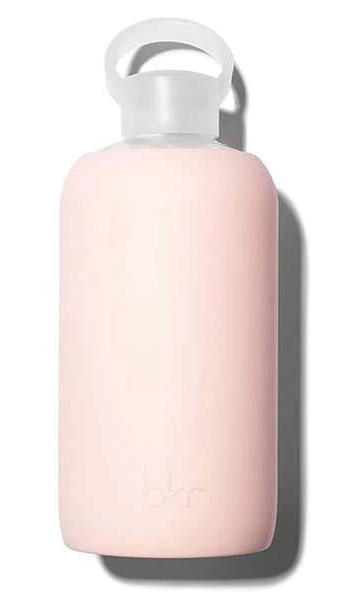 Not a fan of plastic? These glass bottles are BPA-free and wrapped in a soft silicon cover. Their line also includes glamorous, limited-edition collections inspired by runway trends, so you can feel like your water bottle is a true fashion accessory.
Choose between three sizes: 250ml, 500ml, or one liter. Whether you're looking for a tiny gulp, enough liquid to get you through a full workout, or a water source for your desk, there's a bkr size for everything.
Price: $28 – $79
9. Kor One (Kor)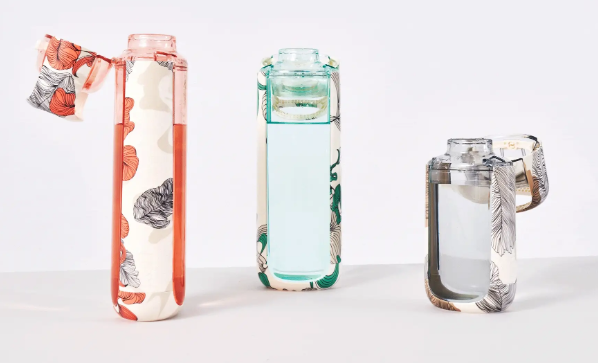 Pick up one of these and you'll be one step closer to living like Tony Stark. In the opening scene of the first Iron Man, he's drinking out of the Kor One.
The 750ml bottle comes in multiple color options and comes with the "perfect spout," or a smooth, rounded lip that's large enough to let ice cubes pass through, but small enough to minimize splashing.
Its leak-proof lid opens in just one click and features a convenient handle that makes it easy to carry around.
Price: $28 – $40
The Best Water Bottles for Hiking
10. Hydro Flask Wide Mouth Bottle (Hydro Flask)
Made from BPA-free plastic and powder-coated stainless steel, Hydro Flask's 20- to 64-ounce water bottles can help you stay hydrated on a full-day hike, and the wide-mouth opening is compatible with most backcountry water filters.
Double-wall insulation — plus honeycomb insulation in the lid — keeps drinks cold for up to 24 hours, or hot for up to 12 hours.
Price: $30 – $125
11. LifeStraw Go Water Filter Bottle (Amazon)
This is one of the best filtered water bottles on the market. Perfect for backpacking, this BPA-free water bottle uses its award-winning LifeStraw hollow fiber membrane to filter out 99.9% of water-borne bacteria and parasites, so you can refill from lakes and streams as you go.
Price: $40
12. Amphipod Hydraform Ergo-Lite Ultra (Amphipod)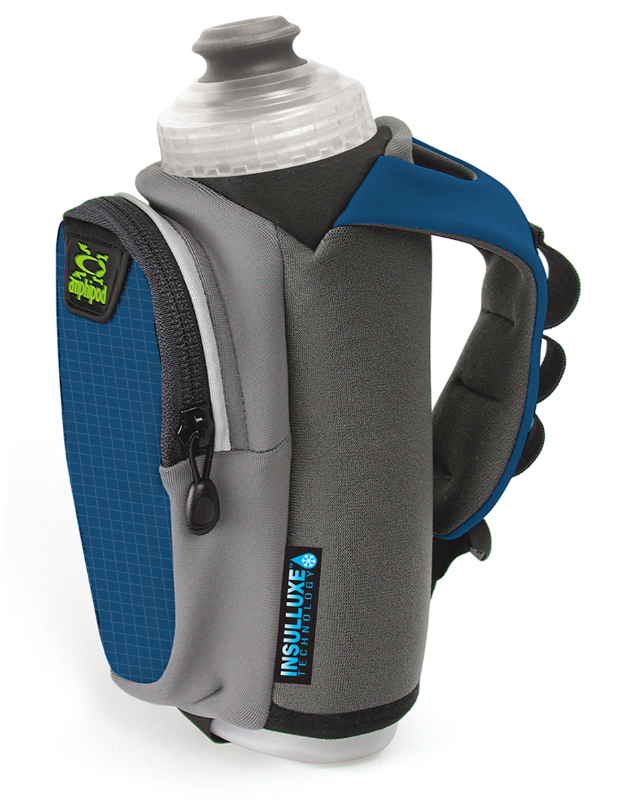 All you runners out there will appreciate the ergonomic shape of this water bottle. Just rest your hand on the built-in grip, secure the cushioned adjustable strap to your hand and go.
The cap makes it easy to squeeze a jet of water into your mouth while you're running, and the bottle comes with a storage pocket that can fit keys, cards, a large phone… or some post-run snacks.
Price: $35 – $39
The Best Water Bottles For Kids
13. CamelBak Eddy Kids Water Bottle (Amazon)
The patented Big Bite Valve lets kids take big sips — and it's easy to seal, which helps prevent spills and leaks. Plus it comes in a variety of kid-friendly prints and patterns that'll get your little one hyped to stay hydrated.
Price: $15
14. Nalgene Tritan Grip-n-Gulp BPA-Free Water Bottle (Amazon)
Think of this BPA-/BPS-free water bottle as the sippy cup's older sibling: It's spill-proof, dishwasher safe, and durable enough to be dropped from a moving vehicle. (Hey, it happens.)
The side indents are perfect for tiny hands that need a little extra help gripping.
Price: $16