11 Best Running Sunglasses to Protect Your Peepers
When you're exercising outdoors, having the right gear can make a big difference.
For instance, if you're a runner, you probably wear supportive shoes, athletic wear, and maybe a ponytail holder to keep your hair out of your eyes.
Sunglasses might not be on your list of  "must-have" outdoor exercise items — but they should be!
Why Do I Need to Wear Sunglasses When I Exercise Outdoors?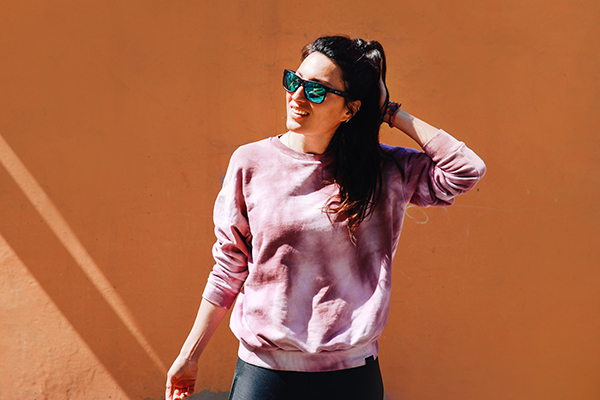 Sunglasses protect your eyes from the sun's rays that can harm your eyes and your eyesight.
Optometrist Dr. Leigh Plowman explains, "More than just a one-off event, like sunburn, eye damage from UV is cumulative. So the more times you go out in the sun without eye protection, the more damage you can get."
Optometrist Jennifer Wademan, O.D., agrees:
"What's more, chronic sun exposure can lead to severe eye issues later in life, such as cataracts, macular degeneration, or skin cancer around the eyelids," she adds.
When you're exercising on a sunny day, you probably wear sunglasses.
But you also need to wear them on cloudy days because clouds are barely more than tissue paper to the sun's penetrating stare.
Wademan says, "Even on days when you don't see the sun, your eyes are still exposed to up to 80 percent of the sun's harsh effects. "
Also, when you're exercising outdoors, sunglasses can protect your eyes from other potential dangers, like dirt, debris — or making eye contact with other runners when you trip over a curb.
What Are the Best Types of Sunglasses for Running or Other Outdoor Activities?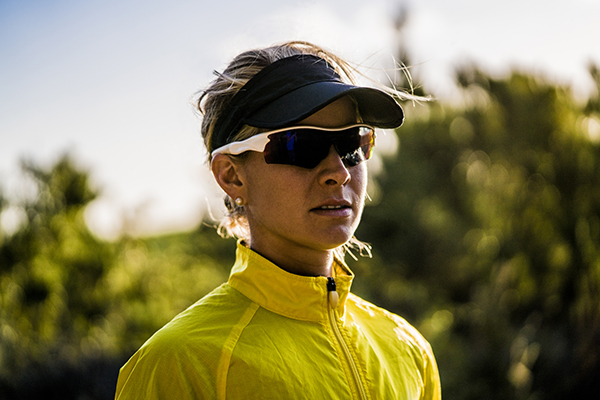 The best type of sunglasses are those that are comfortable, fully cover your eyes, and won't bounce when you're running down a trail or going to kick a soccer ball.
Dr. Plowman recommends wrap-around style sunglasses, but ideally, your sunglasses will fit your fashion style, so you'll actually wear them.
"Your sunglasses need to wrap around your eyes and face. They also need to block UVA/UVB. Darkened lenses also help reduce blue light radiation," she explains.
Here are other types of sunglasses that you may want to consider:
1. Tinted
Tinted sunglasses are your basic sunglasses that should offer 100% UVA and UVB protection.
How much they need to grip your face depends on the activity you're doing.
When choosing tinted lenses, 100% UVA/UVB protection is essential.
"Another misconception is that darker sunglasses provide stronger UV protection," Waderman explains. "Dark lenses without adequate UV protection can actually be worse than no sunglasses at all because they cause the eye's pupil to dilate, which then increases exposure to unfiltered UV."
Here are a few tinted sunglasses to try:
These fashionable tinted lenses with tortoiseshell frames probably aren't ideal for intense sports, but they'll keep your eyes 100% protected from UVA and UVB rays on that mini-golf date.
These ultra-sporty glasses are where fashion meets function. With lightweight frames that slightly wrap around your head, as well as anti-fog and scratch-resistant nylon lenses, these oversized statement shades provide UVA and UVB protection for runs on the trail or on the slopes.
They also feature adjustable rubber nose pads to help stay put, and come in a few different colorways and tints.
These unisex budget-friendly tinted sunglasses are constructed with a special grip-coated frame to prevent sweat-induced slipping.
They're lightweight and made for workouts, runs, and lounging, with glare-reducing amber lenses that also feature UV400-protection technology. Plus, they're only $25!
2. Polarized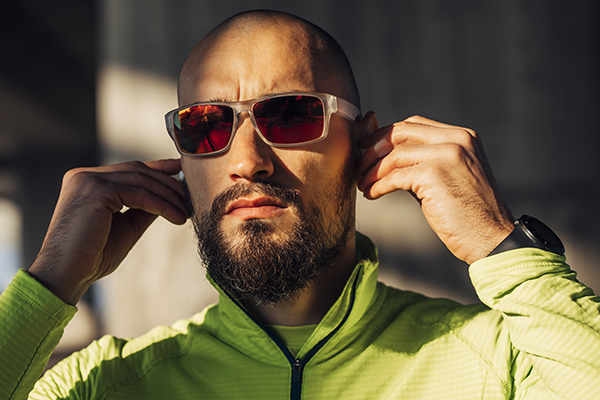 Polarized sunglasses are great for reducing glare when you run, golf, cycle, or do practically any outdoor activity with the exception of spelunking.
This can make exercising outdoors more pleasant, especially if you're particularly sensitive to sunlight. (Mind the garlic.)
Oakley was one of the first popular brands to create polarized lenses, and their trademark style is still a great choice if your bumper sticker says, "I'd rather be cycling."
If it's not, Ray-Ban also makes great running sunglasses, as do Sunski and Goodr.
The Oakley Flak 2.0 XL features a sturdy, standard size frame and comes with polarized Prizm lenses that decrease glare and enhance color and contrast.
They're available in a wide range of lens and frame colors.
If Tom Cruise had gone running in Risky Business, he might have worn these Wayfarers. And, hopefully, pants.
These mid-range lenses don't look like every other running sunglasses option on the market, and that's a good thing.
They have polarized lenses, a rubber nosepiece, and best of all, you can also wear them to brunch.
For some sports, it can be more pleasant if you wear sunglasses that wrap around your face.
This rimless, polarized style from Oakley does just that.
Goodr's sunglasses easily take the cake for the best-named sunnies on the list, but they're also polarized, budget-friendly, and have a no-slip frame design.
So, when you inevitably lose them, you won't feel too bad.
These lightweight Roka nylon sunnies are great for bright light and super sunny conditions, with polarization to block out any glare coming off water or roads.
Made with high-quality materials, reliable spring hinges, and best-in-class optics, they're totally sweat-resistant, thanks to their proprietary GEKO™ fit and retention system.
3. Photochromic Lenses
Photochromic or transition lenses adjust to the amount of available light.
They allow more light in if it's bright out and less if it's darker.
If you're a serious trail runner or hiker, this can come in handy if you're spending all day outdoors.
Or just if you live in a place where the weather changes every ten minutes.
These lightweight wrap-around cycling sunglasses have a grippy insert on the nose bridge to keep them in place and adjust the level of tint quickly.
So you won't have to pull them down and squint over the top if you run through a tunnel!
They might not look like they offer a lot of protection, but don't be fooled.
Tifosi Veloce glasses aren't only virtually shatterproof and provide the wearer's eyes 100% UV protection, but they also adjust to the available light.