7 Best Sunscreens to Protect Your Skin
Sunnier days are here. We're (finally) getting out of the house more. But before you venture outdoors, don't forget about sun protection.
Sunscreen should be worn every single day — beach days, overcast days, days when you're in the car for hours, and even if you're just popping outdoors for a few quick errands.
And not just in the summer. You can get still get a sunburn in the middle of winter if you're out skiing or playing in the snow when it's sunny.
"The sun is always shining ionizing ultraviolet radiation upon us — even if it's cold, cloudy, or rainy out," explains Susan Bard, M.D., F.A.A.P., a dermatologist at Vive Dermatology in New York City.
Over time, those UV rays can lead to wrinkles, sun spots, sunburn, and an increased risk of skin cancer.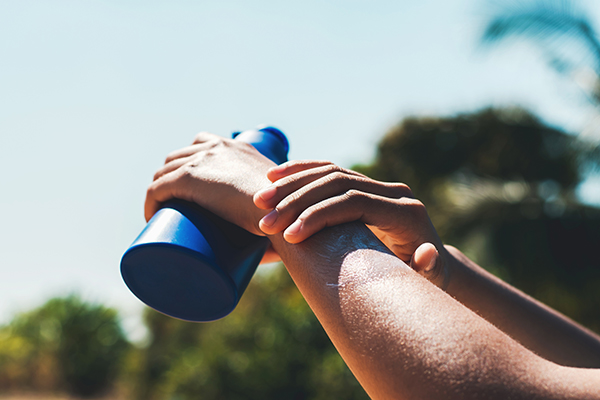 The American Academy of Dermatologists (AAD) estimates nearly 9,500 people in the U.S. are diagnosed with skin cancer every day.
So which sunscreen is the most effective for protecting your skin?
In short, the best sunscreen is the one you'll actually wear every day — you love the scent, it's easy to apply, and it doesn't make you feel greasy.
"The question should really be, 'What is the best sunscreen for me?'" says Fayne L. Frey, M.D., F.A.A.D., dermatologist and founder at Fry Face, a skincare information and product selection service.
Like pinpointing your perfect workout, finding the best sunscreen for you may take some trial and error.
To get you started, here are seven of the best sunscreen options to help guard your skin this summer.
EltaMD has a few fan-favorite sunscreens, but this lightweight, hydrating formula stands out.
It's fast-absorbing, water-resistant, and suitable for all skin types, says Debra Jaliman, MD, a Manhattan dermatologist and author of Skin Rules.
With 15% zinc oxide for physical protection from the sun — along with hyaluronic acid and squalane to help keep your skin soothed and moisturized — it's one of the best mineral sunscreens for the face.
While you're shopping for two-buck Chuck and cauliflower pizza crusts, you can also nab one of the best sunscreen options out there.
This broad-spectrum spray sunscreen is effective, easy to apply, and water-resistant. You'll love the classic beachy smell, and your skin will love the aloe and vitamin E.
Some stores only carry it seasonally, so stock up in the summer months.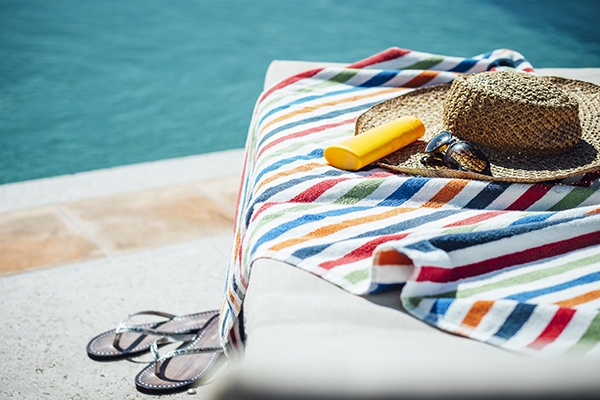 This one is "a bit more costly per ounce than some sunscreens," Frey says, but it's worth the splurge.
Lightweight, velvety-smooth, and fragrance-free, it's one of the best sunscreens for sensitive skin. The water-resistant formula offers broad-spectrum protection.
Despite its name, this sunscreen isn't milk-based. The "milk" moniker refers to the liquidy consistency — a win when it comes to applying sunscreen easily.
Sweat-resistant for up to 80 minutes, this is "a reef-safe, water-resistant sunscreen that does not feel greasy at all and is suitable for use while running or doing sports," says Jill Canes, a board-certified nurse practitioner and founder of Face Forward Medical Aesthetics in Lexington, MA.
The broad-spectrum, clean-chemical formula gets high marks for not having a weird smell or leaving any white residue.
Best of all, it's available in an 18 fl. oz. jug with a pump dispenser, so you can slather it on daily without skimping.
(It's available in smaller sizes, too.)
Recommended by the Skin Cancer Foundation, this tropical-smelling spray sunscreen provides broad-spectrum protection and up to 80 minutes of water-resistant coverage.
The quick-dry mist is easy to apply and keeps your skin moisturized with a blend of coconut extract, shea butter, and avocado oil.
If you're looking for an eco-friendly sunscreen, this is a great choice — the plant-based, biodegradable formula contains no parabens, phthalates, sulfates, artificial colors, or synthetic fragrances.
Made with green tea extract, this reef-friendly sunscreen "is not dehydrating and does not cause skin irritation," Canes says.
It absorbs into the skin well, Canes adds, and has a non-greasy feel and a nice, beachy scent — so you'll feel like you're on a tropical getaway, even if you're only in your own backyard.
Best of all? It's an affordable option you can easily find at supermarkets and drugstores nationwide.
"One the main reasons people don't reapply their sunscreen throughout the day is because it's inconvenient," Bard says.
If that sounds familiar, try this brush-on mineral powder sunscreen.
It's one of the best sunscreens for your face, thanks to a soft-bristle applicator brush that makes it super-easy to reapply throughout the day.
The broad-spectrum formula is reef-safe, water-resistant for up to 80 minutes, and available in four skin tone shades.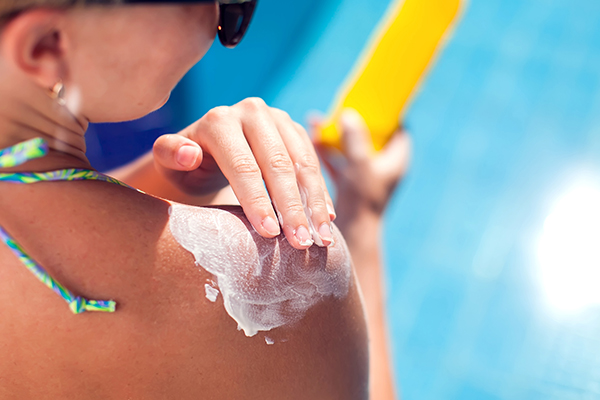 Tips for Choosing the Best Sunscreen
When you're shopping for sun protection, here's what you need to consider:
Key features of sunscreen
According to the AAD, there are three things to look for on the label of your sunscreen:
SPF: SPF stands for "sun protection factor." The AAD recommends choosing a sunscreen with an SPF of 30 or higher, which will block about 97 percent of the sun's UVB rays, says Abdulaziz Madani, M.D., dermatologist at Tufts Medical Center. Higher SPF ratings "might block a slightly higher percentage — they can go from 97 percent to maybe 98 to 99 — but no sunscreen can block 100 percent of UVB rays," Madani adds. No matter how high your SPF is, you need to reapply every two hours or after swimming or sweating.
Broad spectrum: This means your sunscreen shields against both UVA rays (which hit the deepest layer of your skin and can lead to aging and skin cancer) and UVB rays (which target the top layers of your skin and cause you to burn).
Water resistance: Look for a water-resistant sunscreen (providing up to 40 minutes of protection in the water) or a very water-resistant sunscreen (up to 80 minutes of sun protection in the water).
How much sunscreen do I need?
Sunscreen only protects your skin if you use it correctly. Aim to use one full ounce — roughly the amount that would fill the palm of your hand or a shot glass — and be sure you apply it everywhere.
"People tend to apply sunscreen to the face and arms, but ignore other body parts that are exposed to the sun — most commonly the back, the legs, the feet, and even the lips," says Madani.
And if you're not wearing a hat, don't forget your ears, the back of your neck, and the top of your noggin if you're thinning up there.
The AAD recommends applying sunscreen to dry skin 15 minutes before you go outside, so you're fully protected as soon as you step out into the sun.
Set your phone to remind you to reapply every two hours (or sooner, if you're in the water or working up a sweat).
How do I choose the best sunscreen?
The AAD breaks sunscreen types down into two categories:
Chemical sunscreen acts as a sponge, absorbing UV radiation and transforming it into heat that your body releases. Active ingredients may include oxybenzone, avobenzone, octisalate, octocrylene, homosalate, or octinoxate.
Physical or mineral sunscreen works by creating a physical barrier between your skin and the sun's rays. These may contain active ingredients such as zinc oxide and titanium dioxide.
Chemical sunscreens are usually easier to apply, and because they absorb into the skin, they may feel less greasy.
Physical sunscreens tend to be gentler for sensitive skin. However, they are thicker and may leave a white cast on the skin.
If you have wee ones under six months of age, the FDA recommends keeping them out of the sun and covered up, and talking to your healthcare provider before using sunscreen on them.
Bottom line: Both types of sunscreen will protect you from the sun, so choose whichever type of sunscreen you'll be most likely to wear every day.