Beef stew is the kind of meal that announces itself: It hits you with a rich, mouthwatering aroma the moment you walk in the room.
Traditional beef stew is hearty and if you're not careful with ingredients, it can turn into a calorie bomb.
So how do you make a healthier beef stew?
First, start with lean beef. This recipe uses just the right amount of olive oil to brown the meat without adding extra fat.
Low-sodium soy sauce and hot pepper sauce bring that umami element without the all the added sodium and fat.
In the interest of limiting sodium, we've also opted for low-sodium organic beef broth (in a pinch, you can also use water).
While carrots, potatoes, and celery make a great base for beef stew, button mushrooms amp up the meaty flavor of this stew. But don't stop there: You can add any number of your favorite veggies.
Try broccoli, Brussels sprouts, or a last-second handful of fresh baby spinach to incorporate greens into your stew. Butternut squash, pumpkin, and red bell peppers can add vibrant color.
Remember that adding additional ingredients will alter your nutritionals a bit.
Pro tip: It's easy to cook this beef stew in a slow cooker or Instant Pot. Simply brown the meat, then place all other ingredients into your cooker and follow the machine's instructions for cook time.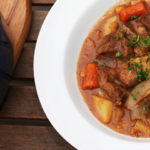 Beef Stew
This healthier Beef Stew begins with a lean cut of beef and maintains that classic low and slow stew flavor you know and love.

Prep Time 15 mins
Cook Time 1 hr 24 mins
Total Time 1 hr 39 mins
Servings 6 Servings
Calories 255 kcal
Ingredients
1 Tbsp. olive oil
1½ lbs. raw lean beef stew meat, boneless
1½ medium onions chopped
2 medium tomatoes chopped
¼ cup reduced-sodium soy sauce
1 Tbsp. hot pepper sauce (like Tabasco)
½ to 1 cup low-sodium organic beef broth (or vegetable broth)
1 bay leaf
8 oz. small button mushrooms cut in half
2 medium celery stalks cut into 1-inch slices
2 medium carrots sliced
2 medium potatoes cubed
2 Tbsp. finely chopped parsley (for garnish; optional)
Instructions
Heat oil in large saucepot over medium-high heat.

Add beef; cook, stirring frequently, for 4 to 5 minutes, or until beef is browned.

Add onions; cook, stirring frequently, for 4 to 5 minutes, or until onions are translucent.

Add tomatoes, soy sauce, hot sauce, ½ cup broth, and bay leaf. Bring to a boil. Reduce heat to medium-low; cook, covered, for 40 minutes, adding additional broth as needed.

Add mushrooms, celery, carrots, and potatoes; cook, covered, for an additional 12 to 18 minutes, or until sauce has thickened and beef is fork tender.

Garnish evenly with parsley if desired.
Nutrition Facts
Beef Stew
Amount Per Serving (1 serving)
Calories 255 Calories from Fat 63
% Daily Value*
Fat 7g11%
Saturated Fat 2g13%
Cholesterol 75mg25%
Sodium 530mg23%
Carbohydrates 21g7%
Fiber 4g17%
Sugar 5g6%
Protein 28g56%
* Percent Daily Values are based on a 2000 calorie diet.
Container Equivalents
1 Green
1 Red
1 Yellow
2B Mindset Plate It!
Makes a great lunch option. Leave out the potatoes for a great dinner.
If you have questions about the portions, please click here to post a question in our forums so our experts can help. Please include a link to the recipe.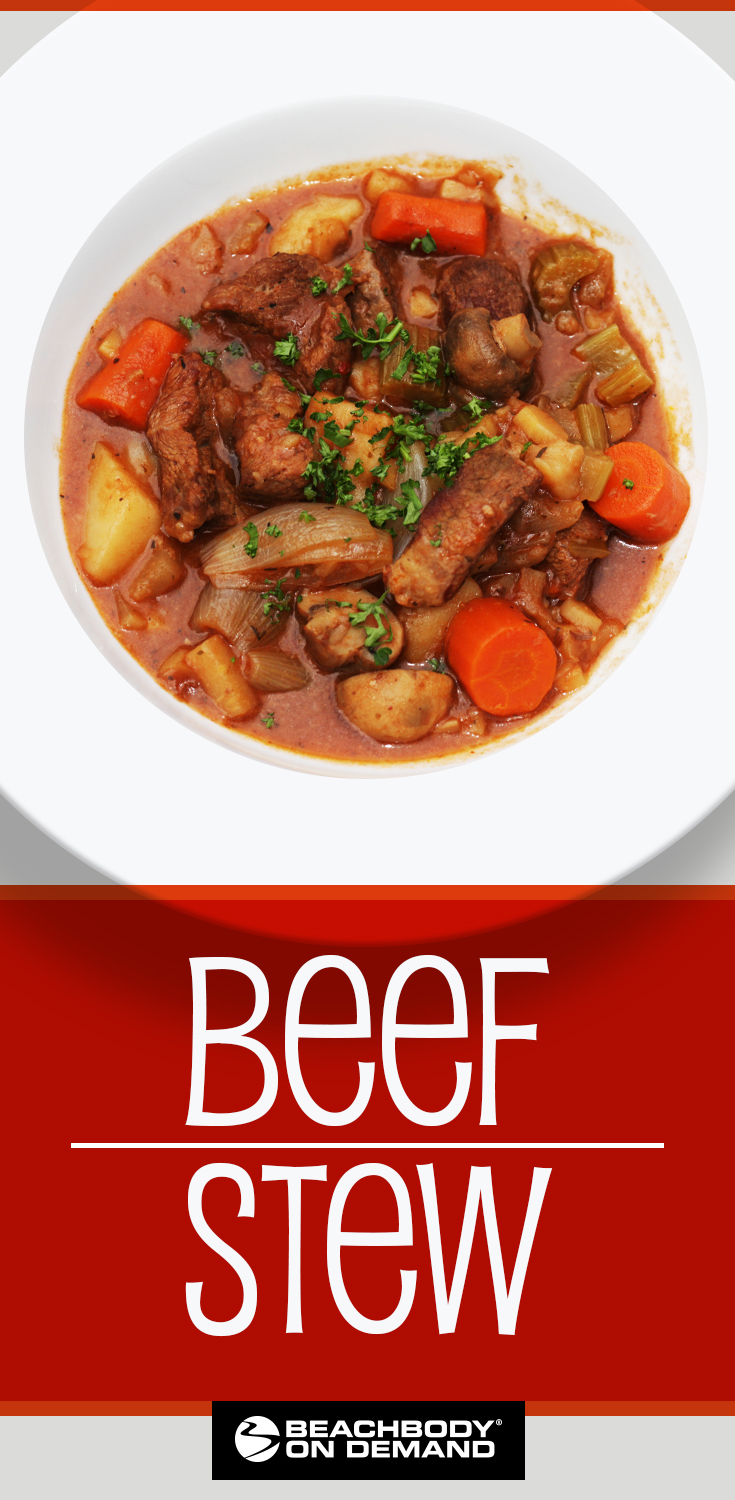 Beef Stew recipe photographs by Anguel Dimov and Brianne B of Natural Girl Modern World