Beachbody Results: This Mother of Four Lost 50 Pounds!
Megan Hodges lost 50 pounds and 21 inches with FOCUS T25, 21 Day Fix, and INSANITY MAX:30. She entered her results into the Beachbody Challenge, and won the $500 Daily Prize for November 23rd!
Tell us about your life before you started the program. How did you feel about yourself and your body?
When I started using Beachbody programs, I was very unhappy with my body. I felt so tired all of the time, and bending over and keeping up with my three kids was extremely hard. My health had not been a priority for myself. I started with Beachbody at 194 pounds and fell in love with exercising. Unlike before, I not only had an exercise plan but also an eating plan, which made it super simple. All I had to do was pop in the DVD and use the portioning cups for the eating plan. I could eat what I always had been eating, but just make healthier choices and not eat too much. After I lost my excess weight and was down to 144, which I hadn't even been in high school, I got pregnant with my fourth child. This makes four kids in under seven years. I still continued using Beachbody programs and only gained 35 pounds during my pregnancy, which I have almost lost thanks to Beachbody!
What inspired you to change your life and begin your transformation journey?
I wanted to show my kids healthy habits and to be able to keep up with them. I wanted to show them that exercising and being healthy is fun!
What is the greatest challenge you faced before beginning the program? How did the program and Beachbody help you overcome that challenge?
The greatest challenge I faced was just getting started. I kept telling myself next Monday, but then I would find some reason not to start. I finally decided that it doesn't have to be a "Monday" in order to start; losing weight and being healthy doesn't have to be perfect! You can have cheat days, you can completely fall off the wagon, but what really counts is if you keep going. Your journey doesn't end because of an off day or an off week. Keep going and focus on how much better you feel when you're being healthy!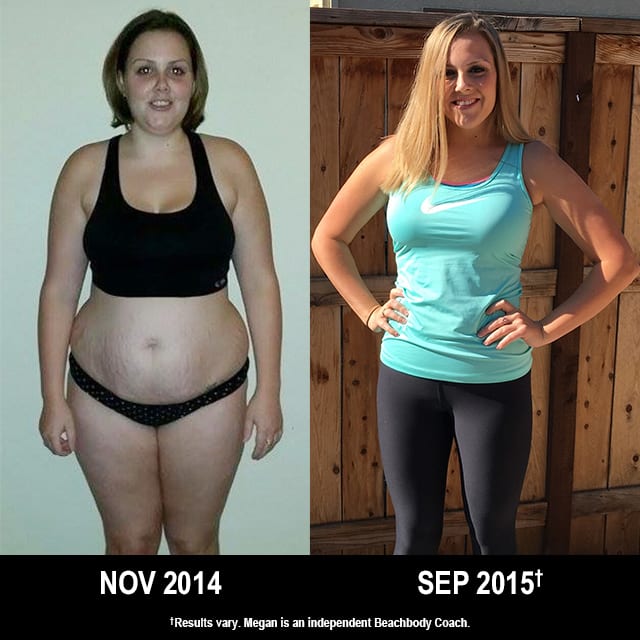 What in particular did you like about the program you chose?
I love the simplicity of the portion-control containers, as well as the clean eating that is made super simple!
Describe the results you achieved with your Beachbody program. Which achievements are you proud of?
I am proud of every achievement. I'm really proud of my knowledge now about how to eat healthy. I'm also proud of how much I now love exercising and strive to continue exercising every day!
How has your life changed since completing your Beachbody program?
My life has completely changed. I now strive to be the healthiest person I can be. I strive to make healthy decisions not only about eating and exercising for myself, but for my kids too. I love that I now feel great in my clothes, and I feel proud of myself every day.
How did a Beachbody supplement, nutritional product, or program (such as Shakeology or Beachbody Ultimate Reset) support your transformation? What are the greatest benefits you gained? Did you see benefits to your energy, sleep, mood/mental clarity, or digestion/regularity?
I used Shakeology and loved it! It really helped me to drink it every morning. It made me feel like I was having a treat, a treat that made me actually feel good instead of sluggish and having regrets afterwards! It also helped keep my metabolism going all day!2
You can change your life, too. Take the Beachbody Challenge for the tools you need to Decide, Commit, and Succeed! Complete any Beachbody program, and enter your results for a free gift and a chance to win cash and prizes. What program are you committing to next?

†Results vary depending on starting point and effort.
2These statements have not been evaluated by the Food and Drug Administration. This product is not intended to diagnose, treat, cure, or prevent any disease.