Beachbody Results: Susan Lost 122 Pounds in Just 10 Months!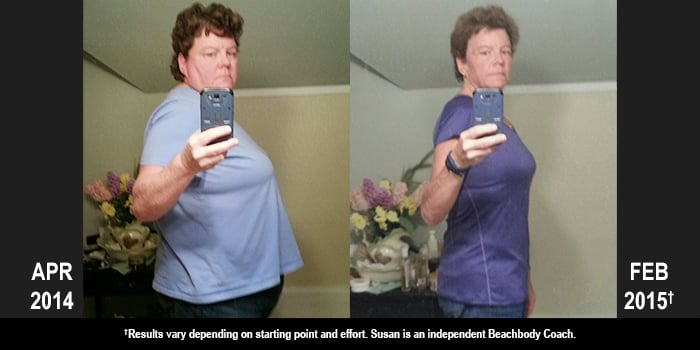 Susan McGaffigan, age 55, lost 122 lbs in 10 months with Shakeology and 21 Day Fix. She entered her results into The Beachbody Challenge and won $1,000!
Tell us about your life before you started the program. How did you feel about yourself and your body?
I had been overweight all my life. I was caring for my mother at this point. I felt I had very little time for meals. Most of my meals were fast food. My weight was 287 pounds.
What inspired you to change your life and begin your transformation journey?
One day getting in my car, my new neighbor, now my coach, was talking to me. I told her about my increase in weight and how it was effecting every aspect of my life. She asked if I had heard of Shakeology.I had not. She said, I could still eat it on the go, and it was dense nutrition. She gave me a few samples. I liked the taste, and it was quick! So, I started yet another diet. I did start to lose, then I realized with all my diets before, my goal was to be done and go back to eating as I was before. After I finished, I always gained what I had lost back, plus more. So I guess I had an epiphany. I didn't need another diet, I needed a lifestyle change. So every day first thing I drink is Shakeology. I started eating more baked and grilled foods, than fried. I ate a balanced meal, while watching my calories. I started walking and some exercising. The weight came off, but more importantly it has stayed off. I got on vacation, and eat like I'm on vacation. I may gain a few pounds, but now I know I can get right back on it, and back to my goal weight quickly
What is the greatest challenge you faced before beginning the program? How did the program and Beachbody® help you overcome that challenge?
I would diet and then gain it all back, plus some. Pretty much the idea that not to diet, but to have a lifestyle change. One that you can live with the rest of your life, because this isn't the end, just a continuing journey. Shakeology helps me get the nutrition I need, plus I find it helps me with cravings and that helps me stay on track . I've been on Shakeology for over 2 years now, and still enjoy the taste. I also find I enjoy the exercising too. Now that I can see some of my muscles, I prefer to see them toned!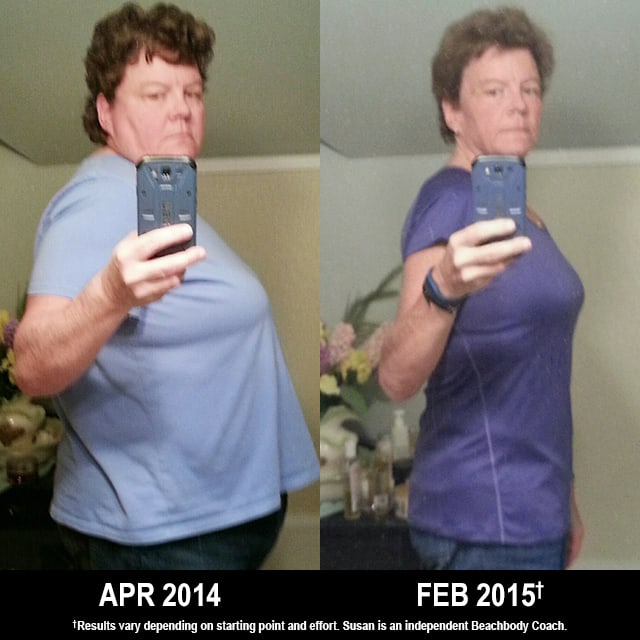 Describe the results you achieved with your Beachbody program. Which achievements are you proud of?
I lost 120 pounds in about 10 months. Went from size 24 jeans to size 8. Most importantly, I'm keeping it off.
How has your life changed since completing your Beachbody program?
Much more energy. I'm off blood pressure meds and cholesterol meds too. My BMI is normal weight. It is so much easier to move. when I carry even a 30 pound bag, I think " how did I ever carry an extra 120 pounds around all the time?"
How did participating in a Challenge Group help you reach your goals? How did your group support you and keep you accountable?
I did 21 Day Fix. I enjoyed the workouts. Its easier to go through the ups and downs with others. knowing you are not alone, and the ups and downs are normal for everyone.
How did your Team Beachbody® Coach support you on your journey?
She is great. First she leads by example. She is not perfect. And that helps so much. we all have ups and downs, and challenges. She gives out hints, and recipes. Most of all, she is a very caring upbeat person in all she does. And it show through in her coaching.
How did a Beachbody Supplement or Nutritional Product or Program (such as Shakeology® or Beachbody Ultimate Reset®) support your transformation? What are the greatest benefits you gained? Did you see benefits to your energy, sleep, mood/mental clarity, digestion/regularity?
Shakeology is great! I feel gives me good nutrition, it also helps with any cravings.2 Its fast, and I don't tire of it. I feel it fills any wholes in my diet. It greatly reduced cravings, helping me maintain weight loss over time.2 And it tastes like a treat, so I don't feel deprived.
You can change your life, too. Take the Beachbody Challenge for the tools you need to Decide, Commit, and Succeed! Complete any Beachbody program, and enter your results for a free gift and a chance to win cash and prizes. What program are you committing to next?

†Results vary depending on starting point, goals, and effort.
2These statements have not been evaluated by the Food and Drug Administration. This product is not intended to diagnose, treat, cure, or prevent any disease.