Beachbody Results: Scott Lost 74 Pounds and Won $1,500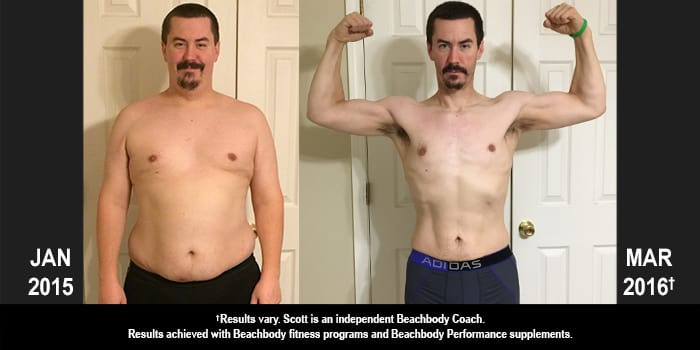 Scott Henry, age 37, lost 74 lbs. with P90, P90X3, The Master's Hammer and Chisel, and the Beachbody Performance supplements. He entered his results into the Beachbody Challenge, and won $1,500!
Tell us about your life before you started the program. How did you feel about yourself and your body?
I was in a job that I hated, with hours that kept me isolated from my wife and young daughters. I had to give up on multiple avenues of working "dream jobs" in the sports industry, and I ate and drank to fill something that was missing. During my long nights at work, I would actually make plans of how and when I was going to end my life.
What inspired you to change your life and begin your transformation journey?
My wife began drinking Shakeology just after our oldest daughter's third birthday, and she began to see immediate improvements. When I told her how distressed I was, she begged me to seek help. After consulting with a physician, I decided that getting my body right would be a major building block toward getting my mind right. I began working with P90, and immediately decided that Tony Horton is the guy I'd like to be when I grow up.
What is the greatest challenge you faced before beginning the program? How did the program and Beachbody help you overcome that challenge?
I struggle with a perfectionist nature, and the first several days of P90 were a struggle. I became annoyed with myself when I couldn't finish the entire session. Over time, however, those frustrations turned into goals. Tony's "Do your best, forget the rest" mantra became lodged in my mind, and I decided that finishing a whole session was simply the next hurdle. Then, it was finishing the whole thing without modification. Accomplishing those goals took longer than 90 days, but by accepting my limits, I never could have followed it up by completing P90X3 just a few months later!
What in particular did you like about the program you chose?
Tony's attitude, infectious enthusiasm, and willingness to take a moment to effectively demonstrate challenging maneuvers were all key factors in my enjoyment of not only P90, but P90X3 as well. If I couldn't keep up with the platoon on a particular move, my goal would be to finish one or two more reps in their time, with the eventual goal of keeping pace rep-for-rep.
Describe the results you achieved with your Beachbody program. Which achievements are you proud of?
I'm back under 200 pounds for the first time in nearly a decade and wearing a pant size I haven't worn since high school… and I graduated in 1996. I can also carry around both of my daughters at once (ages 4 and 21 months, with a combined weight of 70 pounds). Let me tell you that 70 pounds is much more fun to carry, at least until someone gets squirmy. I'm seeing so much more definition in my core and my legs that my wife can't help but make comments when I walk around the house in shorts and no shirt.
How has your life changed since completing your Beachbody program?
I have a much more positive attitude in my work, with my kids, with my wife… and we're both in better shape to enjoy our quality time, if you know what I mean. I've always been very temperamental, but I'm so much more patient with everyone and everything. There's a tremendous feeling of pride and confidence that comes with that achievement.
How did participating in a Challenge Group help you reach your goals? How did your group support you and keep you accountable?
The Challenge Group started off well, until the Coach who was leading it abruptly went inactive. After that, participation dwindled to nothing, and I continued pushing through on my own.
How did your Team Beachbody Coach support you on your journey?
Rachel was always the first one to give me a like or a comment when I posted a photo or video to Instagram and Facebook, and some of her various other friends would usually follow suit. It helped to know that others were taking note of my results.
How did a Beachbody supplement, nutritional product, or program (such as Shakeology or Beachbody Ultimate Reset) support your transformation? What are the greatest benefits you gained? Did you see benefits to your energy, sleep, mood/mental clarity, or digestion/regularity?
Shakeology was the gateway drug, so to speak. My wife and I both greatly notice improvements in our moods and energy levels when we drink our shakes regularly. Especially mood, as two young kids can sap one's patience in a hurry. We're actually quicker to get frustrated with the girls without shakes, and that's our sign that it's time to pull out the blender. The Performance line has also been invaluable. Energize is essential, especially when we had to rise before 5 AM to get a workout in before taking our girls to daycare and trudging off to the day jobs. We could always tell when we ran out of Recover, because there was much more muscle soreness from a strenuous morning.
How did a Beachbody supplement, nutritional product, or program affect any existing health conditions you have?
I would experience bouts of constipation that weren't what I'd call frequent. But since using Shakeology daily, those episodes are nearly nonexistent.
You can change your life, too. Take the Beachbody Challenge for the tools you need to Decide, Commit, and Succeed! Complete any Beachbody program, and enter your results for a free gift and a chance to win cash and prizes. What program are you committing to next?

†Results vary depending on starting point and effort.