Beachbody Results: Jason Lost 61 Pounds and Won $1,500!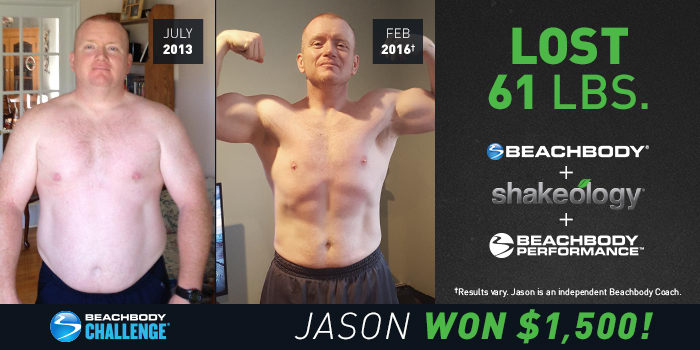 Jason Dicks, age 43, lost 61 lbs. with a variety of Beachbody fitness programs, Shakeology, and the Beachbody Performance supplements. He entered his results into the Beachbody Challenge, and won $1,500!

Tell us about your life before you started the program. How did you feel about yourself and your body?
I retired from the Canadian military in October of 2014 due to a leg injury which prevents me from running. Leading up to that retirement I've struggled with my weight and tried numerous quick fixes such as Atkins, LA Weight Loss, etc. and always ended up back where I started or worse. In the summer of 2013 I peaked at about 273 lbs. Recently something made me realize that I needed to do something and do it now. I wasn't happy with my life, and I avoided the things I loved! I created an accountability group in 2014 and in 2015 decided to become a Beachbody Coach. Making that decision was the added motivation and push I needed. I began with P90X and P90, but didn't commit fully. In 2015 I began getting up at 5:00am to do P90X3. I was hooked! It saved my life. After P90X3, I completed PiYo, then The Master's Hammer & Chisel, and now Body Beast with a little 22 Minute Hard Corps.
What inspired you to change your life and begin your transformation journey?
Knowing where I was headed and knowing the potential consequences, I had to change. I convinced myself I would not be a statistic! I had to make positive changes for me and my family. I was a prisoner in my own world. I was torn about having to leave my military career and that was totally killing me. Those feelings were holding me back and I was tired of getting out of breath every time I walked a flight of stairs. I was tired of outgrowing my clothes and feeling horrible about myself. I needed to make sure I was around for years to come for my wife and children!
What is the greatest challenge you faced before beginning the program? How did the program and Beachbody help you overcome that challenge?
My greatest challenge was getting started. I was constantly sad, and that was a huge barrier to beginning any fitness program. I was also overwhelmed with mixed advice about this fad or that fad… about this diet or that diet. None of it worked, but after getting so many mixed messages about what is best to do, I became overwhelmed and confused. Making that move to try P90X and P90 was great! Starting P90X3 and Shakeology last summer was a tremendous help. Doing the PiYo program with Chalene was another amazing decision! The next logical step was Hammer and Chisel! I always struggled with eating and cravings, but Shakeology helped by keeping me full and totally destroying my cravings! I binged 3–4 times a week before starting and have only 3–4 times total over the last 60 days! The feedback from family and friends is amazing. The confidence and passion from helping others is immeasurable! Absolutely love this organization and what it has to offer! Onto the next challenge!
What in particular did you like about the program you chose?
The variety of activities and personalities of each trainer was awesome. Each day was something new and I never really knew what was coming, which kept me interested. The duration was also great! I loved the fact that it only took 30–50 minutes to get these results! P90X3 and Tony kept me laughing each morning and got me where I needed to be to keep moving forward. PiYo with Chalene exposed me to a new world outside of my comfort zone with Pilates and yoga! The Master's Hammer and Chisel helped me regain my love for strength training after years of going without. I knew I needed this next! Autumn and Sagi were so compatible together… loved the deluxe routines where it was just the two of them. Of course that love for weight training has led me to Body Beast with 22 Minute Hard Corps.
Describe the results you achieved with your Beachbody program. Which achievements are you proud of?
The biggest result for me is my mental health! I am now more positive, and I feel better. The weight loss has tremendously improved my self-esteem and simply changed my life! The muscle gain has once again rejuvenated my love for weight training and the building of muscle mass and strength has made me stronger overall. My overall fitness level has significantly increased to a point I was never at before… even during my military career! My nutrition is also at a level it was never at before… I love it!
How has your life changed since completing your Beachbody program?
P90X, P90, P90X3, PiYo, The Master's Hammer and Chisel, and now Body Beast and 22 Minute Hard Corps have made me feel so much better, which is truly amazing! I've gained a new confidence in myself and have used that confidence to inspire and help others get motivated to become healthy as well. I feel absolutely amazing! I thoroughly enjoy pushing play and improving my health and fitness each morning. I have become so passionate about helping myself and others that I completed my Personal Trainer Certification and resigned from my desk job to focus on Personal Training and Beachbody Coaching! I am turning this passion into my life… both professional and personal. I am dragging as many others along with me as I can!
How did participating in a Challenge Group help you reach your goals? How did your group support you and keep you accountable?
I created and ran my own Challenge Group as a part of my accountability group, You'll Own Your Objectives. Doing so helped me because I was the face of that group and had an obligation to each member in it. Seeing them look to me for help and support kept me motivated. I also participated in the Year End Resolution and Masters' Challenge Groups, which really helped me keep pushing.
How did your Team Beachbody Coach support you on your journey?
She was there whenever I struggled with Coaching issues or motivation issues. Through her own struggles I was able to battle through my own.
How did a Beachbody supplement, nutritional product, or program (such as Shakeology or Beachbody Ultimate Reset) support your transformation? What are the greatest benefits you gained? Did you see benefits to your energy, sleep, mood/mental clarity, or digestion/regularity?
As I mentioned earlier, Shakeology kept me from cheating on my meals by killing my cravings and keeping me full and energetic throughout the day. The Energize pre-workout helped me with my more intense routines by giving me that extra push and boost I needed. I loved Hydrate during my workouts. The Creatine and Recover were great after my workouts. My saving grace was the Recharge at night… my wife would be sore each day, but I would feel rested and without any soreness at all from my workouts.
How did a Beachbody supplement, nutritional product, or program affect any existing health conditions you have?
Both Shakeology and the Performance line, combined with the workout programs, helped me reverse the direction I was heading.
You can change your life, too. Take the Beachbody Challenge for the tools you need to Decide, Commit, and Succeed! Complete any Beachbody program, and enter your results for a free gift and a chance to win cash and prizes.

†Results vary depending on starting point, goals, and effort.