Beachbody Results: Mynor Lost 106 Pounds!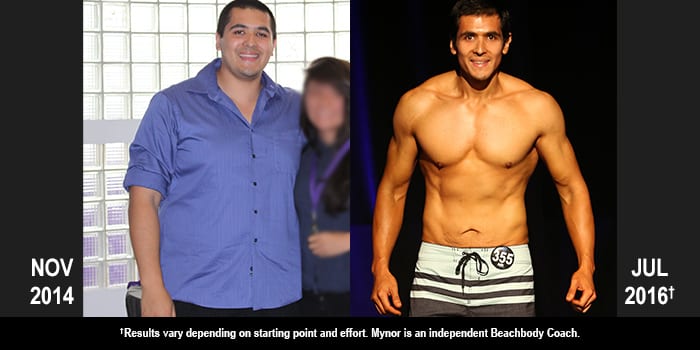 Mynor Mendoza lost 106 lbs. with INSANITY MAX:30 and Body Beast. He entered his results into the Beachbody Challenge, and won the $500 Daily Prize for November 14th!
Tell us about your life before you started the program. How did you feel about yourself and your body?
I was sad, depressed, disgusted with myself and the way I looked and felt, angry, unfulfilled, sick, and tired. I was eating out three to four times a day due to three jobs and having no time.
What inspired you to change your life and begin your transformation journey?
I was really sick, pre-diabetic, and had low energy levels. I wasn't living; I was just existing and going through the motions of life. So I decided I wanted to take my life back into my own hands.
What is the greatest challenge you faced before beginning the program? How did the program and Beachbody help you overcome that challenge?
I felt useless, old, and worried. Doctors said I would need steroid injections in my spine for the rest of my life to make the pain tolerable or to get surgery on my back to relieve the issue.3 I was only 30 years old; how can I be suffering from these problems?
What in particular did you like about the program you chose?
I liked that it was only 30 minutes and it had the modifier tracker to allow me to do easier moves before I could tackle the advanced ones.
Describe the results you achieved with your Beachbody program. Which achievements are you proud of?
I entered a transformation show with the WBFF and won, which qualified me for the world championships. I was so excited.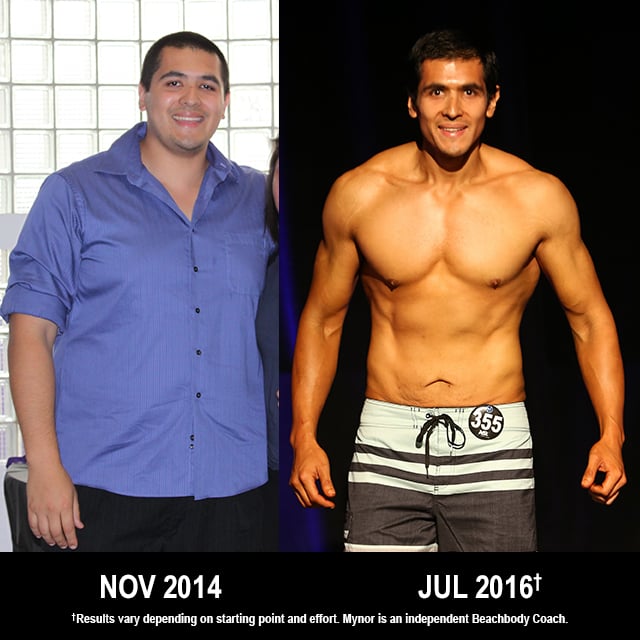 How has your life changed since completing your Beachbody program?
I am proud of myself. I am confident in myself. I have more energy. I'm not shying away from the camera. I smile in pictures. I look forward to life; I don't avoid it anymore. I am just so darn happy, I can't explain it.
How did participating in a Challenge Group help you reach your goals? How did your group support you and keep you accountable?
I wasn't aware of it. However, I thank Joshua for getting me going and keeping me going on the program. Once I started lifting weights, he introduced me to THE BEAST so I could build up my muscles.
How did your Team Beachbody Coach support you on your journey?
He was there working out with me almost every day. When I wanted to give up, he didn't let me. He showed me modified moves when I couldn't do it. He changed his work schedule to allow him to work out with me at night. I thank him for getting me where I am now.
How did a Beachbody supplement, nutritional product, or program (such as Shakeology or Beachbody Ultimate Reset) support your transformation? What are the greatest benefits you gained? Did you see benefits to your energy, sleep, mood/mental clarity, or digestion/regularity?
I took Shakeology for the first two months, and it helped me get going. I felt a lot more energetic.2
You can change your life, too. Take the Beachbody Challenge for the tools you need to Decide, Commit, and Succeed! Complete any Beachbody program, and enter your results for a free gift and a chance to win cash and prizes. What program are you committing to next?

†Results vary depending on starting point and effort.
3Always consult with your physician about your unique medical needs before starting any fitness program or nutrition product.
2These statements have not been evaluated by the Food and Drug Administration. This product is not intended to diagnose, treat, cure, or prevent any disease.