Beachbody Results: Kim Lost 76.6 Pounds!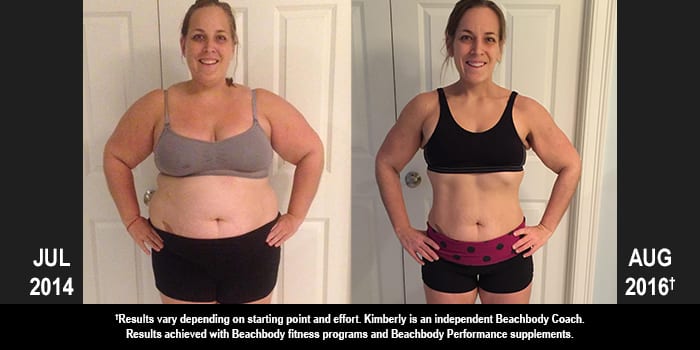 Kim McIntosh lost 76.6 lbs. with a variety of Beachbody fitness programs, Shakeology, and the Beachbody Performance supplements. She entered her results into the Beachbody Challenge and won $1,500!

Tell us about life before you got started with Beachbody programs.
I felt frustrated. I wondered how I had gained so much weight so quickly. I was embarrassed. I remember being too embarrassed to go back to the gym to work out for fear of people seeing me. Clothes no longer fit, and at 8 months postpartum I was shopping in maternity stores, and those clothes were no longer fitting anymore either. I was declined from Health insurance actually about 6 months before starting due to my weight. But in the months that followed I continued to gain more and more weight. It got to the point I could no longer get off the floor after playing with my son. I had to hold onto furniture to stand up. My knees hurt from the weight. I was discouraged, frustrated and totally fatigued.
What inspired you to change your life and begin your transformation journey?
My son was 8 months old and for 8 months I kept trying to lose weight, but I was gaining. Right around the time that I felt like it wasn't even worth it – a girl I barely knew (I had met once almost 10 years prior) reached out to me and asked if I'd like to be added to a fitness community. That's what changed everything for me. The group was supportive, and so when the 21 Day Fix came up as an option, I thought why not try it – I could do anything for 3 weeks. At the very same time, I signed up as a Coach. A 240 lb Coach. Not because I thought anyone would want me to coach them (but surprisingly they did… a lot of them did), but because I wanted to be held accountable to do what I said I was going to do. And it worked! In my first round, I lost around 11 lbs. I felt stronger, and more importantly, I felt accomplished.
What in particular did you like about the program you chose?
I would run out of space if I shared all the Beachbody programs I've done. I've done that many. But what I like about 21 Day Fix in particular is: it's simple. The nutrition has me feeling mentally 'clear' almost immediately. I love the structure – the fact that it's short workouts, and it's only 3 weeks. If I can do 3 weeks of something, I feel accomplished. The 21 Day Fix did for me has forever changed my life and my relationship with food and fitness. Also, having the support of others watching me and cheering me on was something that has really helped me.
Describe the results you achieved with your Beachbody program. Which achievements are you proud of?
I have actually lost over 75 pounds and maintained that for over a year now. I feel proud. I feel accomplished. I feel empowered. Beachbody to me is more than weight loss; it has taught me to love myself the entire journey. It has taught me to focus on strength over a number or a dress size. Beachbody gave me support, a community, and a sense of belonging. Then, with this last round of the 21 Day Fix, I was able to get through one of the hardest things I have ever had to go through in my life, a miscarriage. I needed to be able to process my loss in a healthy way. I cried a lot for a while, but having the support of my fellow Coaches and challengers totally helped push me through it. Without the workouts and Coaching – these last 3 weeks could have gone in a very bad mental, physical and emotional direction. Instead of coping in the ways I have previously (with food and isolation), I used the tools I have learned to love to get myself to a happier, healthier place.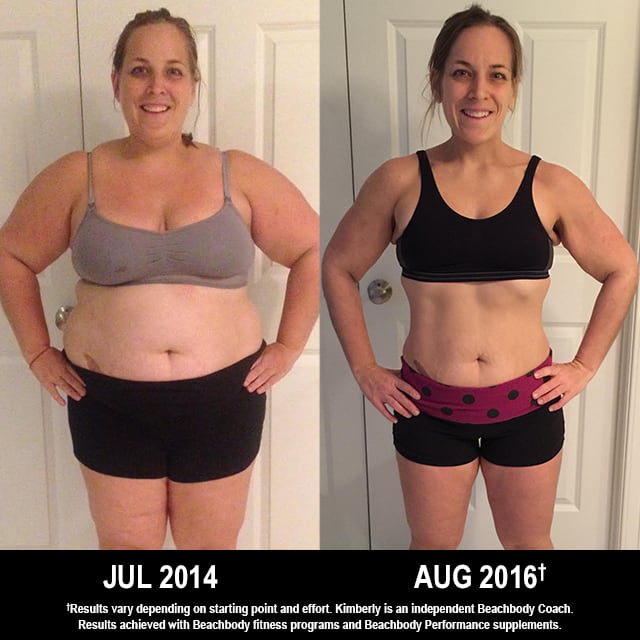 How has your life changed since completing your Beachbody program?
How has it not changed? I mean that with all my heart. Beachbody saved my life, physically, mentally and emotionally. When I started, I was miserable, sleep deprived, and just hopeless. I was happy as a mom, I loved my son, but I was not happy with my self. I cried daily, there was never enough time in a day for anything. This program and Beachbody have enabled me not only to lose over 75 pounds, but more importantly lit a light in my life that I never knew I would be able to appreciate. I can run and play with my son, I can run road races, I can hike up any mountain. I am back to teaching fitness classes again. I literally don't have to think twice about saying 'yes' to anything physical. I can waterski. I can jump higher than I ever have before. I can tie my shoes without having to hoist my leg up with my arms. I can stand up and sit down without bracing my body. I can live again.
How did participating in a Challenge Group help you reach your goals? How did your group support you and keep you accountable?
I ran the Challenge Group – but I have to say this group was one of the most engaged – I got so much feedback that others were doing the program as it's intended because they couldn't believe how after my loss I was doing it – and having them watch me, and listen to me process my loss through finding my health kept me on point the entire 21 days.
How did a Beachbody Supplement or Nutritional Product or Program (such as Shakeology® or Beachbody Ultimate Reset®) support your transformation? What are the greatest benefits you gained? Did you see benefits to your energy, sleep, mood/mental clarity, digestion/regularity?
I can't say enough about Shakeology! It's easy, yummy and more importantly makes me feel good. Sometimes I actually drink it twice, because if I feel myself about to slip, I know my Shakeology will hit the spot and keep me from over indulging in things that will make me feel uncomfortable after.2 I have more energy (the people I Coach are constantly asking me how I have so much energy, I say Shakeology!).2 I get up at 5:30am to workout, something I never did before. I just feel good!
How did a Beachbody Supplement or Nutritional Product or Program affect any existing health conditions you have?
I love Energize and Recover! While I get up at 5:30, it's sometimes a slow start, with Energize I am able to really get moving and have a little boost of energy without feeling like I'm bouncing off walls. I notice if I miss it, I can't lift as heavy or push as hard in my workouts. Recover has been a recent addition to my regime, and I look forward to it. It actually sits next to my TV as I workout, knowing that I will have it to help repair my muscles after a tough workout pushes me to work that much harder for it.
Did you achieve any other measurable improvements with a Beachbody Supplement or Nutritional Product or Program? (e.g. Blood Pressure, Blood Sugar, triglycerides, etc…)
I was granted life insurance (in one of the preferred categories!) after being denied due to my weight just about 2 years ago!
You can change your life, too. Take the Beachbody Challenge for the tools you need to Decide, Commit, and Succeed! Complete any Beachbody program, and enter your results for a free gift and a chance to win cash and prizes. What program are you committing to next?

†Results vary depending on starting point and effort.
2These statements have not been evaluated by the Food and Drug Administration. This product is not intended to diagnose, treat, cure, or prevent any disease.