See How Kyndra M. Lost 118 Pounds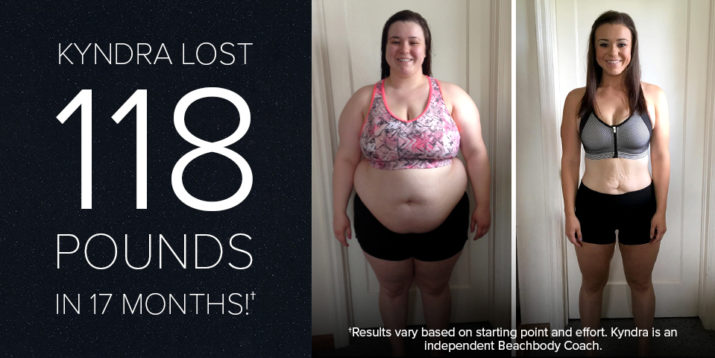 Kyndra M.'s "before" and "after" photos are astounding, right? (Go, Kyndra!)
But it didn't happen overnight. Or in six months.
What Kyndra's photos don't show is the 17 months of hard work, struggle, and sweat it took to get her "after."
Kyndra did eight rounds of 21 Day Fix and crushed one round of 80 Day Obsession to achieve her goal. Read on to find out her "why" and how she did it:
Kyndra's Life, Before
"I was incredibly unhealthy and didn't even recognize who I had become.
I had no motivation and was struggling to find my purpose in life. I was always tired and fatigued. I never had any energy. I ran out of breath just walking across a room.
I was selfish and hated life. I was unhappy and very depressed. I was embarrassed by how I looked and hardly ever left my house for fear of being judged.
My motivation came from my nephew and niece and the desire to be a healthy role model for them. To be able to keep up and play with them and teach them healthy habits. To show them that with hard work and dedication you can accomplish anything.
Also, I was motivated to become confident in my own skin. To go out, live, and enjoy life as a young woman. To stop hiding and being scared of life."
Kyndra's Transformation
"I've been on both sides — to the extreme. My weight has fluctuated from barely 100 pounds, eating a spoonful of cottage cheese a day, to almost 300 pounds, eating 24/7.
At both my lowest and highest weight I was incredibly unhealthy, unhappy, depressed, and sick. I didn't have a healthy relationship with food until I started my BODi journey.
I learned about proper portion control and healthy nutrition. And since I'm nowhere near a fitness guru, I knew I needed something simple, easy to follow, and straight to the point.
I loved how simple the portion control containers are — just a quick calculation and you know how many containers of each food group you need. It's much easier to fill containers and eat than weigh out food and calculate calories.
Shakeology gives me something to eat or drink if I have unhealthy or sweet cravings. I can drink it like a milkshake or with a spoon like ice cream if I want that sweet cold ice cream fix. And Shakeology is much more filling than sweet or unhealthy snacks!
I absolutely loved the 'live' aspect of [80 Day Obsession]. I enjoyed how Autumn and the rest of the cast did every single rep and every single workout in its entirety.
I liked that because it made it feel more personable. Plus, every single workout was different. It kept it new and fresh instead of routine and boring."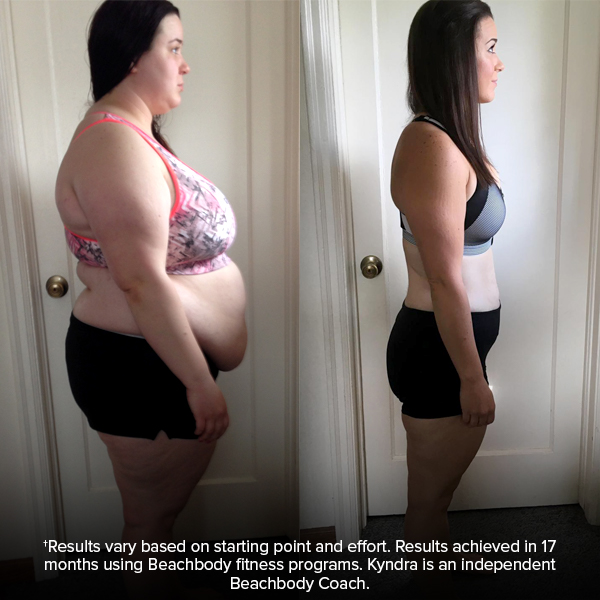 Kyndra's Life, After
"Now I feel happy, energized, healthy, motivated, and confident!
I enjoy shopping and buying new clothes. I'm confident when I leave the house now — not only confident in how I look but confident in how I feel.
There are so many activities I can do now that I couldn't before, like running around a park, playing soccer, baseball, football, and basketball with my nephew and niece. And riding a bike, sitting comfortably in a restaurant booth, ziplining, standing the entire duration of a concert, mowing the lawn and shoveling snow! I never knew I'd enjoy such labors.
And exercising, of course — before, I couldn't even walk a minute without getting winded.
I have the confidence to go out with friends and family without being fearful of people. I feel like I finally have meaning and purpose to my life."