Portion Fix – Easy to Follow, Fast Results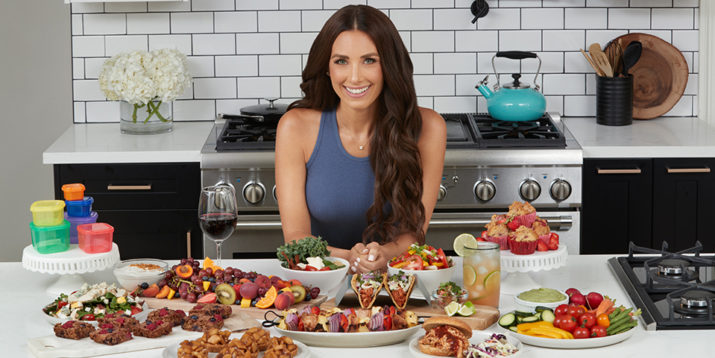 It's been years since Beachbody and I created the breakthrough color-coded Portion Control Container system, and I can honestly say the all-new shorter and easy-to-follow videos we just produced are a game-changer — you really can achieve your goals and still enjoy the foods you love!
Portion Fix is not a diet. It's a lifestyle; an approach to eating that makes sense.
There's no counting calories, no deprivation, no starvation … and no food is off-limits! You just have to learn to eat them in the proper portions.
And, there's a great confidence that comes with knowing you will get the results you expect when you follow the program.
So far, we've helped thousands of people change their lives, while still enjoying the foods they love. And, my goal was to make the program faster and easier to learn.
It's broken down into three simple sections:
1. "Fix Fast Track" teaches you the whole program in less than 45 minutes to get started and to make eating for results something you'll love.
In fact, you only need to watch these videos and don't even need to watch any of the below if you don't need assistance in special situations.
2. "Custom Fix" is designed for you to customize Portion Fix to your specific needs and shows how the plan truly works for everyone:
Want to eat and train like an athlete?  Follow Timed Nutrition.
Want to drop a few extra pounds before a big event or vacation?  Carb cycling could be right for you.
Looking to shift your metabolism?  Check out the new Intermittent fasting path.
There are even videos for pregnant and breastfeeding moms, as well as how to get your kids eating healthy with Portion Fix, and how to follow the plan if you are vegan or vegetarian.
3. "A Fix for Everything" teaches how to meal plan for the week, and stay on track when you eat out, go on vacations, and more!
I'll teach you how to meal plan with healthy, and surprisingly delicious recipes that I created with my brother (and chef!) Bobby for our FIXATE Cooking Show.
Each recipe comes with container equivalents so you can cook for your whole family and still stay on plan.
AND Portion Fix is integrated with the Beachbody On Demand App — where you can find all your favorite workouts — so you can set and track your container counts to measure your progress for a total-solution approach to health and wellness.
Again, these short, easy-to-follow videos help you learn a whole new way to eat and think about food so you never wonder again "am I on track for my goals or off?"
With Portion Fix, you ALWAYS know.
How Portion Fix Was Created
Overeating healthy foods is still overeating.
The "a-ha moment" that led me to create Portion Fix was when I watched one of my clients eat a salad for lunch that could have been enough for four people. It was healthy food, but the wrong portion size.
Even my client knew it was too much, but she thought, "It's just a salad so it can't be de-railing me."
And that's the moment the portion-control system was born!
But here's the problem with turning portion control into "a diet" —  I've also seen many people who are UNDER-eating.
That's no good either. The important thing for your overall health and metabolism is to eat the right amount of food that matches your activity level and goals.
Portion Fix is about giving your body exactly what it needs to operate at its best!  I'll show you how to use the color-coded containers to perfectly portion every single meal — no more guessing.
You're going to be well-fed, well-fueled, and enjoying food more because of it!
With Portion Fix, you'll learn the importance of achieving a healthy macronutrient balance of roughly 40 percent carbohydrates (Yes! You still get carbs!), 30 percent protein, and 30 percent fat.
This is how you enjoy food and get the most out of what you eat — you'll be feeding your body what it needs, in the right ratios.
And finally, the biggie: I'm going to help you reduce the heavily processed foods you eat and show you how much better you can feel!
I'll admit, this is a tough one because much of the food industry thrives by processing food to make it taste better — to the point it sometimes becomes addictive.
But now you don't have to be a victim of the processed-food trap anymore.
Why Should You Follow Portion Fix?
Everywhere you look these days, someone somewhere is proclaiming they've discovered "the secret formula" to losing weight.
And I'm willing to bet you're frustrated because you've tried them all but you haven't found a plan that works for the long-term.
That stops now.
Portion Fix will show you simple — and best of all – sustainable ways to lose weight for good without depriving yourself.
Here are just a few of the things you'll achieve with my program:
Achieve your goals, because you are eating the right amount of food without triggering any of the reflexes that come with a "diet" mentality.
Get your whole family healthy. Those days of prepping one meal for the kids and one for the adults are over. I'll cover everything from what and how much your kids should be eating, to getting them to eat enough fruits and veggies, and even how to end the "I'm only eating chicken nuggets for dinner" battle once and for all.
Feed yourself for performance. I'll show you how you can customize your eating plan to your goal, whether it's to lose those stubborn last 10 pounds or to build muscle. My proven nutrition strategies are designed to maximize your nutrition so you can maximize your results — whether you're Paleo, vegan, vegetarian, or gluten-free.
Flexibility with the all-New Intermittent Fasting option. If you follow or want to follow an Intermittent Fasting plan, I've created an approach that works with the containers!

2 different timing options (8- or 12-hour eating windows).
Sample container pairing options for the 8-hour eating window.
I indicate foods that sit lighter with the "IF" mark on my food lists, making the path simple to follow.
What Do You Get With the Portion Fix Program?
I explain everything you need to get results with Portion Fix in 6 super simple videos that cover everything about the Portion Control Containers, and then there's another 12 videos with deeper dives into the principles of the system to answer all your questions.
You'll get:
Full set of color-coded containers, one container for each food group
Daily Logbook
Tracking: On iOS and Android, users can find container, weight, and water tracking in the Beachbody On Demand App.
FIXATE Volume 2 Cookbook with 102 new recipes
The "75 Healthy Lunch Ideas for Kids" PDF, a quick-and-easy resource for parents who want to make sure their kids are getting a variety of healthy foods and not eating the same things over and over again.
Access to FIXATE Cooking Videos
It's been my dream to help you and your family get healthy weight-loss results.
I've poured my heart into creating this simple, comprehensive nutrition solution to give you control over food so that you KNOW you'll get the results you want.
Let's get started!
– Autumn