Kara N. Lost 40 Pounds in 31 Months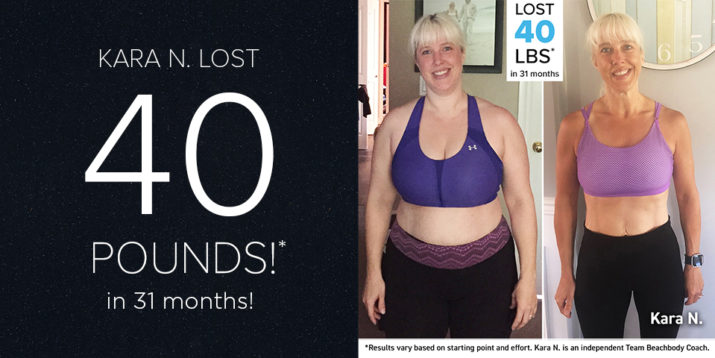 Help us give a BIG congratulations to our eight amazing Beachbody Challenge winners! Not only did they transform their bodies and start living their best lives, but they also won a $500 prize from the Beachbody Challenge contest.
Every month, we'll announce eight new $500 winners who will advance to the next round of the competition as they continue their quest for the $100,000 grand prize in 2021.
Submit your transformation story at BeachbodyChallenge.com for your chance to win. 
---
Kara's Life, Before
"Before I started I felt stuck and out of control with my health and life in general.
I wanted to gain control and feel great in my body.
Beachbody has helped me so much. I feel happier and healthier than ever. I get so excited to start each new program. Always excited for a new challenge.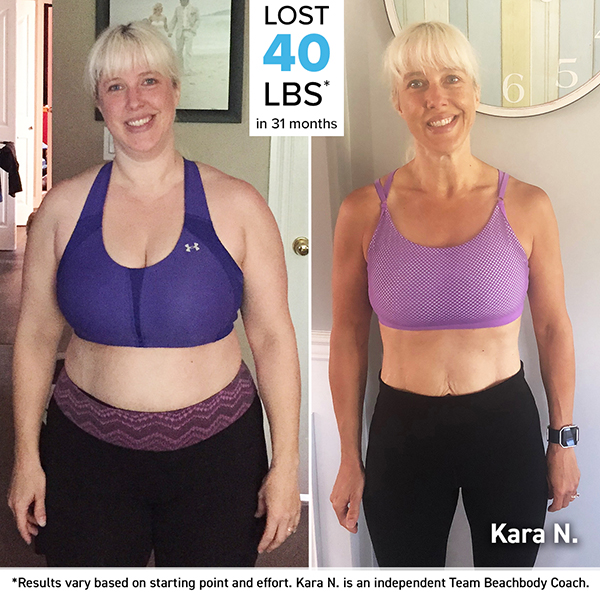 Kara's Beachbody Transformation
"I have lost 40 pounds and lost inches all over! My clothes fit better and I feel so much more comfortable in my skin.
I've loved every program. I really liked the structure of 80 Day Obsession. Morning Meltdown 100 was a different kind of challenge and 6 Weeks of THE WORK pushed me really hard.
I've completed Transform :20, 21 Day Fix, and 21 Day Fix Extreme Real-Time.
The accountability in Beachbody Groups is huge for me. Checking in with other members keeps me on track.
I love being able to do my workouts at home. I work out at 5:30 am and it's great to not have to leave my house.
Over the last three years, my morning routine has become one that I absolutely love."
Kara's Life, After
"The mental change has been just as big as the physical change.
My positive mindset is the biggest change for me. I have a whole new view of life and what I am capable of. I have changed from a mindset of 'I have to work out' to 'I get to work out.'"
Check out our other Beachbody Challenge winners.
---
Are you ready to change your life? Take the Beachbody Challenge for the tools you need to Decide, Commit, and Succeed!
Complete any Beachbody program, and enter your results for a free gift and a chance to win cash and prizes.

*Consult your physician before commencing any fitness or nutrition program while pregnant or post-partum.