Hayley S. Lost 67 Pounds in 7 Months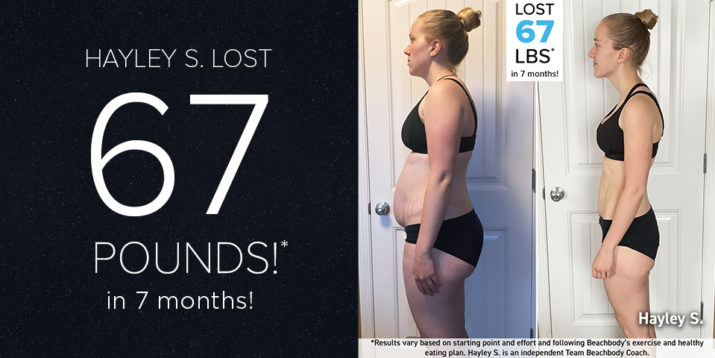 Help us give a BIG congratulations to our eight amazing Beachbody Challenge winners! Not only did they transform their bodies and start living their best lives, but they also won a $500 prize from the Beachbody Challenge contest.
Every month, we'll announce eight new $500 winners who will advance to the next round of the competition as they continue their quest for the $100,000 grand prize in 2021.
Submit your transformation story at BeachbodyChallenge.com for your chance to win. 
---
Hayley S. is one of our eight Beachbody Challenge winners and once you read her story, you'll see why.
She absolutely killed 21 Day Fix, 21 Day Fix EXTREME with Autumn Calabrese and completed Shaun T's Transform :20. Now, she's more confident and the woman that she dreamed of being.
Check out her story…
Hayley's Life, Before
"Being a mom can be hard, but being a mom with zero confidence was crippling.
I had no energy, no goals, and avoided public outings at all costs for fear of being seen or not being able to catch my breath.
I was miserable but tried my best to hide my tears in order to get through my days being a mom, wife, sister, daughter, friend, and employee.
So many people told me, 'Don't worry about the baby weight, it will come off.' Yet just a few weeks after having my third son I actually started gaining more weight!
My sons inspired me to start my transformation journey. I saw them playing and laughing and I longed to be able to chase after them and enjoy their energy in the same way my husband was able to.
I was sick of sitting on the sidelines or staying home because of how I felt.
My husband also inspired me. He has loved me no matter my size. He's encouraged me and stood by me, and even joined me in my struggles.
And I can't forget my Team Beachbody Coach! She was a mom who also struggled with weight and was able to start living and being the mom, partner, and woman she wanted to be — and I wanted that for myself."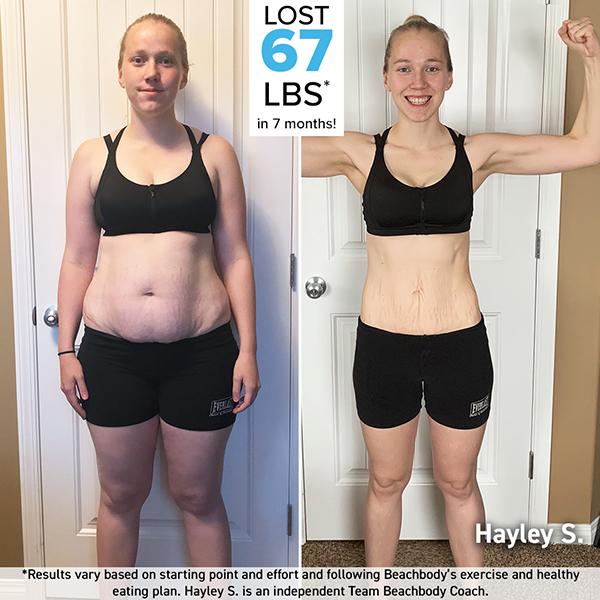 Hayley's Beachbody Transformation
"I'm lean for the first time! I lost 10+ pant sizes and went from stretching out an XL to fitting into an XS!
Now I'm not winded doing everyday activities. I can take the dog for a walk without needing to take a break.
I liked that you can do Beachbody On Demand programs wherever you are, any time of day! I had no excuses anymore and that was key for me.
Being in a Beachbody Group kept me motivated on the days I didn't want to show up. I was part of a community of people going through similar walks of life and they were showing up!
The Group really helped me cut the excuses and push toward my goals. I committed to them out loud to others who were also working toward their goals and encouraging me along the way.
I try and get my workouts done in the morning before the kids wake up. Waking up early to work out right away was hard; that's when I started taking Energize.
It wakes me up and gets my body pumped so I can give my all to each workout no matter the time of day or how early I have to wake up to get it done. And Shakeology is a no-brainer for me.
It curbs my cravings and taste like a treat!"
Hayley's Life, After
"I'm the ME I dreamed of being! I know what confidence is and feel it growing more and more every day!
I'm proud to say that I'm more patient and have more quality moments with my family. I no longer hear that voice in the back of my head questioning if my clothes fit right, or telling me to pull down my shirt when I sit — those doubts are gone.
I'm truly living and seeing the beauty and what an adventure life can be!
The Beachbody fitness and nutrition programs and Groups are a lifestyle, not a quick fix — and it's a lifestyle I'm loving and living with success."
Check out our other Beachbody Challenge winners.
---
Are you ready to change your life? Take the Beachbody Challenge for the tools you need to Decide, Commit, and Succeed!
Complete any Beachbody program, and enter your results for a free gift and a chance to win cash and prizes.

*Consult your physician before commencing any fitness or nutrition program while pregnant or post-partum.