Elba C. Lost 47 Pounds in 18 Months
Help us give a BIG congratulations to our eight amazing Beachbody Challenge winners! Not only did they transform their bodies and start living their best lives, but they also won a $500 prize from the Beachbody Challenge contest.
Every month, we'll announce eight new $500 winners who will advance to the next round of the competition as they continue their quest for the $100,000 grand prize in 2021.
Submit your transformation story at BeachbodyChallenge.com for your chance to win. 
---
Elba's Life, Before
"When I looked in the mirror, the woman I saw was not me, those 262 pounds were not ME.
I didn't like taking pictures because I felt shame. I cried every time I tried to buy clothes; I felt like I was in a prison.
I was inspired to start my journey by the desire to improve my health and my physical appearance."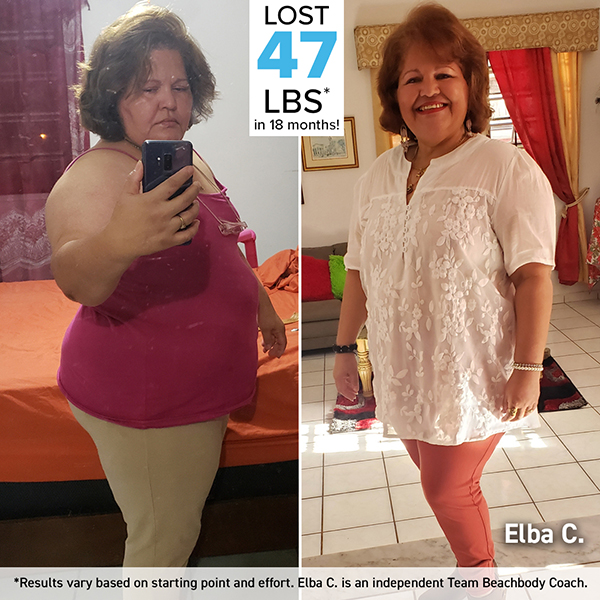 Elba's Beachbody Transformation
"I used to wear 5XL pants and now I'm in XL. My family says that I look younger and that my mood has changed a lot because before I didn't smile, I looked (and was) sad.
I loved that I didn't have to be tied to a schedule, I could do my workouts in the morning or late at night, anytime I wanted. The nutrition plan was very easy to follow.
I drank Shakeology; it helped me control the cravings of sweets or cravings between meals.
I really liked how accessible Beachbody On Demand is. No matter where I was, I simply connected to the Internet and did my workouts. I had no excuse to stop doing my workouts."
Elba's Life After
"I still have to reach my goal and I know that I will achieve it. I thank God that I discovered Beachbody because it has changed me both physically and mentally.
The woman I really am is emerging and those who know me notice."
Check out our other Beachbody Challenge winners.
---
Are you ready to change your life? Take the Beachbody Challenge for the tools you need to Decide, Commit, and Succeed!
Complete any Beachbody program, and enter your results for a free gift and a chance to win cash and prizes.

*Consult your physician before commencing any fitness or nutrition program while pregnant or post-partum.