Oh, Canada — BEVVY Is Now Available!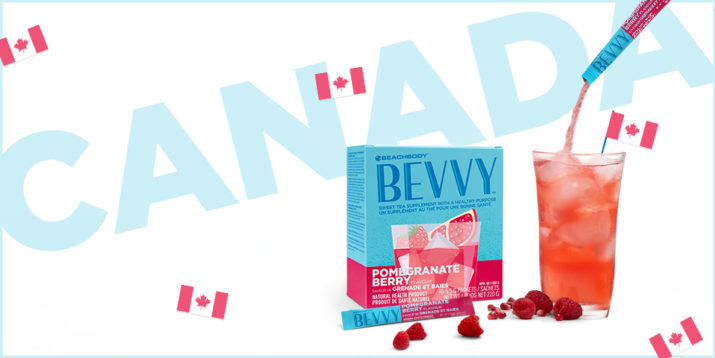 *Note: This article is intended for our Canadian customers. Click here for the U.S. version.
---
Get ready for BEVVY — a sweet tea supplement with a healthy purpose.
BEVVY is a healthier alternative that provides antioxidants and is a complement to your healthy lifestyle, without the added calories.
What Is BEVVY?
BEVVY is a deliciously satisfying tea supplement that can also help increase your daily water intake.
BEVVY contains ingredients that work with your body — not against it. Reach for BEVVY when you want a refreshing burst of fruit and tea flavours!
It comes in a convenient powder formula, so you can quickly and easily mix it in warm or cold water.
Add BEVVY to warm water as the perfect soothing treat for a cold day.
With regular use, BEVVY is the perfect complement to your healthy lifestyle that includes a reduced-calorie diet and regular exercise as part of your long-term nutrition goals.
What Ingredients Are in BEVVY?
BEVVY contains yeast hydrolyzate, green tea phytosomes, and fibre.
BEVVY is also a beneficial source of antioxidants that can help reduce the oxidative damage caused by free radicals.
BEVVY satisfies your taste buds while supporting your healthy lifestyle.
Pomegranate Berry BEVVY is only 15 calories per serving. In addition, BEVVY is also:
Vegan
Plant-based
Gluten-free
Dairy-free
Soy-free
With no synthetic colours, flavours, or preservatives
When Do I Drink BEVVY?
We suggest drinking a BEVVY twice a day, 30 minutes before meals. It can be mixed with warm (not boiling) water or cold water and ice for a refreshing beverage.