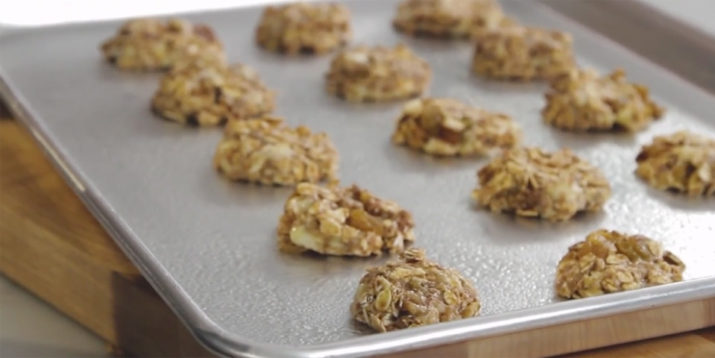 Cooks often assume that the best way to do something is the "classic method."
But when it comes to cookies, the classic method is off the table for people who are eating clean — or trying to.
So is there such thing as a healthier cookie?
The answer to that question is a resounding "YES!"
The Genius Ingredient Swap
This recipe for moist Banana Oatmeal Cookies is so simple and easy you'll wonder why you never thought of this approach before.
With no processed white flour, no butter, and free from the artificial ingredients you'll find in store-bought brands, these cookies are anything but classic.
The average, run-of-the-mill oatmeal cookie dry out from the absorbent oats and dry raisins in the recipe.
But Ultimate Portion Fix creator Autumn Calabrese and her brother, chef Bobby Calabrese have solved that problem by replacing much of the dry ingredients, which act as binders, with moist, gooey bananas.
Not only do the bananas add an extra pop of sweetness to this cookie recipe, but they also do a great job of binding all of the ingredients together and creating moist, delicious cookies.
With rolled oats, golden raisins, and chopped walnuts, these cookies are plenty sweet. Just a bit of cinnamon and a dash of salt are all the spice you need to make a healthier oatmeal raisin cookie that's so simple kids could prepare the entire recipe almost all by themselves — oven work excluded, of course!
Not only are these oatmeal cookies ideal after-school snacks, but they also make great after-dinner treats, too.
To get the recipe and find out the Container Equivalents and nutritional information, watch the FIXATE episode on Beachbody On Demand!