This quick banana mousse recipe makes an unbelievably satisfying dessert or snack. Whipped bananas have a light and creamy texture that can be made into a sweet tooth-satisfying dessert that packs wholesome nutrition (like this three ingredient ice cream recipe). Sweetened with honey and vanilla extract, then mixed with yogurt, this banana mousse tastes like a light and fluffy pudding. With only 79 calories per serving, you can even eat it for breakfast! We suggest topping each serving with banana slices and mint leaves, but you can dress up this dessert even more with fresh berries, sliced grapes, and a sprinkling of orange zest.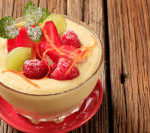 Healthy Banana Mousse
This yogurt-based Banana Mousse has been sweetened with honey and vanilla extract, but tastes like a light and fluffy pudding. Get the recipe!
Prep Time 55 minutes
Total Time 55 minutes
Ingredients
2 Tbsp . reduced-fat (2%) milk
1 Tbsp . raw honey
1 tsp . pure vanilla extract
1¼ medium bananas , sliced, reserve 8 slices for garnish
1 cup reduced-fat (2%) plain yogurt
4 fresh mint leaves (for garnish; optional)
Instructions
Place milk, honey, extract, and bananas in blender; cover. Blend until smooth.

Place milk mixture in a medium bowl. Fold in yogurt; mix well. Cover.

Chill in the refrigerator, covered, for at least 45 minutes.

Portion mousse into four small serving bowls. Garnish each with two banana slices and one mint leaf.
Nutritional Information (per serving):
Calories: 145
Total Fat: 2 g
Saturated Fat: 1 g
Cholesterol: 5 mg
Sodium: 33 mg
Carbohydrates: 24 g
Fiber: 1 g
Sugars: 16 g
Protein: 10 g
P90X/P90X2 Portions
½ Dairy
½ Fruit
½ Single Serving Snack
P90X3 Portions
1 Carb
½ Protein
Body Beast Portions
1 Fruit
1½ Protein
Portion Fix Containers
½ Purple
½ Red
Not familiar with Portion Fix? Find out how Portion Fix can make losing weight simple.
If you have questions about the portions, please click here to post a question in our forums so our experts can help. Please include a link to the recipe.
Save