6 Best At-Home Ballet Barres for Xtend Barre Workouts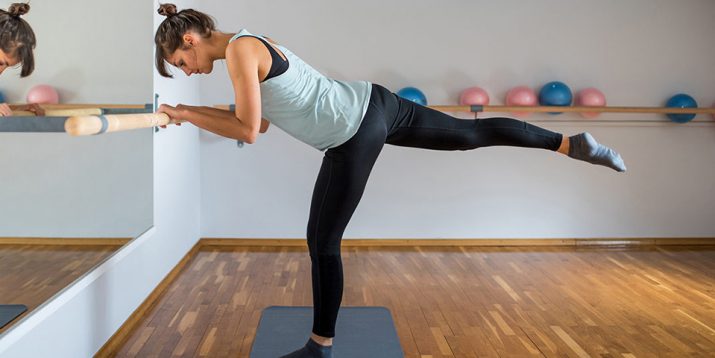 Whether it's the satisfaction of a workout well done or the infectious enthusiasm of Andrea Rogers, the outcome is the same: You're hooked on barre.
To take your Xtend Barre practice to the next level, you might want to get a ballet barre for home.
First and foremost you'll want to make sure that your at-home option is the proper height for ballet barres.
While barres used for dance are typically set at 40 inches or 42 inches off the ground, fitness barres usually sit a little lower, between 36 inches and 38 inches.
If you buy one with a second barre, the lower one is typically set 10 inches below the top barre.
Look for a couple of key features as you're shopping, says Rogers.
"You will want to find one that fits your space, both from a functionality standpoint and aesthetically," she explains. "Free-standing barres come in a variety of sizes."
It's common to see widths of 3, 4, and 6 feet. But her biggest piece of advice is to "find a space that you can leave the barre out, otherwise, it is less likely that you will use it daily."
Portability is the biggest difference in home ballet barres. Some require setup, but it means you can take your practice anywhere.
In a pinch, items around your housework, too!
Here are your options for at-home practice.
1. Booty Kicker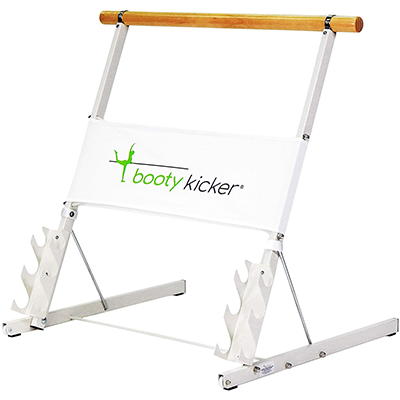 Although it's not traditional, the Booty Kicker is perhaps the most portable (and popular) ballet barre on this list. It uniquely folds flat for easy storage.
Its design also includes racks for weights so you can easily modify the intensity of your workout without scattering equipment nearby.
Price: $99.99
Available at: Amazon
2. GOFLAME Portable and Adjustable Double Ballet Barre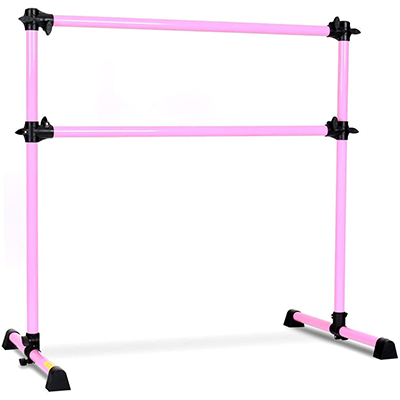 This portable ballet barre isn't going anywhere, even during those challenging workouts, thanks to the anti-slip design on the bottom.
It's sturdy but not too heavy to move around, so you can easily shuffle it between rooms. It's also easy to break down and reassemble so you can store it or take it with you.
Price: $82.99
Available at: Amazon
3. Vita Vibe Traditional Wall-Mounted and Hinged Ballet Barre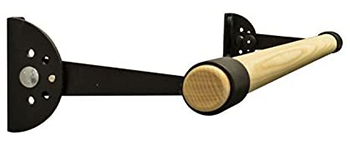 This home ballet barre isn't portable, but it is sturdy since it's wall-mounted. Even better, the hinge allows you to adjust the height for perfect comfort.
That's a must-have if your household has more than one barre devotee.
Price: $172.95
Available at: Amazon
4. FlyBold Portable and Adjustable Ballet Barre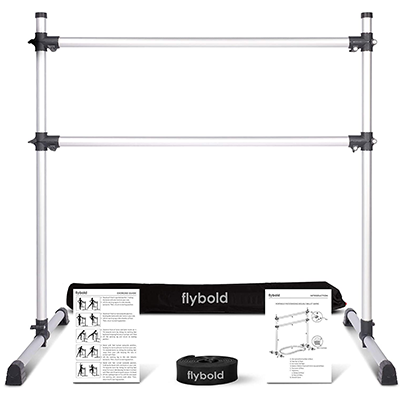 This portable ballet barre is a package deal: You'll also get a stretch band and a carrying bag so you can take your practice with you.
This one can be adjusted for a height of up to 4 feet, which is slightly higher than most barre setups, making it a great choice for tall people.
Price: $102.99
Available at: Amazon
5. WENDYWU Single, Portable Ballet Barre with Suction Base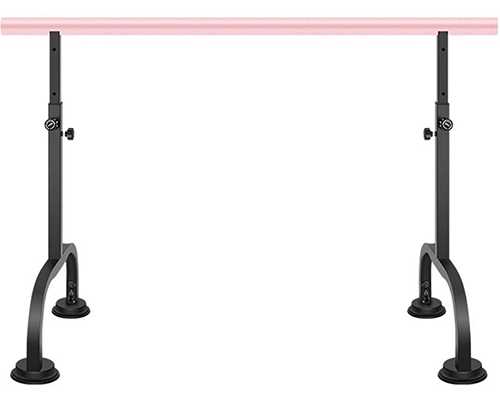 This at-home ballet barre is a bigger investment in terms of space and cost. But the wider base and suction feet give it even more stability for those with a demanding workout routine.
It won't work if you have carpeted floors, of course.
Price: $169
Available at: Amazon
6. ElevFit Portable Freestanding Ballet Barre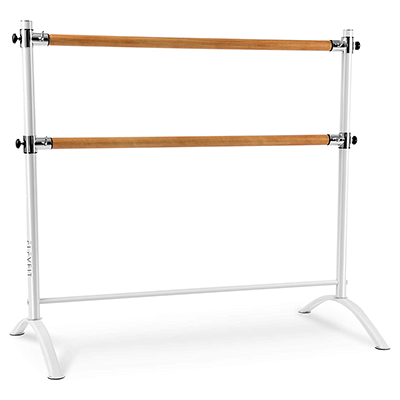 This portable ballet barre is easy to set up and break down, so it won't take up precious space when not in use. The frame is lightweight enough that you can adjust its positioning while still providing plenty of support for your workout.
Price: $114.99
Available at: Amazon
At-Home Items You Can Use Instead of Ballet Barres
You don't need to spend money on a home ballet barre. There are plenty of items around your house or other fitness equipment that can serve the same purpose.
Chair
Make sure the chair you choose is sturdy or weigh it down by setting books on the seat.
Countertop
A breakfast bar may be a little high, but a kitchen countertop can act as a ballet barre in a pinch.
Couch
The back of a couch makes a great support, especially in a room with a TV for streaming your Xtend Barre workout.