6 Tips to Avoid Weight Gain at Holiday Parties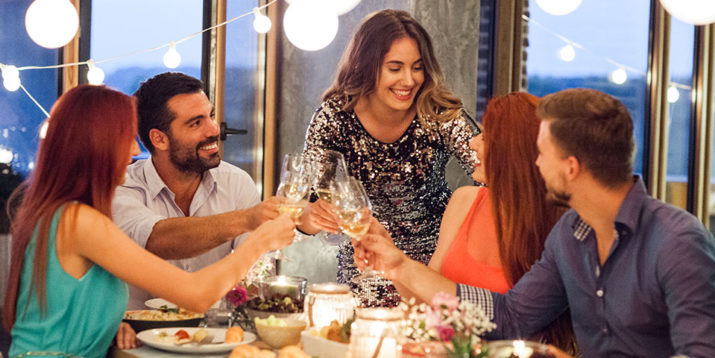 I love the holidays! But if you're trying to lose weight, all the sweet, carb-filled holiday treats can sometimes add stress to your celebrations.
In this article, I'm going to share with you how to enjoy all the delights of the season while still staying true to your weight-loss goals.
First, remember that there's no better time of year to remind yourself of why you want to lose weight in the first place.
Your friends and family care about you and want you to succeed.
They want you to be happy, healthy, and on your way to becoming the person you want to be!
Also, seeing your loved ones at these gatherings is a great reminder that the holidays are about so much more than the food.
Those delicious dishes and desserts are just tokens of the love you share with the most important people in your life.
When you focus on what really matters, it's not so hard to let a treat or two pass you by.
In fact, there's no reason you can't successfully lose weight (or at least maintain your weight) during the holidays.
But it helps to have the right mindset — and a plan — for getting through holiday meals and parties keeping your weight-loss goals intact.
6 Ways to Avoid Holiday Weight Gain:
1. Eat a filling breakfast and lunch
Don't starve yourself before the big meal!
You may think you're "saving up calories," but the hungrier you are when you arrive, the more likely you are to make poor food choices and wind up eating more than you might have otherwise.
Start the day with a healthy, satisfying breakfast and a reasonable lunch, so you won't be ravenous by the time the holiday meal is served.
2. Avoid "grazing" before and after the meal
Hors d'oeuvres, snacks, cocktails, and even desserts are often passed around before and after the meal for guests to "graze" on.
To avoid overindulging, I set the time when I plan to start eating, as well as the time when I will stop.
Then, once I get up and leave the table, I move on to other activities, such as reminiscing with grandma or playing with the kids.
Just like I tell my clients: "Dinner and done … find other fun!"
3. Prioritize your treats
We all look forward to treating ourselves during the holidays, but all those temptations can quickly become overwhelming!
When I'm at a holiday party, I scan the entire table of food first and then choose the two or three that I want the most — the ones that are most likely to make the night feel extra-special.
Then, I take my time and savor each bite!
4. How do you want to feel as you're leaving?
Before even arriving at the party (and perhaps once again before taking your first bite), imagine how you want to feel when it's time to leave.
Stuffed like a turkey? Or happy, satisfied, and proud of yourself for keeping your goals on track?
You'll be amazed at how powerful this mental exercise can be in allowing you to enjoy the gathering to the fullest without overindulging.
5. Be active
Try building a healthy activity into your day, whether it's a hike or a neighborhood game of touch football.
Last year, my family and I laced up our hiking boots and hit the trail before dinner!
If you're giving gifts, think about toys and games that promote an active lifestyle.
If you're too old for toys (is anyone too old for toys?), then get out there and play with your kids, grandkids, nieces, nephews, or even your pet.
6. Incorporate healthy food swaps
If I'm hosting the party — or even contributing a dish for the table — I like to share traditional dishes made using healthy food swaps designed to be every bit as filling and delicious as the originals:
Greek yogurt makes a creamy stand-in for mayo in dressings and pasta salads.
Mashed cauliflower rather than potatoes for a healthy swap that still tastes delicious (for the skeptics, try half-and-half cauliflower and potatoes).
"Noodles" made with veggies are another big hit in our house.
For dessert, I serve cinnamon-spiced baked apples, either by themselves or topped with a little dollop of whipped cream, to satisfy apple-pie cravings.
Most of all, be sure to stay positive!
If things don't go exactly as planned, don't beat yourself up. Just stay focused on your goal and the weight loss will follow.
Meanwhile, together with the entire BODi community, I want to wish you a happy, healthy, and safe holiday season.