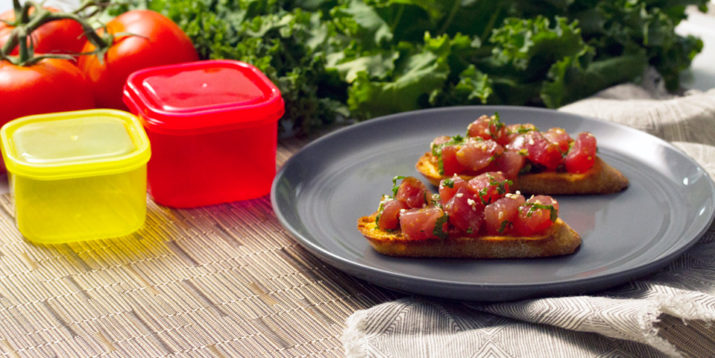 No matter what ingredients you choose, all proper bruschetta recipes begin with a fresh baguette sliced thin, coated with olive oil, then toasted.
If you're ready to dive into bold, new culinary territory, you'll love this bruschetta recipe from Ultimate Portion Fix creator Autumn Calabrese.
In this episode of the FIXATE cooking show, she and her brother, chef Bobby Calabrese, prepare an Ahi Bruschetta that is out of this world. This Asian-inspired delight has the flavor profile of Hawaiian poke presented as a simple, delicious appetizer.
Freshly grated ginger, soy sauce, and mirin (sweetened rice wine that is easy to find at most supermarkets) are commonly used ingredients in Japanese dressings and marinades.
Here they provide an umami-rich sauce that lightly coats each delicate bite of ahi tuna.
Prior to plating your bruschetta, Bobby recommends rubbing a freshly cut garlic clove on each slice of toasted baguette. This step marries the fusion of flavors and rounds out the entire dish.
Whether you are looking a showstopping appetizer for your next dinner party or a light, 21 Day Fix-approved lunch idea, Autumn's Ahi Bruschetta will do the trick.
To get the recipe and find out the Container Equivalents and nutritional information, watch the FIXATE episode on BODi!