8 Things Only Old-School Trick or Treaters Understand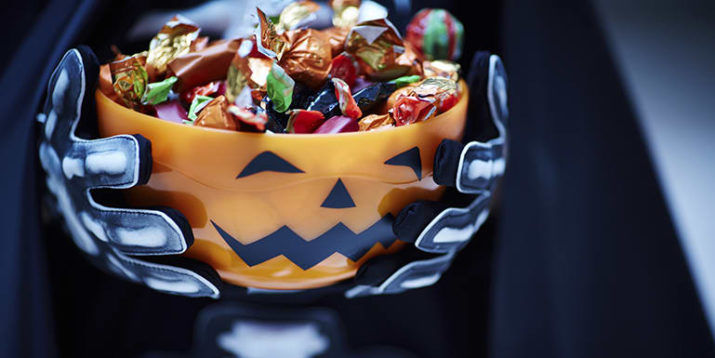 Let's get real about October 31: Halloween isn't a holiday. It's a real-life Hunger Games, when every Marvel superhero and zombie is out for themselves. Loyalty goes out the window when it involves a full-sized Snickers from generous Mrs. Johnson down the street.
The hard-core competition — the wittiest costume, elaborate homemade treats, the most kick-ass Halloween decorations on the block — kind makes you nostalgic for when you were a kid. You know, when everyone was either a ghost, a princess, or a witch, and all you worried about was filling your pillowcase with the best candy begging could get you. Let's take a stroll down memory lane and reminisce about the good ol' days…
1. Strategy Was Everything
Planning your trick-or-treat strategy was like playing a massive game of Mastermind. Your neighborhood had "good" and "bad" streets for candy. You had to figure out who consistently handed out the good stuff, who handed out apples, or worse yet, actually did tricks instead handing out treats.
Plan your night right and you'd end the night with full-size candy bars, cans of soda, and maybe even some change you could use to invest in even more candy. And if you didn't plan? You got a bag full of fruit, hard candies that looked (and tasted) like they were from the '50s, and a box of stale raisins.
2. The Early (and Late) Bird Got the Worm
Technically, trick-or-treating didn't officially start until nightfall, but you had to be on the ball and ready before the porch lights went on in order to get the best candy from your targets… I mean, neighbors. Wait until later and you'd get lost in the crowds and get stuck with stingy neighbors who didn't want to run out of candy too early. But going really late had its perks, too: People wanted to go to bed, so they'd dump the rest of the candy bowl in your bag. Score!
3. "Healthy" Treats? Please.
Back in the day, candy only had to fulfill two requirements to be qualify for "quality" Halloween candy. Packed with sugar? Check. Full of empty calories and chemicals? Check. Check.
These days, people are all about giving out healthy Halloween treats — but that's a good thing! Kids don't actually need a pillowcase full of candy, so handing out coloring books or healthy versions of Halloween favorites is a welcome change for parents (and dentists) everywhere.
4. Running Wild Was Encouraged
"Don't stay out too late," was the last thing we heard as we bolted out of the house. Back then, it seemed like your parents didn't care where you went as long as you made it back by curfew. That meant a lot of running and shrieking up and down dark alleys, through backyards, and other sketchy places because no one was too worried about safety.
Nowadays, parents don't let kids out of their sight — often for good reason — and sometimes even door-to-door trick or treating has been replaced with indoor events in malls, schools, or during mom and dad's work hours at the office.
5. "What's Your 20?"
Back in my day — the early '90s — there were no fancy smartphones. Me and my siblings used walkie-talkies to communicate between neighborhoods. ("What's your 20" = What's your location). In the age before texting, it was the best way to communicate key information and strategy about which houses to visit and which ones to skip. Oh, what we could have accomplished if there had been a Waze for trick-or-treating routes!
6. Coats Only Held You Back
Colds, schmold. Borderline frostbite was the norm and nobody cared. The temperature didn't keep us from going out in sub-freezing weather because candy was at stake. Coats under (or over) costumes totally ruined the look. That was one good thing that plastic drugstore witch mask was good for — protecting your face from the elements and generating a little heat.
7. You Were Always Negotiating
The best part of the night was dumping your loot on the living room floor and divvying everything up in piles and then trading. ("I'll give you five Smarties for that Reese's Peanut Butter Cup." "Throw in those Nerds and I'll think about it.") Parents could be total buzzkills, though, when it came to actually keeping the candy you worked so hard to acquire. They tried to limit you to only a few pieces that night, or worse, they insisted that you sell your candy to the enemy: your dentist.
8. Hiding Places Were a Necessity
If it wasn't your parents trying to take your candy, it was your siblings. Scoping out clever hiding spots — aka, ones that you could remember —was key. But some years that hiding spot was so good that even you forgot about the candy, sometimes for years. Good thing Twinkies last forever.
So even though today's version of trick or treating seems a lot more tame than the old days, one thing never changes: