It's a well-established fact that the treadmill becomes increasingly attractive as the mercury plummets.
But as long as the roads are plowed and you own a few key pieces of performance gear, there's no reason to spin your wheels indoors — especially if you have your eyes on a 10K or a marathon in April or May.
"Winter is also a great time to work on the mental toughness side of training," says Ron Byland, a USA Track and Field-certified coach based in Minneapolis. "Come spring, you'll be really ready to tackle new PRs."
So grab a beanie, pull on some thermal tights, and prepare to hit the hardback running — with these five winter running tips, you'll never have to let snow, sleet, or subzero temps get in the way of a workout again.
(Pro tip: If you want to start running but don't know where to start, try 30 Day Breakaway with Idalis Velazquez. She's a NASM-certified personal trainer and was a nationally ranked track-and-field star for 10 years in Puerto Rico.)
Find Your Footing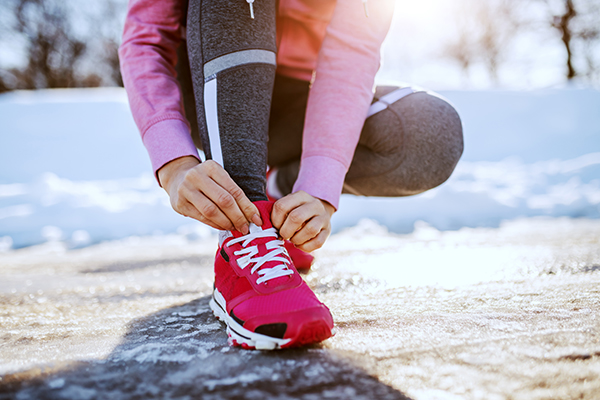 Once the snow starts to fall, you'll need to rethink your footwear.
The reason: Underneath all of that powder are a host of hidden dangers — ice, roots, potholes, uneven terrain — and you'll want shoes that can handle the extra punishment.
"I often switch to trail running shoes in winter," says Brendan Cournane, an elite Chicago-based running coach who has competed in marathons in all 50 states and all seven continents.
"Many of them have water-resistant uppers that help keep your feet dry, and their more aggressive lugs improve grip on slick terrain," he explains.
Think of it like swapping your summer tires for winter ones — the deeper treads make a huge difference when it comes to maintaining control.
Don't want to shell out for a new pair of shoes?
There are plenty of grip-enhancing devices that slip over the soles of existing shoes.
"They easily attach to any type or size of running shoe," says Liz Corkum, a Road Runners Club of America-certified coach, nutritionist, and personal trainer based in New York City. "They've gotten me through many 20-milers in tough conditions."
Adjust Your Form
Grippy shoes are a good start, but you'll also need to modify your running technique if you want to stay on your feet.
"Each stride should be more of a shuffle with both feet closer to the ground," says Cournane, who also suggests slowing your pace and sticking to plowed streets and well-traveled sidewalks. "Packed snow provides better traction."
When you make a turn, shorten your stride even more.
"It almost looks like I'm jogging in place when I switch directions on slick sidewalks," says Heather Kampf, the 2014 USA 1-mile road champion. "Being intentional about each step can help prevent nasty spills."
Increase Your Visibility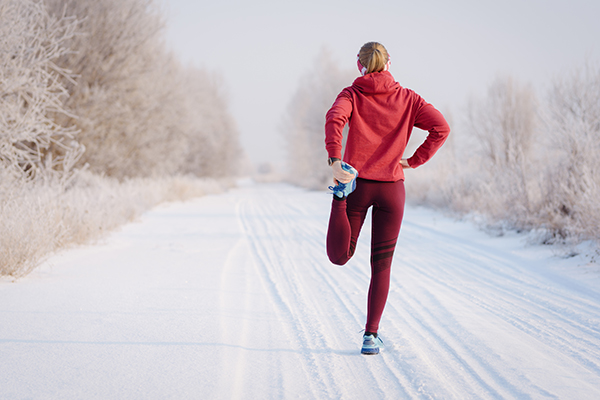 Shorter days often translate into darker runs, making it more important than ever to remain visible.
"Always wear bright colors and reflective gear," says Corkum.
Look for clothing that has reflective material in key biomotion points, such as your wrists, ankles, and feet, so oncoming traffic can identify you as a human rather than a road sign, and give you extra room.
"If you run in locations that are completely dark after sundown, also consider wearing a headlamp," says Corkum.
Not only will it add another layer of visibility, but it will also help you watch your step.
Stay Hydrated
"Many runners forget how much they sweat in cold weather," says Cournane.
But sweat isn't the only way you lose fluid — that mist you see every time you exhale in cold weather is water vapor condensing into tiny droplets and ice particles.
Try to drink half your weight in ounces of water throughout the day — if you weigh 150 pounds, your goal is 75 ounces, for example — and if your run lasts longer than an hour, carry a water bottle.
"Fill it with warm water before you head out so it won't freeze," suggests Cournane.
Layer Up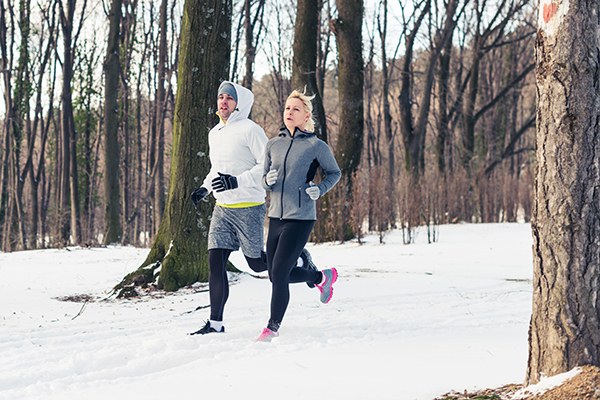 British author Alfred Wainwright once wrote that there's no such thing as bad weather, only unsuitable clothing.
Never is that more true than during the winter, and oddly enough, one of the biggest mistakes people make is dressing too warmly.
"I tell my runners to dress as if the temperature is 15-20 degrees warmer than what's showing on the thermometer," says Cournane. "It only takes about a half mile to a mile for most people's bodies to warm up to a comfortable level."
That said, it's always better to err on the side of caution, and layering (i.e., wearing multiple levels of clothing) will allow you to make adjustments on the fly.
If you normally wear cotton when you exercise, stop — it holds moisture close to the skin, increasing heat loss.
Instead, invest in some technical, moisture-wicking clothing, and then follow this cold-weather layering guide to maximize your comfort and performance during every run:
Above 60°: Shorts and a short-sleeve shirt.
50° to 59°: Same as above, but swap short sleeves for long sleeves.
40° to 49°: Shorts or light tights and a half-zip, long-sleeve shirt, which will allow you to vent if you become too warm. If it's windy, also wear a light shell.
30° to 39°: Technical underwear, tights, half-zip top, insulated vest, gloves, and a thin beanie. If it's windy, also wear a light shell.
20° to 29°: Technical underwear, tights, half-zip top, insulated jacket, gloves, and a thin beanie.
1° to 19°: Windproof underwear, heavier tights, half-zip top, insulated jacket, insulated gloves, beanie, face mask.
Below 0°: Thick socks, windproof underwear, heavier tights, half-zip top, insulated vest or jacket, wind-proof shell, insulated gloves, beanie, face mask.
Looking for more expert tips? Head over to Beachbody On Demand and find out how Beachbody's at-home workouts, nutrition programs, and online community work together to help you reach your health and fitness goals.