Ease Into Your New Practice With 5 Day Beginner Yoga
It's no secret that yoga offers oh-so-many health benefits — better flexibility, increased muscle strength and definition, and a mind-body connection that can lead to less stress and more balance.
But sometimes the "yogaverse" can feel a little intimidating.
Donna Scro Samori wants to change this perception with her program, 5 Day Beginner Yoga.
"Yoga really is for everyone. There's a misconception about yoga that it's only for flexible people. This is not true! Yoga incorporates both strength and flexibility, and modifications make yoga doable for most anyone."
Donna eases you into this beginner series with basic foundational poses, gentle stretches, and soothing breathwork, all in less than 20 minutes so anyone can get started and make yoga a regular part of their fitness routine.
The short practices will leave you feeling confident, invigorated, and in tune with your most important relationship: the one you have with yourself.
By the end of the week, "you will have a better understanding of yoga and hopefully feel less intimidated by it," explains Donna. "My hope is that people realize yoga can be for them."
What Is 5 Day Beginner Yoga?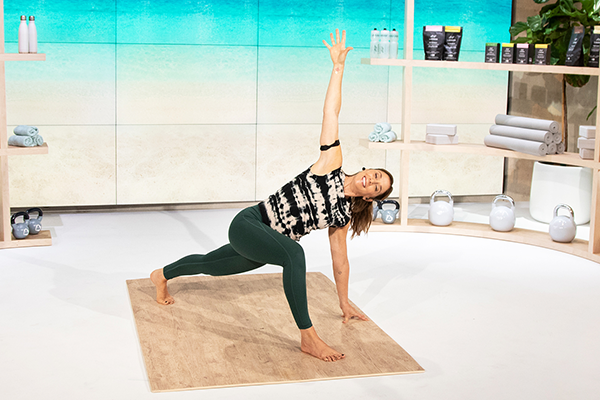 5 Day Beginner Yoga is an approachable introduction to yoga that shows you how to incorporate yoga into your regular fitness routine.
This five-day series of 15- to 20-minute practices teaches you basic positions, stretches, and breathwork, so you can feel confident to take on yoga in any setting.
After five days, you'll not only be more flexible and physically stronger but also more connected to yourself.
"Beyond the physical, self-care is one of the most important things we can do for our overall health," says Donna. "The awareness that comes from a yoga practice offers you the opportunity to make adjustments and come back to a place of feeling more balanced, grounded, and connected."
Who Should Sign Up for 5 Day Beginner Yoga?
If you've ever been even slightly interested in yoga, you should sign up for 5 Day Beginner Yoga.
It's the perfect way to get your feet wet and learn the basics with a minimal time commitment, no matter your fitness level.
The program is also a great reset at the beginning of the year or throughout the year in case you've been struggling to jump back into a routine.
If you already follow a fitness routine, the 5 Day Beginner Yoga practices can be tacked on to your schedule as a recovery option.
And, let's face it, no matter where you are on your fitness journey, the stress relief and sense of calm that yoga provides is something from which we can all benefit.
What Are the Workouts Like?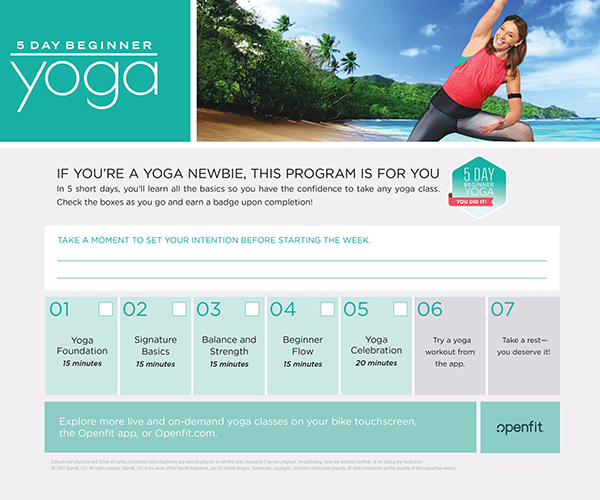 All you need is 15 minutes to begin your yoga practice. Donna starts off with an introduction to signature poses and focuses on the basics the first few days.
By Day 4, you'll have a chance to try your first gentle flow — a sequence of poses drawn from the preceding days.
Your final day is your longest session (still just 20 minutes!), and challenges you to assemble everything you've learned.
For more details, check out the list of workouts you'll be doing each day below, and download the program calendar here.
Day 1: 15-Minute Yoga Foundation
Grab your mat and set a solid foundation for the week with a few basic yoga poses.
Day 2: 15-Minute Signature Basics
Donna introduces more basics but this time focuses on simple full-body moves that leave you feeling good from head to toe.
Day 3: 15-Minute Balance and Strength
Dive a little deeper into your practice with poses that invite you to explore your strength and balance.
Day 4: 15-Minute Beginner Flow
Combine the poses you've learned and add a few new ones to the mix in this gentle flow.
Day 5: 20-Minute Yoga Celebration
It's time to put it all together! Apply what you've learned throughout the week in this final class, and leave the mat strong and confident.
Meet Your Instructor
A budding therapist and yoga instructor of more than 15 years, Donna Scro Samori places as much emphasis on the psychological advantages of yoga as she does its physical benefits.
After years of being approached for guidance after a class by students whose emotional struggles had been awakened during their practice, Donna sought to learn more about mental health, returning to school for a master's in social work.
She brings this holistic understanding of how people work — mind and body — into every class she leads.