22 Minute Hard Corps Results: This New Dad Got Back in Shape in 8 Weeks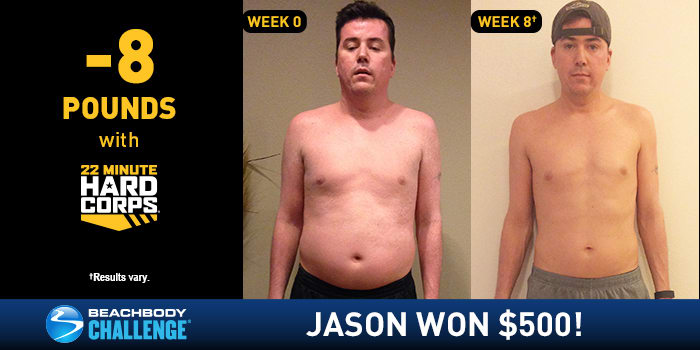 Jason Howie lost 8 lbs. in 8 weeks with 22 Minute Hard Corps. He entered his results into the Beachbody Challenge, and won the $500 Daily Prize for August 26th!
Tell us about your life before you started the program. How did you feel about yourself and your body?
I started working out in August of 2015 and didn't get serious until March. I was a new father, working a lot, and never had time before. Now my wife and I work out together. Our goal is to be healthy for us and our kids!
What inspired you to change your life and begin your transformation journey?
My wife, my kids, family members getting sick, and my father-in-law having open heart surgery at 58. It was time to get a handle on my life.
What is the greatest challenge you faced before beginning the program? How did the program and Beachbody help you overcome that challenge?
Feeling good about my body. I felt weak and sick a lot, had no energy, and got winded easily just playing in the yard with my daughter. I wanted to be a healthy, strong, and energetic dad for my wife and girls!
What in particular did you like about the program you chose?
It was challenging. I was weak in a lot of areas. It challenged me and was only 22 minutes a night, which was great for my schedule.
Describe the results you achieved with your Beachbody program. Which achievements are you proud of?
I couldn't do pull-ups before we started. I can do six now. That's huge!
How has your life changed since completing your Beachbody program?
I feel good, healthy, and ready to take on The Master's Hammer and Chisel!
You can change your life, too. Take the Beachbody Challenge for the tools you need to Decide, Commit, and Succeed! Complete any Beachbody program, and enter your results for a free gift and a chance to win cash and prizes. What program are you committing to next?

†Results vary depending on starting point, goals, and effort.