21 Day Fix Results: This Firefighter Lost 47 Pounds and Won $1,500!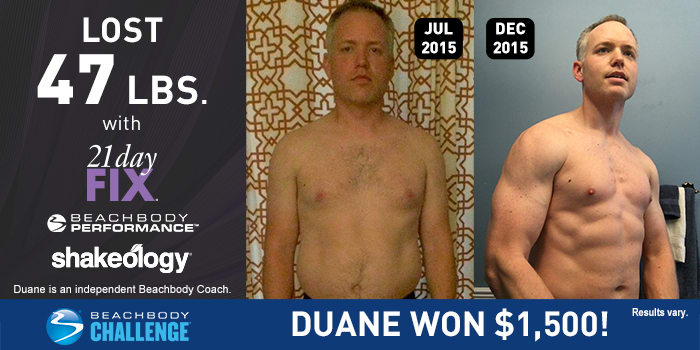 Duane Dodge lost 47 lbs. with 21 Day Fix and the Beachbody Performance supplements. He entered his results into the Beachbody Challenge, and won $1,500!

Tell us about your life before you started the program. How did you feel about yourself and your body?
I am a professional firefighter with Halifax Fire, the oldest fire department in Canada. I have been a firefighter for just over 10 years. Over the past few years, I have felt like I was getting out of shape. I needed to do something to get back in shape. I was starting to feel like I wasn't performing my job at the level I should be. Climbing stairs and ladders, pulling hoses, and wearing 75 pounds of gear were starting to get very hard on me. I knew I needed to change something. The number one killer of firefighters is cardiac events, and I didn't want to be a statistic. I have a reputation in the fire house as the guy who makes the best gravy! I love to cook, but I cooked all the wrong things. Big meals are a part of firehouse life, but I took it to extremes. Cheese-stuffed burgers, giant steaks, onion rings, fries, and loads of gravy were my specialty. I knew I had to make some serious changes, but I didn't really want to admit I didn't know how to make the changes. I was in a bad spot.
What inspired you to change your life and begin your transformation journey?
Well, I knew I had to make some changes in my life. I was 220 pounds and eating whatever I wanted. Basically, I felt invincible: "I'm a firefighter. I'm strong. I may look a bit chunky but I'm not out of shape." That's what I was telling myself. I met a lady at a soccer camp my kids were attending in June of 2015, at which time I was 220-plus pounds and had just come back from a cruise vacation. I ate non-stop on vacation, and was feeling so out of shape. The lady I met was a Beachbody Coach. We got to talking about working out, and she mentioned that she had lost a large amount of weight using a Beachbody program. She began to tell me about 21 Day Fix. I also found out later that week that my brother-in-law had just signed up to be a Beachbody Coach, and he was starting 21 Day Fix. I did some research on the program, and as soon as I saw how the program teaches you how and what portion sizes to eat, I knew that's what I needed to kick-start my fitness journey. I loved the 30-minute intense workouts.
What is the greatest challenge you faced before beginning the program? How did the program and Beachbody help you overcome that challenge?
The greatest challenge I face is really my career and the physical demands that are required to be a firefighter. Carrying heavy loads, climbing ladders, and advancing firehose into a burning structure are all tasks I could be called on to do at any time. Just before starting 21 Day Fix, my eating was pretty much off the rails. I would eat whatever I wanted, thinking there wouldn't be any consequences to my health or fitness. The container idea was such a breakthrough for me. The simple way it's used to help you eat the right foods and the correct amounts made all the difference. I am a very competitive person, and I needed a challenging workout routine. Autumn's program is amazing, and I was blown away by how hard it was to do these 60-second exercises. So the 21 Day Fix and Shakeology have transformed my life. I will never go back to the way I was. I have been forever changed, because of this program. Simple eating and a 30-minute workout have been a game-changer.
What in particular did you like about the program you chose?
Right from the start, before I even ordered the program, I knew this was going to work for me. After watching a YouTube promo about 21 Day Fix, I bought it right away. The way that the program teaches you to eat is so simple and easy. Not having to count calories is awesome. If it fits in the container, you can have it. I love having the container tracking app. It takes all the guesswork out of what I have left for containers by the end of the day. The workouts are challenging and very intense. Their 30-minute length is perfect for my lifestyle. This program really did make me create new healthy habits, and started my journey to health and fitness. I will never go back to the way I was.
Describe the results you achieved with your Beachbody program. Which achievements are you proud of?
I achieved amazing results on this program since July 2015. I have done six rounds of 21 Day Fix, and I am down 47 pounds! I went from a size 36 pants that were tight around the waist to a size 31 that are loose. Our nutrition and eating as a family has been completely changed forever. I can actually see abs and have muscle definition for the first time ever! I'm 37, and I'm in the best shape of my life. I'm proud and very confident in my abilities to perform my job as a firefighter now. My strength has increased, and my focus and drive are at an all-time high.
How has your life changed since completing your Beachbody program?
My life and the lives of my wife and kids are forever changed because of this program. My wife has done two rounds of 21 Day Fix, and has lost over 15 pounds. I have lost 47 pounds, and decided to become a Beachbody Coach. I have been able to inspire many others to start their journey to become fit and to have the body they've always wanted. I'm a healthier and stronger person since I've decided to go on this journey to fitness. I hope to help many others achieve their goals. I've learned that fitness is a journey, not a destination, and I get daily motivation from doing the workouts and getting stronger every time. I'm living proof Beachbody and 21 Day Fix work! If you decide and commit, you will succeed.
How did your Team Beachbody Coach support you on your journey?
My Coach inspired me by simply doing the program first before me. After I had seen the progress he was making, I had to do it.
How did a Beachbody supplement, nutritional product, or program (such as Shakeology or Beachbody Ultimate Reset) support your transformation? What are the greatest benefits you gained? Did you see benefits to your energy, sleep, mood/mental clarity, or digestion/regularity?
I used Shakeology during 21 Day Fix. I noticed a huge boost in energy, and I didn't crave any junk food. The chocolate shakes really hit the spot and got rid of all the chocolate cravings. Shakeology has been a huge part of this journey for me, and I will continue to use Shakeology.
You can change your life, too. Take the Beachbody Challenge for the tools you need to Decide, Commit, and Succeed! Complete any Beachbody program, and enter your results for a free gift and a chance to win cash and prizes.

*Results vary depending on starting point, goals, and effort.