21 Day Fix Results: Susan Shed Seven Pounds in 21 Days!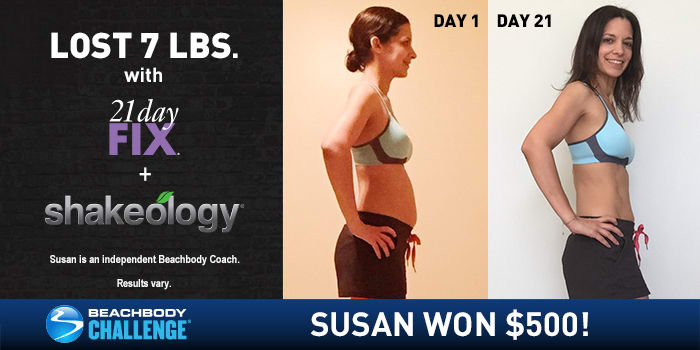 Susan Antunez lost seven lbs. in 21 days with 21 Day Fix and Shakeology. She entered her results into the Beachbody Challenge, and won the $500 Daily Prize for July 3rd!
Tell us about your life before you started the program. How did you feel about yourself and your body?
I was 40. I felt flabby, skinny-fat, and exhausted all the time. I had chronic back pain. I thought it was because I taught on my feet all day and had a 4-year-old. I wasn't confident in a bikini and I wore Spanx under dresses so that my pouch wouldn't show and to help control my behind and thighs.
What inspired you to change your life and begin your transformation journey?
I saw the results my friend was having and the transformation pics she shared of her challengers.
What is the greatest challenge you faced before beginning the program? How did the program and Beachbody help you overcome that challenge?
I hated vegetables. All of them. Never ate any of them. I also hated shakes. I learned how to eat veggies by incorporating them in my meals. I fell in love with Shakeology because it tasted like dessert.
What in particular did you like about the program you chose?
I loved the variety of the workouts. Autumn is so authentic and personable. The workouts were so challenging at the beginning. Not gonna lie, I thought I was going to die at first, but I didn't. I'm stronger than ever and I owe a big thanks to Autumn and Beachbody.
Describe the results you achieved with your Beachbody program. Which achievements are you proud of?
My digestive system was a mess. I couldn't go anywhere without fear of having a stomach ache in public. Now, I've learned how to eat well. Shakeology had my system running well by day three, no lie.† I no longer live in fear. I fuel my body really well. I eat 5–6 well-portioned meals a day; more than I ever ate before. 21 Day Fix helped me regain control of my life – actually, I never had control until I started this program. And as a bonus, I can now carry my daughter and not feel back pain.
How has your life changed since completing your Beachbody program?
Everything has changed for the better. I feel alive. I'm confident in my own skin and no longer feel like a victim of my age.
How did participating in a Challenge Group help you reach your goals? How did your group support you and keep you accountable?
It kept me motivated and accountable. I loved sharing recipes and getting ideas from the other ladies.
How did your Team Beachbody Coach support you on your journey?
She kept me accountable to the goals I set for myself. She showed up every day.
You can change your life, too. Take the Beachbody Challenge for the tools you need to Decide, Commit, and Succeed! Complete any Beachbody program, and enter your results for a free gift and a chance to win cash and prizes.

Results vary depending on starting point, goals, and effort.
†These statements have not been evaluated by the Food and Drug Administration. This product is not intended to diagnose, treat, cure, or prevent any disease.