21 Day Fix Results: Mom of Two Loses 6.5 Pounds in Two Rounds!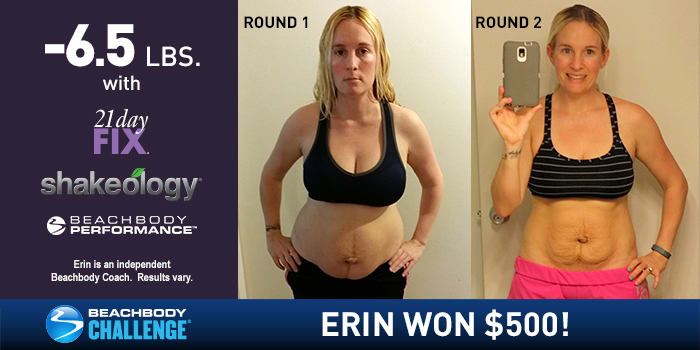 Erin Katz-Schroeder lost 6.5 lbs. in two rounds of 21 Day Fix with Shakeology and the Beachbody Performance supplements. She entered her results into the Beachbody Challenge, and won the $500 Daily Prize for May 10th!
Tell us about your life before you started the program. How did you feel about yourself and your body?
I gave birth to my second child, Danny, on December 29, 2015. I weighed over 168 pounds, and had put on the expected inches all over my body. I was diagnosed with postpartum pre-eclampsia, and was struggling with my blood pressure and overall fear for my life and well-being of my children. My husband was a huge help, but as a mother, I wanted to be the one who did everything for them. I felt so helpless — trapped in a broken body, unable to play with my four-year-old, and struggled to tend to my newborn all night and all day. I was at a fork in the road, but thankfully, I was cognizant of the choice I had in front of me.
What inspired you to change your life and begin your transformation journey?
The way I felt when I looked into the mirror, or the sadness I could feel coming from my four-year-old when I couldn't play with her, inspired me to take action. At first, I was not cleared to exercise. So I began with the 21 Day Fix nutritional plan only beginning in early January. I used my containers, and committed 100 percent to my daily Shakeology and clean eating. On February 22, with my doctor's permission, I went all in with the 21 Day Fix program (exercise and nutrition). To date, I have lost a total of 15.25 overall inches — including what I like to refer to as my "largest part," which is the belly — and 6.5 pounds. I feel so much stronger, healthier, and happier. I know many of my circumstances were a natural part of childbirth, but I could have remained stagnant. I could have kept eating the way I was. I could have used my "circumstances" as an excuse to not start exercising. But I didn't. I knew it was time to take action and implement this proven plan to improve my health.
What is the greatest challenge you faced before beginning the program? How did the program and Beachbody help you overcome that challenge?
The greatest challenge I faced was the overwhelming feeling of "how far I have to go." I knew it was all mental, so I started paying attention to all the Success Stories from Beachbody, all the Coaches who went as far as they had to go, all the other mothers just like me who made that choice and stuck with it. I knew I just had to take it one day at a time and focus on where I was going rather than where I was right then. Currently, I am only 2.5 months postpartum, and I am nowhere near finished. This is my lifestyle now, and I love every single part of it. The most rewarding part for me is not how much weight or how many inches I have lost, but rather how healthily we will raise our two beautiful children. Seeing my four-year-old lay her yoga mat next to mine to work out with Autumn, watching her make better food choices because of my example, knowing we will both be making her baby brother's baby food from scratch using organic fruits and veggies, it's all priceless! Grateful.
What in particular did you like about the program you chose?
I love that 21 Day Fix has an easy-to-follow nutritional plan and fun color-coded containers to use. The daily 30-minute exercises were well-rounded. Even though they challenged me physically, they were easy enough to follow or modify and still see results. I am a busy wife and mother of two, so 30-minute exercises fit perfectly in my schedule.
Describe the results you achieved with your Beachbody program. Which achievements are you proud of?
Since the birth of my son on December 29, 2015, I have lost a total of 6.5 pounds and a total of 15.25 inches! I am ecstatic about my results, but the achievement that I am most proud of is that I didn't quit! I saw the program through with integrity, and have implemented what I have learned into my everyday life. This was not a short-term fix for me. This is my lifestyle, and I am only just beginning on my journey.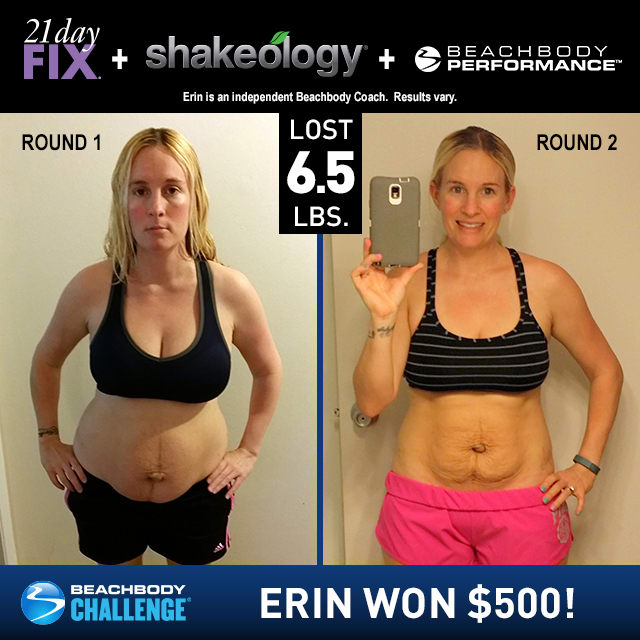 How has your life changed since completing your Beachbody program?
I have a million times more energy. I feel stronger every day. I am seeing my muscles again. I have a joy in my life that wasn't there previously. I am so grateful that I decided and committed, because now I am a success and will continue to be one, and that feels phenomenal!
How did participating in a Challenge Group help you reach your goals? How did your group support you and keep you accountable?
Although I did not participate in a Challenge Group, belonging to a team helped keep me accountable and committed in so many ways. Knowing that I was not alone on my journey and that so many people were just a phone call or Facebook message away was incredible. Being able to see everyone's journeys online and learn from one another, as well as share recipes, exercise, and Success Stories was such a great help!
How did your Team Beachbody Coach support you on your journey?
My Coach was there for me daily to help motivate me and help me to remember why I started this journey. He was always providing me with advice and was always there to answer my questions… no matter how many I had!
How did a Beachbody supplement, nutritional product, or program (such as Shakeology or Beachbody Ultimate Reset) support your transformation? What are the greatest benefits you gained? Did you see benefits to your energy, sleep, mood/mental clarity, or digestion/regularity?
I owe most of my success to my delicious and nutritious Chocolate Shakeology. I am not even kidding here. On the rare day that I just did not feel like pushing play, I would remind myself of my chocolate shake with strawberries, a banana, and almond butter that was waiting for me at the end, and I would push play so fast! Shakeology helped to increase my energy level, my regularity (another pregnancy issue fixed), helped regulate my blood pressure, and improved my overall feeling of strength and joy.
Did you achieve any other measurable improvements with a Beachbody supplement, nutritional product, or program (e.g. blood pressure, blood sugar, triglycerides, etc.)?
I have also noticed a major difference in my immune system. My four-year-old is forever bringing home preschool germs, and I used to get sick all the time but not anymore.
You can change your life, too. Take the Beachbody Challenge for the tools you need to Decide, Commit, and Succeed! Complete any Beachbody program, and enter your results for a free gift and a chance to win cash and prizes.

Results vary depending on starting point, goals, and effort.