21 Day Fix Results: Lisa Lost 88 Pounds in 14 Rounds!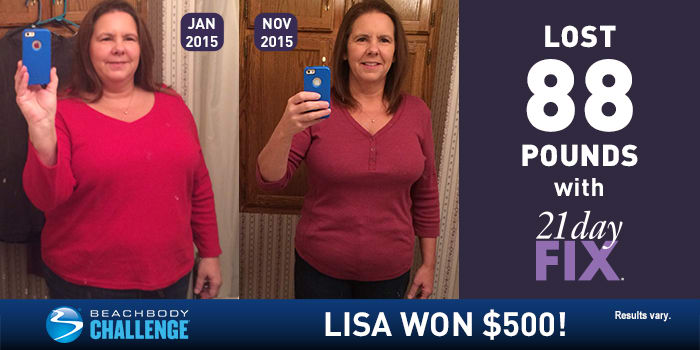 Lisa Allen lost 88 lbs. in 14 rounds of 21 Day Fix. She entered her results into the Beachbody Challenge, and won the $500 Daily Prize for March 9th!
Tell us about your life before you started the program. How did you feel about yourself and your body?
I had no energy. I would come home from work, eat dinner, and then sit on the couch the rest of the night. On the weekends, I wouldn't get much done, because I had no energy. I would have great intentions, but they wouldn't last long. I would work on something for a while, and then take a nap. Needless to say, I didn't get much done.
What inspired you to change your life and begin your transformation journey?
I went to the doctor in January for my annual check-up and got on the scale. I had not been weighing myself at home so I had no idea how much I weighed. I came to the quick realization that I weighed at least 30 pounds more than I did when I gave birth to my son. The doctor didn't say anything about it, but I was faced with my true reality!
What is the greatest challenge you faced before beginning the program? How did the program and Beachbody help you overcome that challenge?
I am not one to go to a gym to work out. I didn't want people to be watching the big girl try to exercise. By having a program I could do in the comfort of my own home and be able to modify the movements was a great motivator. After the very first workout, I could barely move or go up steps. I remember trying to get up at my office, was so sore, and my boss asking what was wrong with me. I told him that I had just started the program and that I was so sore. A few hours later, we needed to go upstairs and I said, "Really, you want me to climb the stairs as sore as I am?" He was like "Yes, it will be good for you." I got up and climbed the stairs, and that was the start of my love for the workouts. My husband gave me my privacy to do my workouts first thing in the morning and supported me completely. I still get up every morning at 4:30 a.m. and do my workout first thing.
What in particular did you like about the program you chose?
The program is different every day. You can modify each "Fix" to your fitness ability.
Describe the results you achieved with your Beachbody program. Which achievements are you proud of?
I lost 17 pounds the first round. I have lost pounds with each round. I have just finished my 14th round and am down 88 pounds. The weight loss is great, but I feel so much better and have so much more energy.
How has your life changed since completing your Beachbody program?
I walk into a room with confidence, instead of walking into a room wondering if everyone is looking at the big girl that just walked into the room. I now can shop in the regular section for clothes. I don't have to shop in the plus-size section. I've gotten a whole new wardrobe!
You can change your life, too. Take the Beachbody Challenge for the tools you need to Decide, Commit, and Succeed! Complete any Beachbody program, and enter your results for a free gift and a chance to win cash and prizes.

Results vary depending on starting point, goals, and effort.