21 Day Fix Results: Kyle Lost 47 Pounds and Won $500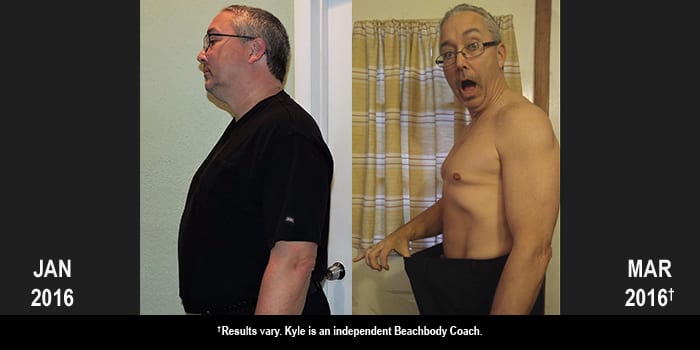 Kyle Loucks lost 47 lbs. with 21 Day Fix and Shakeology. He entered his results into the Beachbody Challenge, and won the $500 Daily Prize for October 30th!
Tell us about your life before you started the program. How did you feel about yourself and your body?
A bad back, sore knees, bad ankles, and shoulders gave me excuses for a sedentary lifestyle. I was invited by Julie Evans to try 21 Day Fix. But I just wasn't ready or convinced anything could work. Active outdoors year-round, I had no stamina to do the things I love.
What inspired you to change your life and begin your transformation journey?
Encouraged again at the end of 2015, I decided to try 21 Day Fix and joined Julie Evan's group with Julie as my Coach. The first couple of days, the food plan was fairly easy, but oh, those workouts. The first night I was on all fours throwing up into a plastic bag after attempting to do crunches — but I didn't quit. The second night I threw up again! Undaunted, I continued and lost 8.5 pounds the first week. At that point, I started to get excited. After the first round of doing 21 Day Fix, I lost 17 pounds! So, I decided to do it again and set a goal of 40 pounds by the end of 2016. The weight was falling off! At the end of round two, I was down to 208 pounds. Now, at the end of round three, I have lost a total of 47 pounds! I had reached my 40-pound yearly goal in less than three months. I now have more energy and my back, knees, shoulders, and elbows all feel better! And I am running a 5k in the spring.
What is the greatest challenge you faced before beginning the program? How did the program and Beachbody help you overcome that challenge?
The DVDs with the one person who did the "modified" version of the workout. That helped me out a lot as my bad back and knees could only get me so far.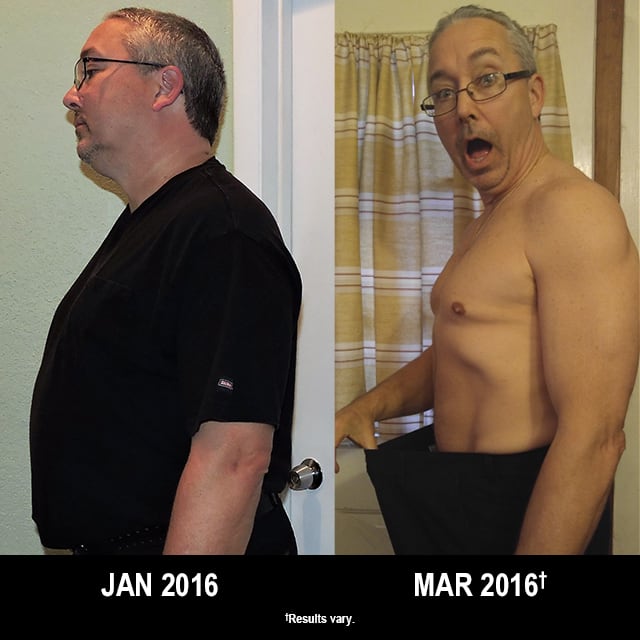 What in particular did you like about the program you chose?
The nutrition program was fairly easy and it worked! The containers go everywhere with me.
Describe the results you achieved with your Beachbody program. Which achievements are you proud of?
The weight came off so quickly that I thought someone was "messing" with the scale! Once it started to come off, I was hooked!
How has your life changed since completing your Beachbody program?
I am more conscious of my diet and have become addicted to fitness. Each goal I achieve becomes a new goal to attain.
How did participating in a Challenge Group help you reach your goals? How did your group support you and keep you accountable?
Support from friends helped with questions about the program. Like-minded folks with similar goals were key to success. Comparing results, what works and doesn't work, etc.
How did your Team Beachbody Coach support you on your journey?
Julie was very supportive and answered any questions I had quickly and expertly.
How did a Beachbody supplement, nutritional product, or program (such as Shakeology or Beachbody Ultimate Reset) support your transformation? What are the greatest benefits you gained? Did you see benefits to your energy, sleep, mood/mental clarity, or digestion/regularity?
Shakeology helped with hunger and it is so good-tasting!
You can change your life, too. Take the Beachbody Challenge for the tools you need to Decide, Commit, and Succeed! Complete any Beachbody program, and enter your results for a free gift and a chance to win cash and prizes. What program are you committing to next?

†Results vary depending on starting point and effort.