21 Day Fix Results: Jennifer Lost 40 Pounds in Five Rounds!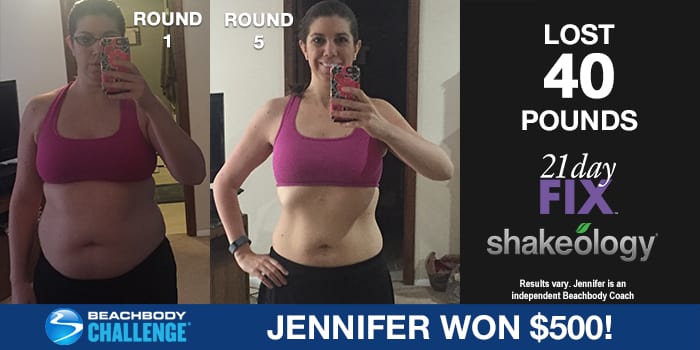 Jennifer Warner Leja lost 40 lbs. in five rounds with 21 Day Fix and Shakeology. She entered her results into the Beachbody Challenge, and won the $500 Daily Prize for June 5th!
Tell us about your life before you started the program. How did you feel about yourself and your body?
Before I started this program, I felt miserable. I hated the way I looked in clothes, and hated even more how I looked out of them! I was ashamed of how I looked and tried to find anything to hide my weight. I knew that if I could make a change, I could get the self-confidence back that I knew I had lost. I seemed to be always angry, depressed, and had very little energy from day to day. Being that I am a teacher, and a health/nutrition one at that, I never felt "qualified" to discuss good habits with my students, because I knew that I was not practicing them myself. I am also part of a very fit family. Despite the fact that they always supported and loved me, I never felt like I quite "belonged."
What inspired you to change your life and begin your transformation journey?
I had so many things in my life spinning completely out of my control. There were stressful events in my life that were going on that I absolutely had no control over. Last year (March 2015), I had a traumatic injury that left me unable to walk for nine weeks. This spun me into a deep depression, and my weight got out of control. This was added on top of already so much that was going on. I decided in January of 2016 that it was time to take my life back. So many things were going on that I could not change, or control, but this is something I could. I wanted to take control of my weight, self-confidence, and health again. I told myself I was doing this for me, and only me. Nobody could control this but me, take it away from me, or take credit for it but me. That was my motivation to start, and it continued through the five rounds of 21 Day Fix that I completed. It has also now led me into 21 Day Fix EXTREME.
What is the greatest challenge you faced before beginning the program? How did the program and Beachbody help you overcome that challenge?
My injury last year resulted in two surgeries on my left leg and ankle with a significant amount of metal permanently placed. My biggest fear going into this program was that I was not going to be able to get into good physical shape again, because of my injury. That I would "re-break" my bones, or that my body was going to struggle to work out. This was both a mental pain and a physical one. The workouts were rough to start, painful, and slow. But slowly I saw progress. I gained strength, and the self-confidence came back. I now have pain on only "bad weather" days. I can walk like nothing ever happened, and my mental confidence that I am strong is present! I think Beachbody helped me by giving me a program to follow, modifications that I could do, and the results I was craving.
What in particular did you like about the program you chose?
I absolutely loved that it was an all-in-one package. It had the nutrition program that was crazy easy to follow and a workout program with something different each day so I never got bored. Being a Coach now, I tell people the nutrition is normal! No crazy foods or crazy meal prep. It is very easy to follow, and with 100 percent given, the results are amazing. I never got bored with the workouts. Only doing each workout one time per week kept me from dreading the same old thing.
Describe the results you achieved with your Beachbody program. Which achievements are you proud of?
In five rounds, I lost 40 lbs. Seriously, 40 lbs. in less than four months! I went from a size 14 (borderline 16) to a size six! The energy I gained from the nutrition, workouts, and most importantly, Shakeology, was indescribable. What am I most proud of? All of it! That I was able to look past everything that was (and still is) going wrong in my life and make something go right for me. To make sure that I took 30 minutes minimum each day for me, and demanded that from my life's stress. I am most proud of taking control and getting a very important part of my life back. Hearing constantly from co-workers, friends, and family how great I look is not a bad thing either!
How has your life changed since completing your Beachbody program?
I am confident, happier, and in much better health. I have become a better teacher and person. I look at food differently, and I crave physical activity. The stressful things going on in my life have not gone away; however, I handle them much better. Even the other day when something rough happened, instead of turning to comfort food, I turned to a workout. The fact that I even did that, and doing that was my first thought, is a huge sign of how my thinking and lifestyle have changed.
How did participating in a Challenge Group help you reach your goals? How did your group support you and keep you accountable?
First, my Coach ran a competition in my first 21 days. I am a crazy competitive person, and while I did not "win" the competition, it made me show up every single day posting my food, workouts, checking in, answering questions, etc. That made me throw myself into this program with both feet and hit the ground running. After those first 21 days, it had started to become a lifestyle. I did not need the competition to keep me going, because the results were plenty. There were other people in my group, and I also became invested in their success. I wanted to read how they were doing, what they were struggling with, and help them as they were helping me.
How did your Team Beachbody Coach support you on your journey?
As I stated, my Coach ran a competition to get us very involved in the program. That provided me with a ton of support to get involved and stay involved. I have done five rounds and changed programs. She has answered every single question I had since Day One and continues to answer them. I can clearly see why having a Coach is a huge part of this journey. She led by example for me on how I can help others.
How did a Beachbody supplement, nutritional product, or program (such as Shakeology or Beachbody Ultimate Reset) support your transformation? What are the greatest benefits you gained? Did you see benefits to your energy, sleep, mood/mental clarity, or digestion/regularity?
I used Shakeology (and still do). I absolutely love Shakeology and will not go without it. The energy it gives me is out of this world. I drink it for breakfast and feel so much more alert by the time I get to work. It eliminated all cravings I had for "crap" food.
You can change your life, too. Take the Beachbody Challenge for the tools you need to Decide, Commit, and Succeed! Complete any Beachbody program, and enter your results for a free gift and a chance to win cash and prizes.

Results vary depending on starting point, goals, and effort.