Transformation Tuesday: Jasmine Lost 20.4 Pounds With 21 Day Fix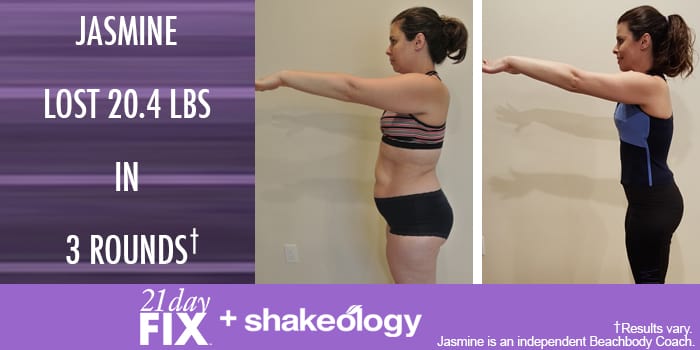 Jasmin M. started the 21 Day Fix after seeing friends' transformation photos from the program. After completing three rounds, she lost 20.4 pounds and 20 inches! Here's what she thought, in her own words:
"Before starting the 21 Day Fix, I was the queen of excuses. 'I'm too tired,' 'I can't do it,' 'I'm feeling sore.' You name it, I had an excuse for it! No joke! It was as if I was stuck in this uncomfortable, insecure, and overweight body.
My friends started talking about Beachbody programs and showed me before and after pictures from the 21 Day Fix. That's when it finally hit me and I started to get motivated. I took a huge leap of faith in my friend who became my coach, and I made the choice to believe in myself!
After completing the program, I felt stronger than I ever felt. I saw amazing results in my waist, arms, and my legs. Also, everyone around me has acknowledged my new physique because I'm no longer embarrassed of cameras. Most people say, 'Wow!' or 'You look amazing!'
One of the things I love about the program is the meal plan. The food that you are allowed to eat makes the meals far from a diet. I'm used to depriving myself from food, and the 21 Day Fix never does that. I love the fact that I can eat my avocado and have some peanut butter. It isn't considered cheating!
After doing the 21 Day Fix, I am determined to set goals and crush them. If I hear excuses in my head, I have the power and drive to kick them in the face and leave them in a place far, far away!"
†Results vary based on starting point and effort.
---
You can change your life, too. Take the Beachbody Challenge for the tools you need to Decide, Commit, and Succeed! Complete any Beachbody program, and enter your results for a free gift and a chance to win cash and prizes. What program are you committing to next?