21 Day Fix Results: Jacklyn Lost 40 Pounds and Won $500
Jacklyn Hunsucker lost 40 lbs. with 21 Day Fix and 21 Day Fix EXTREME. She entered her results into the Beachbody Challenge, and won the $500 Daily Prize for October 27th!
Tell us about your life before you started the program. How did you feel about yourself and your body?
Before I started the 21 Day Fix programs and Shakeology, I was extremely out of shape and unhealthy. I had zero energy, insomnia, struggled with IBS, and used an inhaler multiple times a day.3 The only exercise I did was occasionally walk my Labrador Retriever. I ate anything I wanted, whenever I wanted. I did not feel comfortable with my body and avoided doing some things because of my appearance and physical shape. I knew that I needed to change, but I didn't have the motivation.
What inspired you to change your life and begin your transformation journey?
I knew I needed to change my life for a long time but never took initiative. I started seeing posts on Facebook from a woman in my hometown who was a Beachbody Coach and promoting the 21 Day Fix and Shakeology Challenge Pack. I reached out to her and began asking questions. I took about a month to prepare myself and ask her all the questions I needed to, until I was excited and ready to start the challenge.
What is the greatest challenge you faced before beginning the program? How did the program and Beachbody help you overcome that challenge?
The greatest challenge I had was that I was not eating healthy at all or exercising! I felt that I didn't have any time for either of these. The program provided an easy nutrition plan to follow with the containers, and I began to meal prep with the support of my Coach. I also had trouble with breakfast and Shakeology provided a quick, healthy breakfast that curbed my cravings. The workouts were very intense and only 30 minutes long so they were easy to work into my busy schedule. Now working out is fun and I enjoy it! It is no longer a chore that I dread doing every day.
What in particular did you like about the program you chose?
I like how the meal plan is very simple and easy to follow. I also like that the workouts are only 30 minutes, but they are intense!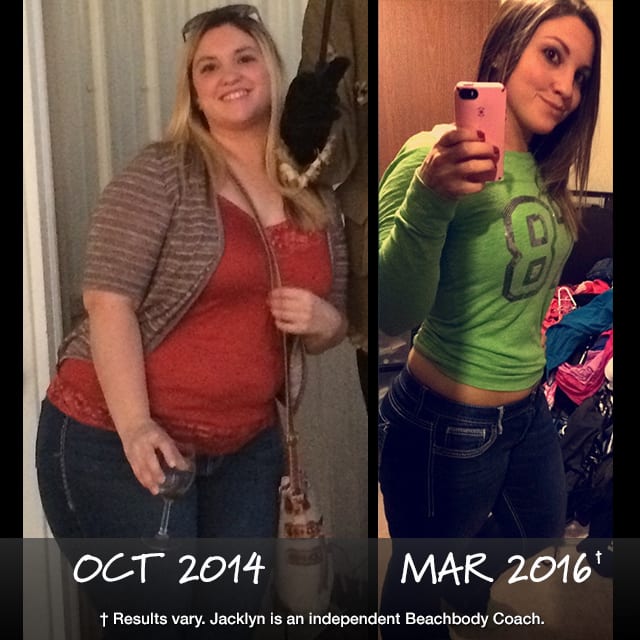 Describe the results you achieved with your Beachbody program. Which achievements are you proud of?
I have lost a total of 40 pounds and 40 inches from 21 Day Fix, 21 Day Fix EXTREME, and Shakeology.
I went from a size 18 in jeans to a size 5. I was a size Large/X-Large in shirts and now I am a Small. I am toning up and gaining muscle as I lose the weight that I need to. I am most proud of the inches that I am losing and the muscle tone that I am gaining. I am proud that I am down a total of 65 pounds from my heaviest weight one year ago!
How has your life changed since completing your Beachbody program?
My entire mood, as well as outlook on life and my body, has become more positive since completing the 21 Day Fix. I don't have to use my inhaler at all anymore, even when I am working out! I am more confident with myself since completing 21 Day Fix and 21 Day Fix EXTREME. I continue to eat healthy, work out, and drink my Shakeology daily. I began seeing how I was inspiring people in my daily life with my story and decided to become a Beachbody Coach to help others on their fitness and health journeys.
How did participating in a Challenge Group help you reach your goals? How did your group support you and keep you accountable?
The Challenge Group helped me stay on track every day and not slack off. The group was on Facebook so we checked in every day, posted pictures of our meals, and asked questions. My Coach also posted daily motivational quotes and random posts to keep us engaged.
How did your Team Beachbody Coach support you on your journey?
My Coach was available to answer any questions that I had, which was a lot! She was always very positive and encouraging. I could talk to her about anything. Having somebody who is not judgmental and truly wants you to be successful is essential; I could not have done this on my own.
How did a Beachbody supplement, nutritional product, or program (such as Shakeology or Beachbody Ultimate Reset) support your transformation? What are the greatest benefits you gained? Did you see benefits to your energy, sleep, mood/mental clarity, or digestion/regularity?
I used Shakeology with my transformation, and it has helped me in every way possible. I drank Shakeology for breakfast because it is quick, easy, and nutritional. Shakeology helped improve my digestion.2 It also helped curb my junk food cravings, which was a huge benefit for me. I sleep better and have more energy to put into my daily life and exercise.2
You can change your life, too. Take the Beachbody Challenge for the tools you need to Decide, Commit, and Succeed! Complete any Beachbody program, and enter your results for a free gift and a chance to win cash and prizes. What program are you committing to next?

†Results vary depending on starting point and effort.
3Always consult with your physician about your unique medical needs before starting any fitness program or nutrition product.
2These statements have not been evaluated by the Food and Drug Administration. This product is not intended to diagnose, treat, cure, or prevent any disease.