21 Day Fix Results: Grecia Lost 29 Pounds
Grecia Galaviz Lugo lost 29 lbs. in four rounds of 21 Day Fix. She entered her results into the Beachbody Challenge, and won the $500 Daily Prize for February 7th!
Tell us about your life before you started the program. How did you feel about yourself and your body?
I'm a mother of three kids. After having kids, my body never went back to what it was before. I hated taking pictures, and just wanted to stay home. I did not want anyone to see me. I joined a gym and paid for a personal trainer. But I didn't see a drastic change, because he didn't tell me what I needed to change about my diet.
What inspired you to change your life and begin your transformation journey?
After I saw a 21 Day Fix infomercial, I knew this would work, because I needed to change my diet but I didn't know how. I called, and I'm so glad that I did.
What is the greatest challenge you faced before beginning the program? How did the program and Beachbody help you overcome that challenge?
A couple of the challenges I faced before beginning my program were finding time to work out and actually seeing results. Within one week of beginning my program, I felt healthier. Beachbody helped me overcome my challenges, because my workouts were only 30 minutes and I starting seeing results within 21 days.
What in particular did you like about the program you chose?
I like that the program taught me about portion control, and that the workouts are only 30 minutes.
Describe the results you achieved with your Beachbody program. Which achievements are you proud of?
21 Day Fix helped me achieve my goals. I'm physically stronger, and have more energy to keep up with my children.
How has your life changed since completing your Beachbody program?
My life has changed since completing my program, because I love working out and have become a fitness junkie. I love helping my friends and family learn about fitness. I'm also not afraid to take pictures of myself.
How did participating in a Challenge Group help you reach your goals? How did your group support you and keep you accountable?
I had support from my Challenge Group, and they helped me stay accountable. A group member would ask questions that would help me, and we would share recipes.
How did your Team Beachbody Coach support you on your journey?
My Team Beachbody Coach was very supportive, friendly, and helped me stay motivated.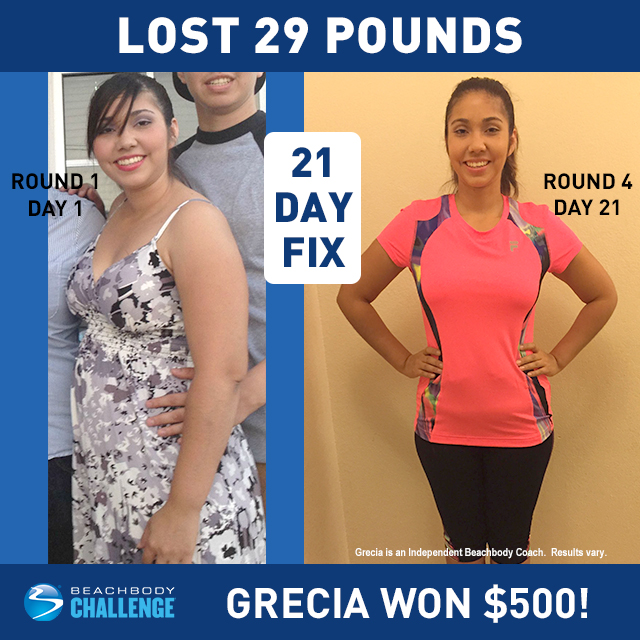 How did a Beachbody supplement, nutritional product, or program (such as Shakeology or Beachbody Ultimate Reset) support your transformation? What are the greatest benefits you gained? Did you see benefits to your energy, sleep, mood/mental clarity, or digestion/regularity?
Shakeology was a great addition to my diet. It helped me reduce cravings and have more energy, as well as improved my digestion.
How did a Beachbody supplement, nutritional product, or program affect any existing health conditions you have?
The colorful containers helped me stay on track with my portions.
You can change your life, too. Take the Beachbody Challenge for the tools you need to Decide, Commit, and Succeed! Complete any Beachbody program, and enter your results for a free gift and a chance to win cash and prizes.

*Results vary depending on starting point, goals, and effort.
Save