21 Day Fix Results: Gina Lost 23 Pounds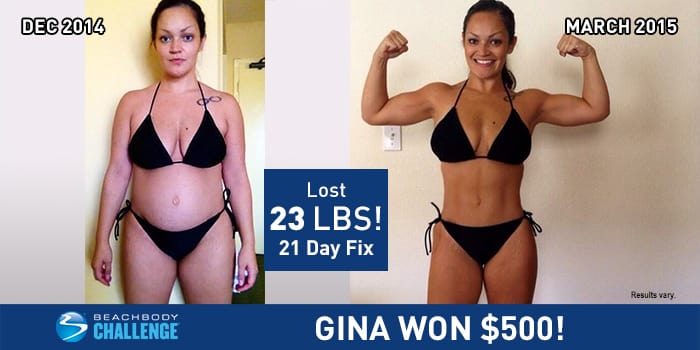 †Results vary depending on starting point and effort. Gina is an independent Beachbody Coach.
Gina White lost 23 pounds with 21 Day Fix. She entered her results into The Beachbody Challenge, and won the $500 Daily Prize for June 3rd!
Tell us about your life before you started the program. How did you feel about yourself and your body?
My life before I started was full of yo-yo dieting and high intensity workouts that lasted a week on a month off. I struggled. I despised looking at my body, and it really put a strain on my marriage because I was constantly downing myself but doing nothing about it. I was always taking out my anger and irritability on those around me. I put unnecessary stress on myself by letting my weight control my every move. I started the program at 4 months postpartum and before then, and even the pregnancy, I would hide behind sweatshirts in the summer and even cancel family activities if I felt insecure about myself. My weight and self image not only affected me, but my family of 7.
What inspired you to change your life and begin your transformation journey?
There I was, moving to Hawaii, the place that it's bikini weather all year round and I caught a glimpse of a bigger, fuller figured woman on a security camera in Uhaul. I almost cried right then and there in the store when I realized it was me, and I had become unrecognizable to myself. I left and got back in the car and cried to my husband and asked him why he let me get this bad and why he didn't tell me I was this big! Blaming him got me some tough love. He told me it wasn't his fault and that if I dislike how I look so much then I need to do something about it. So for a few months I had seen who is now my Coach posting tons of videos and ads about this magical program that helps you lose weight. I made a choice to write her with my mind set on buying the program no matter what. It took no convincing. I got on that very moment to her page and purchased it. I began the first 18 days in a hotel and rocked the heck out of the challenge and completed two more right after!
What is the greatest challenge you faced before beginning the program? How did the program and Beachbody® help you overcome that challenge?
The greatest challenge I faced was accountability. I was always so ashamed to let anyone know I was trying to lose weight or that I had self image issues. I made the choice to announce it via social media in an attempt to hold myself accountable and follow through. Joining a Challenge Group proved to be more accountability than I imagined. Beachbody's idea of creating these challenges and groups really put you in a situation where you have others rooting and pushing for your success, and are there when you want to throw in the towel. Challenge Groups have made a world of a difference in this journey.
What in particular did you like about the program you chose?
I liked the simple easy to follow instructions. How much easier can it get by pressing play and then giving me a list of food to choose from and how much to eat a day?! Not that much simpler. There is a method to the madness that just makes sense!
Describe the results you achieved with your Beachbody program. Which achievements are you proud of?
I achieved way more than anticipated. I was only starting to lose ten pounds. Here I am over 20 pounds later, with toned muscles and…ABs! Unreal. I am proud of myself for not giving up and just going past day 21. I turned a program into a lifestyle, for that I am proud.
How has your life changed since completing your Beachbody program?
It has change dramatically. It is almost effortless to not consume huge portions, to make good choices, to actually plan a workout everyday. I spend less time stressing over my body image and more time on the positive aspects of my life. I learned that wonderful things don't just magically happen; you have to work for it and it makes you appreciate them more. Life changing.
How did participating in a Challenge Group help you reach your goals? How did your group support you and keep you accountable?
All the members of the Challenge Group inspired and motivated me to keep going daily. There were times when I thought my day was awful and I wanted to throw in the towel, then I'd scroll down my newsfeed at a motivational post or picture and it would remind me that life goes on, keep going.
How did your Team Beachbody® Coach support you on your journey?
She was great, and still is. She was always there to answer any questions and give me so much positive support throughout all three challenges. She never disappeared or ignored anything I asked, posted, or said. She's great!
How did a Beachbody Supplement or Nutritional Product or Program (such as Shakeology® or Beachbody Ultimate Reset®) support your transformation? What are the greatest benefits you gained? Did you see benefits to your energy, sleep, mood/mental clarity, digestion/regularity?
Shakeology was just a form of a sweet fix at first. Then I started physically feeling happy and energized when drinking it.2 I did stop the second challenge for the first week and my body felt the difference. I really had to dig deep for energy because I felt groggy at times. So I ordered more and noticed the change pretty fast. Been drinking it ever since!
You can change your life, too. Take the Beachbody Challenge for the tools you need to Decide, Commit, and Succeed! Complete any Beachbody program, and enter your results for a free gift and a chance to win cash and prizes.

2These statements have not been evaluated by the Food and Drug Administration. This product is not intended to diagnose, treat, cure, or prevent any disease.