21 Day Fix Results: Christina Lost 40.5 Pounds and Won $500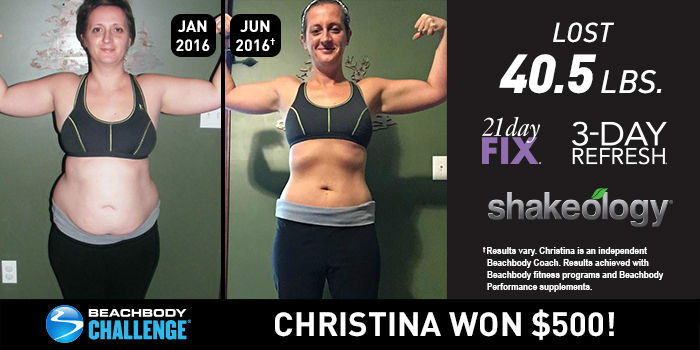 Christina Fritz lost 40.5 lbs. with 21 Day Fix, 3-Day Refresh, Shakeology, and the Beachbody Performance supplements. She entered her results into the Beachbody Challenge, and won the $500 Daily Prize for August 15th!
Tell us about your life before you started the program. How did you feel about yourself and your body?
Before I started, I carried the weight around that I gained during my pregnancy for nearly three years. I never struggled with my weight my whole life, so I didn't know what to do now that I was. I had no idea how to eat healthy, or where to start. I had never done an at-home fitness program before, and I was terrified to start. I was more terrified to go to the gym where others could see me work out though. I took my chances, because I desperately needed to do something as my weight was getting out of control. I knew that my health wasn't the greatest either. It was difficult for me to do simple running with my toddler. I thought that I would never be able to stick to the program, but I was wrong! The 21 Day Fix made everything so easy for me. I could use the portion-control containers, do a 30-minute workout following a modifier, and drink my Shakeology every day as a meal replacement. It was that easy!
What inspired you to change your life and begin your transformation journey?
I often got asked if I was expecting a child. My stomach really popped out, and it was getting harder and harder to try to hide. I was not expecting a child though. I also couldn't play very well with my toddler. I would easily get out of breath or overheated. My body always ached, and I had constant headaches.
What is the greatest challenge you faced before beginning the program? How did the program and Beachbody help you overcome that challenge?
Knowing what to eat and how much to eat. I was never very good at counting calories or keeping track of the things that I ate. With this program, I didn't have to worry about any of that. I followed a simple meal plan, replaced one meal a day with Shakeology, and watched my body transform. I almost didn't feel like I deserved the transformation that was happening before my eyes, because I didn't feel that I was doing anything that was overboard with exercise or nutrition. Everything happened so easily and was so easy to follow.
What in particular did you like about the program you chose?
I loved everything about it. I loved the Shakeology, the portion control, the meal plan, and the workouts. If I had to choose though, I would have to say the workouts. They pushed me every day! They got me up and moving from my sedentary lifestyle and made me feel powerful again.
Describe the results you achieved with your Beachbody program. Which achievements are you proud of?
I lost 40.5 lbs. in just four rounds of the 21 Day Fix! It has been amazing to me! I would have never thought that I could achieve these goals at all, let alone so quickly! I have also lost 11.5 inches off of my waist! That is incredible! I went from a size 14 pant size down to a size 4! That is 10 sizes! Holy amazing! The way that I feel so healthy and strong, and am able to do everyday things with ease now, is by far the best achievement! I feel confident for the first time in years, and my sadness has totally gone away. I will be forever grateful to Beachbody for this!
How has your life changed since completing your Beachbody program?
I am so much more confident now! I have my self-esteem back! I feel ready to inspire and encourage others to do what I have done! I am not turning back to that lifestyle that left me feeling so low! This is the best that I have felt in years! I feel so in control of my eating now, and it is incredible! I am having more fun eating healthy foods than I did when I was eating the foods that were so hard to give up! I finally understand what everybody means when they say that it isn't a diet, that it is just choosing to live a healthier lifestyle. This is no diet to me! My food is incredible, and I enjoy it!
How did participating in a Challenge Group help you reach your goals? How did your group support you and keep you accountable?
I loved being able to share my day-to-day progress with others. I loved sharing meal ideas and supporting others as well as receiving support. The other challengers offered support, and we formed friendships. When I didn't feel like working out, I would see the others posting, and it inspired me to do the same.
How did your Team Beachbody Coach support you on your journey? 
My Coach pushed me in these Challenge Groups and checked in with me constantly. I felt that I couldn't let her or the Group down, or more importantly, myself! My Coach went above and beyond to answer any questions. She helped me come out of my shell and encouraged me to share my progress with others. By sharing, I gained confidence and tried even harder to achieve my goals.
How did a Beachbody supplement, nutritional product, or program (such as Shakeology or Beachbody Ultimate Reset) support your transformation? What are the greatest benefits you gained? Did you see benefits to your energy, sleep, mood/mental clarity, or digestion/regularity?
I believe Shakeology helped me with many things. I started actually sleeping well throughout the night, whereas before I would stay up half the night. I would sleep solidly and felt energized in the mornings. I feel that it has also helped keep my digestion regular. The 3-Day Refresh was amazing! I honestly was terrified to do it thinking that I would be so hungry, but I felt very satisfied all three of my days. I wasn't having cravings, and it really did help reset my body! I lost almost four lbs. from doing that in just three days! Incredible!
You can change your life, too. Take the Beachbody Challenge for the tools you need to Decide, Commit, and Succeed! Complete any Beachbody program, and enter your results for a free gift and a chance to win cash and prizes. What program are you committing to next?

†Results vary depending on starting point, goals, and effort.