10 Foods That Double as DIY Beauty Products
Ran out of moisturizer? On a tight budget? Not a big fan of chemicals and additives in your beauty products? Don't stress — just head to your kitchen. You can easily MacGyver foods you've got in the fridge into your own homemade skin care line.
Here are 10 tasty foods that double as amazing DIY beauty treatments: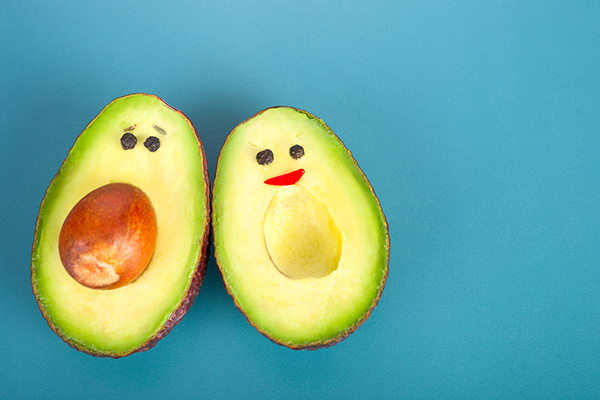 1. Avocado
Research suggests that what you eat can affect your skin health from the inside out (and vice versa) and this popular pantry item tops our list. Turns out avocado isn't just good for making guac and hipster toast — this creamy fruit does wonders for your skin, too. Avocados are full of healthy fats, which can help hydrate skin and hold moisture in the epidermis, says dermatologist Tsippora Shainhouse, M.D. and Fellow of the American Academy of Dermatology (FAAD).
"Skin can feel temporarily smoother and softer with one application," says Shainhouse.
Sara Davoodi, Ayurveda expert and owner of the all-natural vegan skin care line Athar'a, says all you need to make a hydrating face mask is half an avocado blended with a teaspoon of olive oil or sweet almond oil. "Apply the mixture to cleansed skin and leave on for 20 minutes, wash [your] face, and that's it!" says Davoodi.
The best part? Davoodi says this same recipe does double-duty as a nutrient-rich hair mask. Smooth it through your tresses and leave it on for 30 minutes to an hour before you wash your hair. "It will leave [your] hair super soft and less frizzy, as it acts as a natural deep conditioner," Davoodi says.
2. Sugar
Trying to cut back on sugar in your diet? Put all that unused sweet stuff to good use as a yummy body scrub instead.
Davoodi's recipe is simple: Mix two tablespoons of coconut oil with one tablespoon of sugar. "If you want more exfoliation, add more sugar," says Davoodi. Rub it over your body and rinse it off in the shower, or use it as a gentle lip exfoliator to get rid of flakes. (And yes, you can totally lick the excess off.)
3. Banana
To make an easy banana mask, Davoodi recommends mashing up half a banana with a quarter teaspoon of turmeric, then applying it to your face.
Note: Some turmeric brands add artificial dyes that can stain your skin, so be sure to wash the mask off with warm water before it completely sets and dries; 10 minutes should do the trick.
Turmeric has antioxidant and anti-inflammatory properties and when used regularly (both orally and topically), can help reduce skin irritation and redness in some people with certain skin conditions, such as eczema and psoriasis, according to Shainhouse.
"The vitamin A and C [in bananas] can also help to fade sun spots and post-inflammatory pigmentation due to acne, leaving skin more even-toned with regular use," she adds.
4. Coffee Grounds
Save your used coffee grounds for a simple foot scrub. Anit Hora, esthetician, Ayurveda expert, and founder of natural skin care brand Mullein & Sparrow, says a mixture of coffee grounds and olive oil helps slough off dead skin.
5. Eggs
Skip the trendy (and expensive!) face masks in favor of a nourishing egg mask. To make a simple egg mask, whip a couple egg whites until frothy, then apply to your face and neck, says Lindsey Blondin, lead esthetician at George the Salon.
Eggs whites are rich in vitamin A, which can improve the appearance of aging skin with fine lines. "Egg white masks can also make skin appear temporarily tighter by acting as an astringent that helps dry out excess sebum," Blondin adds.
6. Oat Flour
For a soothing face mask, Hora recommends using oat flour, which has moisturizing and anti-itch properties. Mix together oat flour and water with some honey, then apply it to your face for 10 to 20 minutes.
"[The oat flour] helps calm any redness and irritation and the honey helps attract moisture to the skin," says Hora.
7. Strawberries
Janice Rosenthal, beauty therapist and owner of Garden of Essences, says crushed strawberries are a simple and effective cleanser. Mash up a handful of strawberries, rub the mixture on your skin in small circular movements, then rinse it off for a clean, glowing complexion.
Strawberries have high amounts of vitamin C, which plays a key role in the production of collagen, a protein that helps keep skin resilient, says Shainhouse. Although eating them (in addition to smearing them on your face!) will help you reap the most benefits.
8. Honey
Slathering honey all over your face might sound like a mean summer camp prank, but it may actually help maintain moisture in your skin. "Honey is one of nature's most powerful humectants, meaning it draws moisture into the skin, and leaves it there," says Rosenthal.
Not only that, studies (and history) suggest that honey may have antibacterial and antimicrobial properties. "Medical-grade honey (UMF 10 or higher), including Manuka honey, can help prevent and treat some bacterial skin infections, including acne, and may speed wound healing," says Shainhouse.
"It's best to use raw, unprocessed, unheated honey to obtain the live enzymes, high vitamin content, and antioxidant benefits," says Rosenthal.
Just paint a layer straight onto your face, then let it sit for 10 minutes while you do your best to ignore the sticky feeling.
9. Cucumber
There's a reason people put cool cucumber slices under their eyes at the spa — and it's not just because it feels so luxurious. They contain ascorbic acid (vitamin C), which can help soothe skin and temporarily reduce swelling.
For a refreshing face mask, Blondin suggests mixing one teaspoon of rose water with half of a grated cucumber. The cool mixture is particularly beneficial for oily complexions, but you can apply it all over your face to reduce the appearance of pores. Leave it on for 15 minutes then rinse with warm water.
10. Yogurt
Skip your morning cup of yogurt and save it for an evening skin treatment instead. Plain yogurt contains lactic acid, which can act as a mild exfoliant.
"Don't expect a Sex in the City Samantha-grade face peel, but a milk bath or yogurt mask can help loosen dead surface cells, which can lead to smoother, glowing skin with regular use," Shainhouse says.
You don't need a complicated recipe, either — just coat a thin layer of plain, unsweetened yogurt onto your face, let it sit for 15 to 30 minutes, then rinse it off with warm water.
DIY Beauty Do's and Don'ts
As with all things DIY, there are some rules to abide by:
– Use your DIY products immediately, or within one or two days if stored in the fridge to prevent bacteria buildup. "There are no preservatives in these recipes, so using these at a later date could be ineffective or even harmful," says Davoodi.
– "Don't experiment with anything until you know how your skin reacts to it," Davoodi says. Even all-natural food-based ingredients can trigger an allergic reaction or irritation. To ensure that what you're using is safe for you, Davoodi advises conducting a patch test on the areas below and to the side of your chin to see how your skin responds.
So before you buy those spendy beauty products , try shopping your pantry first for foods that can keep you healthy inside — and outside.