Chris Downing's Favorite Hip Hop Workout Songs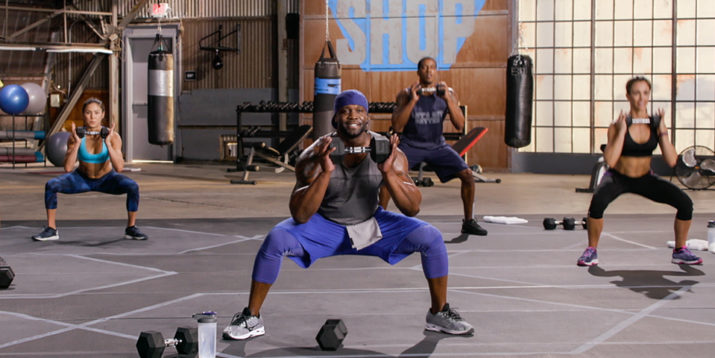 SHIFT SHOP Super Trainer Chris Downing has always made exercise a priority. He played football in high school, and then basketball in college for both Cuyohoga Community College and Alfred University. "When you're younger and you train, fitness just becomes a part of your lifestyle," Downing says. But at that age, he didn't have any plans to become a trainer himself.
"I had no interest in it," he says. It was his uncle who first suggested the idea and encouraged him to impact the lives of others through fitness. "He presented the dream to me and I denied it, because at the time I was modeling and acting."
But Downing's mindset changed when his uncle passed away. "I went into a deep depression, and I felt the only way I could shake it was to live off the dream he had for me," he says. "I missed him so much. I just told myself I was going to let him live through me, and I was going to pursue whatever he wanted me to do."
So in 2010, he started D24 fitness complexes in North Canton, Ohio and Louisville, Kentucky. A few years later, one of his videos caught the eye of Beachbody CEO Carl Daikeler. "That was pretty much it," Downing says. "They called me a couple of months later and we were able to put a deal together."
The partnership resulted in SHIFT SHOP, a three-week program designed to help anyone increase athleticism while building strength, boosting power, and torching fat. "It's for anybody who wants to take their mind and body to the next level," Downing says.
Whether he's training a client one-on-one in his gym or leading a giant group workout (like he did for 20,000 people inside the New Orleans Superdome at the 2017 Beachbody Coach Summit), Downing finds that music can help people (including himself) stay on target. "It's just about going into that deep place within yourself and allowing the music to bring out the best in you," he says.
Here are the hip-hop workout songs and motivational anthems that bring out the best in him. Listen to the Spotify playlist below, and follow Beachbody On Demand on Spotify for more great playlists to pair with any kind of workout.
Workout with Chris today in the SHIFT SHOP on Beachbody On Demand!
Chris Downing's Motivational Hip Hop Workout Playlist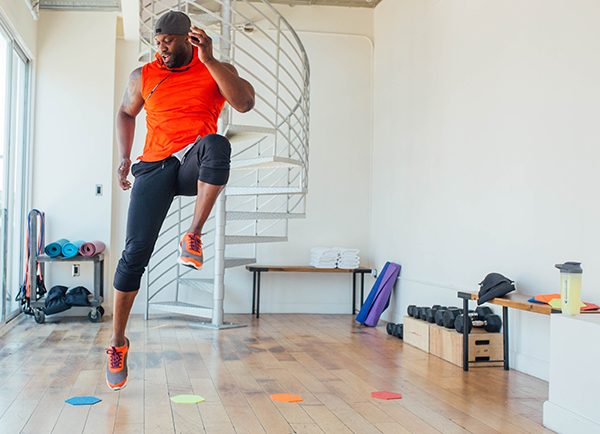 "300 Violin Orchestra"
Artist: Jorge Quintero
Album: Hip Hop and RnB Instrumentals
"This is an anthem. It's got so much harmony to it, and you just feel like you can accomplish anything you set your mind to when you ride the wave of the violin and the orchestra."
"Till I Collapse" featuring Nate Dogg
Artist: Eminem
Album: The Eminem Show
"This just has that whole mindset, like, 'I'm gonna give my all, even if that means I collapse. I have to leave it all on the line. I can't rely on tomorrow, because today is all I have. I'm willing to do whatever it takes to make that happen, even at the point of collapsing.'"
"RIP To The Competition"
Artist: Shawn Cartel
Album: RIP To The Competition
"[Shawn Cartel] is a local guy here at home. To me, this song represents that the only competition is myself. Rest in peace to my old self, as I strive to become better each and every day."
"Life's Tough"
Artist: Fearless Motivation
Album: Life's Tough (Motivational Speech)
"This particular track just talks about life. It talks a lot about when you are in that dark place and how you have to do whatever it takes to accomplish your dreams and goals, no matter what. And the reward of your breakthrough was actually the challenge, not the destination. The reward was what you developed during the hard times."
"Be Grateful Never Settle"
Artist: Fearless Motivation
Album: Be Grateful Never Settle (Motivational Speech)
"This reminds you to never settle. One more rep, one more crack at it. There's no guarantee that you get another opportunity at this. What are you willing to do to give one more rep?"
"Most People"
Artist: Fearless Motivation
Album: Hard Work Pays Off (Entrepreneur Motivational Speeches)
"This is more about personal development. It talks about understanding that anytime you're on a quest to become your best self or to live out your dreams, you're gonna lose people. People are going to be uncomfortable around you. Some people don't have the courage to accomplish their dreams and goals, so they almost make you feel guilty for striving for yours. But this song helps you understand that there might be some dark moments, but they're good for you. Because ultimately, you only want people around you who understand your mindset. This is a song I listen to when I train – it puts me in the zone because I listen to every word."
"Born Ready (Intro)"
Artist: Fearless Motivation
Album: Born Ready
"This song reminds me that I was born to do this. I was born ready. This path was laid out for me, and I'm just present with it. I'm connected with the path. Even before I knew I could do it, the path was already set for me."
"Hustlaz Ambition"
Artist: Young Jeezy
Album: The Recession
"'Hustlaz Ambition' is a song about having a chip on your shoulder and not letting anything hold you back. You know that your success is part of your birthright. You can't let anything around you stop you from obtaining that."
"Dreamin'" (featuring Keyshia Cole)
Artist: Young Jeezy
Album: The Inspiration
"This song reminds me of my mother. My mom had a drug addiction and it just brings me back to those times when I was younger and had a bunch of dreams. We were poor, but we always had dreams. It takes me back to that place of never taking anything for granted."
"Warrior of the Night"
Artist: Aero Chord
Album: New Breed Part 1 – EP
"This is about that inner warrior that's inside of you. You're in the trenches in the pursuit of your dreams and goals. There may be resistance in those trenches, but it's all about the mindset you cultivate to navigate you through those hard times. As this song builds up to the climax, you know there's light at the end of the tunnel. You just have to get to the end of it."
"Lose Yourself"
Artist: Eminem
Album: 8 Mile: Music from and Inspired by the Motion Picture
"This was my anthem when I was at Beachbody. I had one shot, one opportunity. I listened to "Lose Yourself" every single day on my way to Beachbody as I worked on SHIFT SHOP. 'Cause I knew it – I had one shot; one opportunity. That's it."